This is the Hangover. This is where I get drunk on the NBA as I recap last night's action as well as a few things going on around the league. Here's your word vomit.
11/06/2016
THE GAMES
UTA 114 (4-3) @ NY 109 (2-4)
POR 100 (4-3) @ MEM 94 (3-4)
SAC 96 (3-5) @ TOR 91 (4-2)
MIL 75 (4-3) @ DAL 86 (1-5) [OT]
DEN 123 (3-3) @ BOS 107 (3-3)
PHX 108 (2-5) @ LAL 119 (4-3)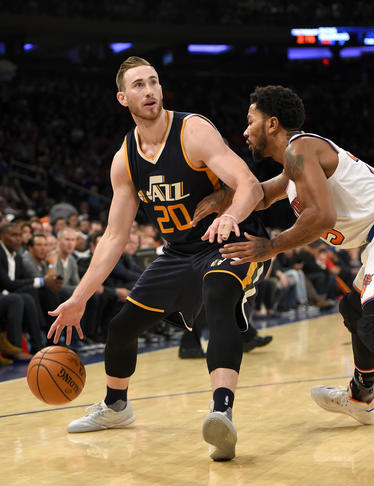 (PHOTO CREDIT: Kathy Kmonicek/AP.)
ALL THAT JAZZ
The hashtag that the Utah Jazz on Twitter is #TakeNote. Well, I'm taking notes myself. The Jazz are 3-1 this week (splitting games with the mighty San Antonio Spurs). George Hill just won Western Conference Player of the Week. Gordon Hayward made an impressive return with 28 points against the Knicks.
Maybe it's time everyone else takes notes?
The Jazz like to slog everyone down to their pace (the slowest in the last two seasons and currently last again this season). They have bruising big men in Derrick Favors and Rudy Gobert. Rodney Hood has become a very good scorer for them. Joe Johnson was acquired for veteran presence and a scorer off the bench (though he started when Hayward was injured). George Hill was an instant upgrade on point guard. Once Boris Diaw comes back, he's another all-around player they can insert in any line-up. And of course, they have Hayward.
Are they ready to take the next step? What they really need to do is stay healthy. I worry about Alec Burks, who had yet another ankle surgery a few days ago. His career could be in doubt, to be honest, after missing so many games in the last couple of years.
I don't think anybody wants to get into a slugfest with the Jazz. If they get caught up in those 80-75 games, chances are that the Jazz in full strength can win that. The veterans that they acquired in Hill, Diaw, and Johnson shows that they're serious about making the playoffs and maybe even making a dent. The Spurs already have trouble with them. They nearly beat the mighty Warriors in their historic regular season.
I'm not saying title contenders with these boys but they could be immense spoilers. No team will leave unscathed going against them.
THE REST OF THE LEAGUE
Congrats to Harrison Barnes for a career-best 34 points despite an overall ugly game between the Mavs and the Bucks. Of course, I praise the Bucks yesterday for their offense and then they only score 75 in a 53-minute game. Good job, guysh.
C.J. McCollum throws fireballs. Last year's Most Improved Player scored 37 points against the Grizzlies. That's why Portland locked him up. In the meantime, I'm disappointed that handsome Chandler Parsons was scoreless in his debut with the Grizz.
Aren't these young Lakers fun? I love the ball movement that is Warriors and Spurs-like. Luke Walton has done a very good job getting them to buy into it. Even Lou Williams and Nick Young (who has resurrected his career) are sharing the ball. It's contagious!
Emmanuel Mudiay outscored the Celtics in the first quarter, 24-23. Mudiay would only score six points the rest of the way to tie his career high at 30. But the Celtics were waxed by the Nuggets. I still can't figure out Denver.
A hiccup by Toronto against Sacramento. Whoops. And this is the first time this season DeMar DeRozan didn't score 30 or more; he only had 23.
LINE CROSSER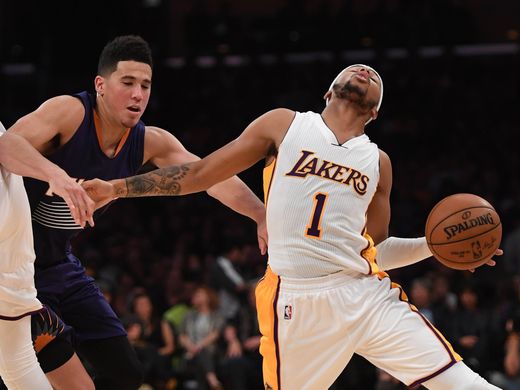 (PHOTO CREDIT: Kirby Lee/USA Today.)
It's tough to ignore Devin Booker, who went for a second straight career night in scoring.
39 points, 7 assists.
This guy is going to be a stud.
WATCH THIS PLAY
(VIDEO CREDIT: NBA.)
Speaking of the Jazz, look at Rudy Gobert put Kristaps Porzingis on a poster. The Stifle Tower will not be stifled.
---
Follow Rey-Rey on Twitter at @TheNoLookPass for all tweets about the NBA and terrible pop music. Also, check out his podcast, Rey-Rey Is Fundamental.

us on FaceBook! Thank you!