This is the Hangover. This is where I get drunk on the NBA as I recap last night's action as well as a few things going on around the league. Here's your word vomit.
11/05/2016
THE GAMES
MIN 92 (1-4) @ OKC 112 (5-1)
CLE 102 (6-0) @ PHI 101 (0-5)
WAS 86 (1-4) @ ORL 88 (3-3)
DEN 86 (2-3) @ DET 103 (4-2)
CHI 94 (3-3) @ IND 111 (3-3)
HOU 97 (3-3) @ ATL 112 (4-2)
SAC 91 (2-5) @ MIL 117 (4-2)
LAC 116 (5-1) @ SA 92 (5-2)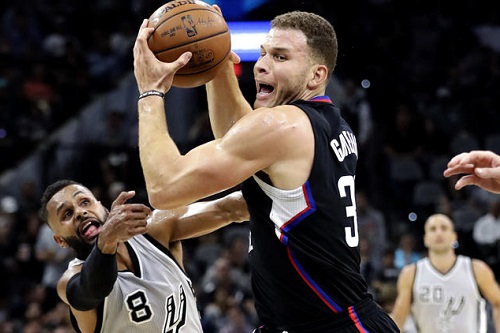 (PHOTO CREDIT: Eric Gay/AP.)
NUMBERS NUMBERS NUMBERS
I don't have much of a main topic after Saturday's games. But let's look at the Top 5 teams in terms of offensive rating (points per 100 possessions) and defensive rating (points allowed per 100 possessions.
Let's start with the offensive rating.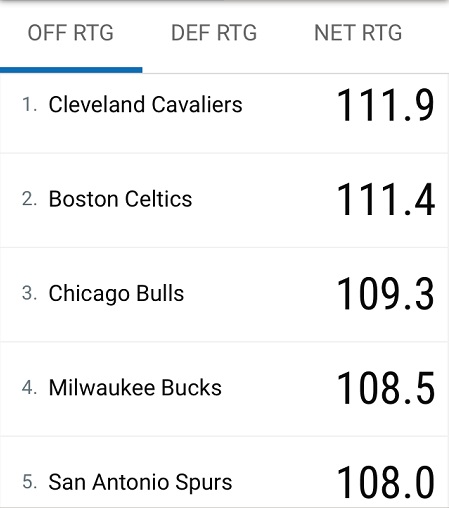 It's no surprise that the Cavaliers, led by LeBron James, Kyrie Irving, and Kevin Love, would lead the league in offense. A little surprising that the Celtics, Bulls, and Bucks are 2, 3, and 4. Celtics are known to fly around on defense. We didn't think that the Bulls would have enough firepower. The Bucks were known to struggle on offense but with the emergence of LEAD GUARD Giannis Antetokounmpo and Jabari Parker, maybe they're going to kill opponents on that end. The Spurs round out the Top 5.
If you're wondering about the Warriors, they are currently #7.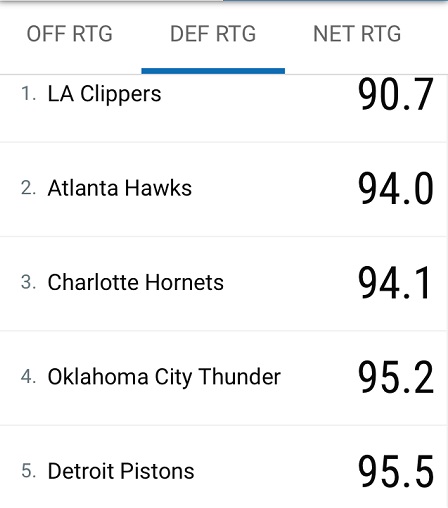 The Clippers seem to be concentrating more on that end with DeAndre Jordan becoming a better rim protector and guys like Chris Paul and Austin Rivers leading the way in perimeter defense. The Hawks continue to be disciplined on that end of the court. Charlotte has had defense as their calling card but they're much better with it with Michael Kidd-Gilchrist healthy. The Thunder have carried over their physicality from last spring's playoffs. And are the Pistons finally getting it with coach Stan Van Gundy preaching defenses and walls?
It's early but it's interesting where the trends are for teams at the moment.
THE REST OF THE LEAGUE
And the Clippers continue that trend by obliterating the Spurs at San Antonio. Maybe they won't be under the radar if they continue with performances like this.
The Bucks put up 117 points on the Kings. And Giannis looked smoooooth throughout the game with a 17-8-8 performance.
LeBron James has reached 10th on the all-time scoring list. Let's appreciate the greatness we're watching. In the meantime, are we watching potential greatness in Joel Embiid? In 22 minutes per game, he's averaging 18.5 points and 6.2 rebounds. That's not a lot of time. I can't wait to see how he does in extended minutes.
So the Pacers won but Paul George didn't exactly have a good day…
(VIDEO CREDIT: Ximo Pierto.)
PG-13 kicked the ball after being frustrated by a foul. But he meant to kick it onto the stanchion. Instead, it hit a fan in the face. He got ejected from the game for that right after he apologized to the fan.
Well, at least, the fan can tell about her experience.
"Hey, so how did the Pacers game go? Did you have a good time?"
"Yeah! The Pacers won! And Paul George kicked the ball and it hit me in the face! It was awesome!"
LINE CROSSER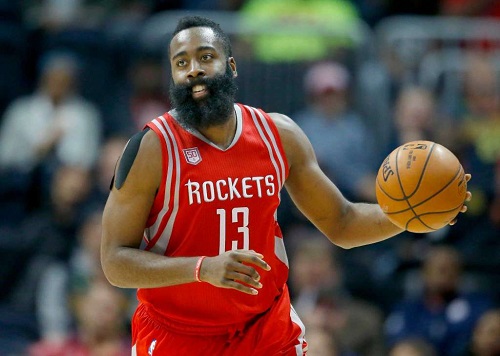 (PHOTO CREDIT: Todd Kirkland/AP.)
Even though the Rockets lost, James Harden had a huge statline against the Hawks and his ex-teammate, Dwight Howard.
30 points, 9 rebounds, 12 assists.
Shoutout to Andre Drummond for a near 20-20 (19 points, 20 rebounds).
WATCH THIS PLAY
(VIDEO CREDIT: NBA.)
The Greek Freak with the leak and his dunk was on fleek.
Goodness. I sound like such a wannabe. That is the last time I'm using that term.
---
Follow Rey-Rey on Twitter at @TheNoLookPass for all tweets about the NBA and terrible pop music. Also, check out his podcast, Rey-Rey Is Fundamental.

us on FaceBook! Thank you!