This is the Hangover. This is where I get drunk on the NBA as I recap last night's action as well as a few things going on around the league. Here's your word vomit.
11/02/2016
THE GAMES
TOR 113 (3-1) @ WAS 103 (0-3)
PHI 93 (0-4) @ CHA 109 (3-1)
LAL 123 (2-3) @ ATL 116 (3-1)
DET 101 (3-2) @ BRK 109 (2-3)
HOU 118 (3-2) @ NY 99 (1-3)
NO 83 (0-5) @ MEM 89 (3-2) [OT]
CHI 100 (3-1) @ BOS 107 (3-1)
DAL 81 (0-4) @ UTA 97 (3-2)
POR 115 (2-3) @ PHX 118 (1-4) [OT]
OKC 85 (4-0) @ LAC 83 (3-1)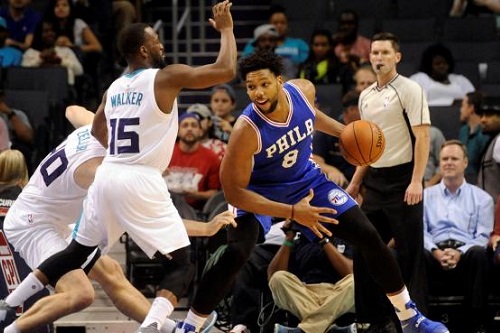 (PHOTO CREDIT: CSN Philly.)
WHAT IS WINNING?
So first off, it must feel good for the Chicago Cubs to win the World Series after 108 years. Congratulations.
Will it take this long for the Philadelphia 76ers to win a championship? Actually, what about a game in October and November?
The Sixers basically told us that they were doing tank jobs the last few years. In fact, they perfected it. Last year, they started out 0-18. The year before that? They started out 0-17. They didn't win a game in the months of October and November.
In fact, it's been a long while. The last time they won a game in November? November 22, 2013 against the Milwaukee Bucks.
This losing culture permeates. Which is why I'm not exactly a super fan of tank jobs and ESPECIALLY a fan of EXTENDED tank jobs. Or what they called The Process. Sam Hinkie is no longer there but they're so used to losing that, sometimes, they don't seem to have enough of a sense of urgency to try to win a game. Or they don't seem to know what to do when they ARE on the verge of winning. Yeah, it also helps to have a core of talented players but when your players are either injured or traded too early for another pick, then what's the point of a process if you're only getting awful results? Why would players want to play or try their hardest if it's all about losing?
And for a lot of people, it's really the result that matters. I mean, you're not going to take the championship away from last year's Cavaliers and they're not the team that won 73 games. And you're not going to take the championship away from the 2007 New York Giants, who beat the 18-0 New England Patriots.
Anyway, the Sixers are 0-4. It's gotta be super painful to be a Philly fan. Hopefully, they start playing better like the Lakers are at the moment. They won fewer than 20 games the last three seasons. It's one thing to win 17 games for one season but for three seasons? Maybe four?! It's easy to quit on a team like that.
I know it's tough to be the San Antonio Spurs, who have won .610 or higher in every season since 1997. I get that but come on now.
THE REST OF THE LEAGUE
So the Thunder won ugly against the Clippers at Staples. But if they are to make that playoff push, they have to win these kinds of games. Russell Westbrook put up a 35-6-5 line but that is WAY short of a triple-double. SLACKER.
I guess it's kind of old-school now since Memphis is going away from the slowdown type of game we're used to from them. But they beat New Orleans in an ugly affair. Anthony Davis struggled as he only scored 10 points. Word out there is that Davis is frustrated. I don't blame him; the Pelicans are 0-5 now. But the Pelicans have to be a bit worried because the last thing you want is your star to be disgruntled. And if New Orleans keeps losing…
So we know Brandon Knight is somehow either getting dunked on, crossed up, or bungling potential game-winning shots. This time around, he was the one doing the crossovers and the posters. Check this.
(VIDEO CREDIT: NBA.)
Good for you, Brandon Knight. I like a good redemption story. Speaking of redemption, more on Phoenix later.
On the other hand, Sam Dekker did not exactly have a good moment.
OH NO SAM DEKKER

(🎥: @World_Wide_Wob) https://t.co/uqD52VtEgH

— SB Nation NBA (@SBNationNBA) November 3, 2016
The Lakers finally got over the hump as they came back from a big deficit yet again, took the lead, AND held on for the win against Atlanta. It was strange to see Lou Williams as the steady veteran presence (16 of his 18 points in the fourth quarter).
So the only winless teams left? Dallas, New Orleans, Washington, and the aforementioned Philadelphia.
With Chicago, Atlanta, and the Clippers going down, it leaves the NBA with only two undefeated teams. The defending champion Cavs and the Thunder are both 4-0.
And we have the Thunder against the Warriors later tonight. FUN!
LINE CROSSER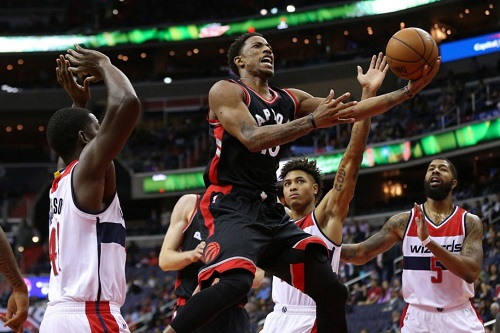 (PHOTO CREDIT: Geoff Burke/USA Today.)
DeMar DeRozan continues his scoring tear. In the Raptors' win against Washington, he went for…
40 points, 5 rebounds, 5 assists.
He's one of the rare perimeter scorers that doesn't shoot a lot of three-pointers. The basketball pundits that use analytics heavily dislike this but, hey, if he can produce points…
WATCH THIS PLAY
(VIDEO CREDIT: NBA.)
Phoenix got their first win when Eric Bledsoe sank a three at the buzzer in overtime against the Blazers. So this is how it feels to win at something!
---
Follow Rey-Rey on Twitter at @TheNoLookPass for all tweets about the NBA and terrible pop music. Also, check out his podcast, Rey-Rey Is Fundamental.

us on FaceBook! Thank you!