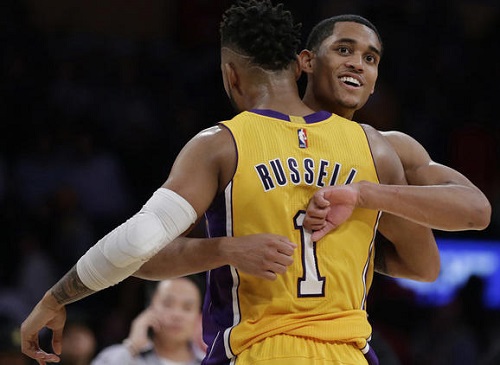 (PHOTO CREDIT: Robert Gauthier/Los Angeles Times.)
10/26/2016
THE GAMES
MIA 108 (1-0) @ ORL 96 (0-1)
DAL 121 (0-1) @ IND 130 (1-0) [OT]
BRK 117 (0-1) @ BOS 122 (1-0)
DET 91 (0-1) @ TOR 109 (1-0)
CHA 107 (1-0) @ MIL 96 (0-1)
MIN 98 (0-1) @ MEM 102 (1-0)
DEN 107 (1-0) @ NO 102 (0-1)
OKC 103 (1-0) @ PHI 97 (0-1)
SAC 113 (1-0) @ PHX 94 (0-1)
HOU 114 (0-1) @ LAL 120 (1-0)
HAPPY WORKING ENVIRONMENT
What a difference a boss can make, right?
You ever been at a job where he basically treats you like crap because he thinks tough love is the way to motivate the workers? He doesn't exactly praise you for a job well done. He tears you down unnecessarily. He tells everyone to "man up." He gives you a lecture whenever you do anything remotely wrong. Then he just stands there with his arms crossed, doing nothing. There was no structure whatsoever and everyone seemed miserable. But, hey, at least, someone got a retirement party, right?
Those kinds of bosses suck, don't they? That's what the Lakers basically had with Byron Scott. I GET the old-school ways but that just didn't work for this particular team. It probably works with a team with a bunch of hardened, grizzled veterans (think Kevin Garnett and the Celtics) but definitely not with a bunch of young, impressionable guys trying to make a mark in this league.
In their victory last night (which I also went over on Forum Blue & Gold), Luke Walton had his boys playing free. Loose. Easy. There are no more teardowns from the coach. There's more encouragement instead of discouragement. Walton constantly teaches as he learns from his job. And the players are getting more defined roles. It also helps that they don't have to please a player that's on the way out. There's nothing wrong with that but it didn't exactly help growth among the other players.
The energy felt so different. They had smiles on their faces. And, sure, they're erratic; they are a young team, after all. But the enthusiasm was so infectious amongst the team. Yes, they were going against a team who was also going on a cheetah's speed. But seriously, Nick Young was willing to play defense for Walton. Julius Randle probably had the best game of his young NBA career. D'Angelo Russell celebrated every good play he made, it seems. And Jordan Clarkson brought them home with some clutch shooting and sound hustle. Even my friends looked elated during a Laker game for the first time in years. After the game, my friends walked on water.
I can't wait to see this project unfold under Walton's watch.
THE REST OF THE LEAGUE
Anthony Davis needs help. A LOT of help. He had a monster game (an understatement, really) but with Ryan Anderson and Eric Gordon gone, Jrue Holiday out for personal reasons (REALLY pulling for you and your family), and Tyreke Evans out with an injury, the Brow couldn't get much else from that squad.
Look at DeMar DeRozan also go off (40 points!) against the Pistons. Maybe not having Reggie Jackson could be more jarring than I thought.
The Wolves are also going to be fun but we have to continue to remember that they're going to have excruciating growing pains. They led big early only to lose it to a veteran Grizzlies group.
The Sixers actually looked good last night but we are all in on the Russell Westbrook Destruction Show (nearly got a triple-double). Joel Embiid had that fantastic turnaround J!
Speaking of Westbrook, look at what this Sixers fan did last night…
Welcome to Philly, Russ. pic.twitter.com/4lTRoknKbf

— Billy Penn (@billy_penn) October 27, 2016
THIS is not all fun and games. You flip the bird at someone, what do you expect to get back? I've seen people say that the fans have the right to do that. Sure. The one that got flipped off also has the right to punch you in the face for provoking. Don't be a jackass. Basketball is supposed to be fun, after all. By the way, that individual got kicked out. Good.
Are we actually watching a RUNNING team that's coached by Nate McMillan? But if you look at that team, Indy is full of Secretariats, man. Myles Turner had one hell of a breakout performance (30 pts, 16 rebs, 4 blks) last night in that OT win against Dallas. Oh, yeah. Strong finish by the newly-minded max Mav, Harrison Barnes (19 pts).
Also quite impressive? James Harden had 14 assists in the first half (ended with 17). Mike D'Antoni may have something here. Now about the defense…
LINE CROSSER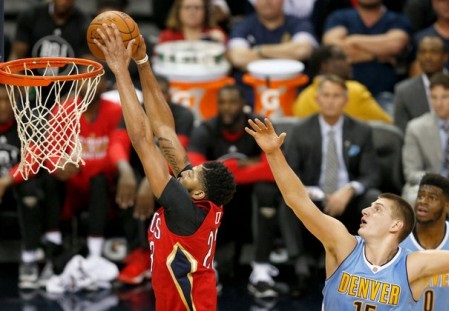 (PHOTO CREDIT: Brett Duke/NOLA.Com/Times-Picayune.)
Davis nearly missed a 5×5. But I mean, the line is super impressive as is.
50 points, 16 boards, 5 assists, 7 steals, 4 blocks.
That line has the bird flu because it's so sick.
WATCH THIS PLAY
(VIDEO CREDIT: NBA).
Go KING somebody, Willie Cauley-Stein. Show them who's royalty.
---
Follow Rey-Rey on Twitter at @TheNoLookPass for all tweets about the NBA and terrible pop music. Also, check out his podcast, Rey-Rey Is Fundamental.

us on FaceBook! Thank you!