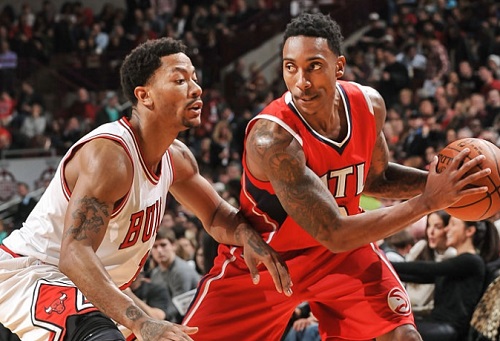 (PHOTO CREDIT: Randy Belice/Getty Images.)
So two trades happened in the National Basketball Association while that crazy Cleveland Cavaliers championship parade was going on.
Let's talk about this three-way deal (har har) between the Atlanta Hawks, Indiana Pacers, and Utah Jazz. This was from Adrian Wojnarowski from the Vertical.
The Atlanta Hawks are sending guard Jeff Teague to the Indiana Pacers as part of a three-way deal with the Utah Jazz, league sources told The Vertical.

Indiana will send guard George Hill to the Jazz, who are moving the No. 12 overall pick in Thursday's NBA draft to Atlanta, league sources said.
This basically means that the Hawks are going to commit to Dennis Schroder as their #1 point guard (11.0 points, 4.4 assists per game) from here on out. Teague, a former all-star, averaged 15.7 points and 5.9 assists last season. He's probably expected to be the #2 option for the Pacers.
As far as George Hill (12.1 points, 4.0 rebounds, 3.5 assists) goes, he can only provide more defense for the Jazz. Hill can also provide some three-point shooting as he is a career .376 three-point shooting. Hill may also be the best point guard in a team full of ones.
The Hawks now have the Jazz's #12 pick but are reportedly shopping that pick as well as the 21st pick of the draft. They intend to keep Al Horford.
Now for the bigger deal. New York has been kissed by a Rose (on the grave?). From The Vertical once again:
The New York Knicks are acquiring Chicago Bulls guard Derrick Rose in a five-player trade, league sources told The Vertical.

The Bulls are also sending forward Justin Holiday and a 2017 second-round pick to New York for center Robin Lopez and guards Jose Calderon and Jerian Grant, sources said.
We all know this: Derrick Rose hasn't been that MVP-caliber guy for four years now. His career completely changed after he tore his knee up in the first game of the 2012 first round series against the Sixers. At times, he can still explode to the hoop but no one should expect him to be elite at this stage of his career.
Rose is in the last year of his deal so I think this is worth a rental for the Knicks. They do have Carmelo Anthony and Kristaps Porzingis. While you should pump the brakes on calling them some sort of "Big Three", this is a low-risk, high-reward acquisition. New York also let go of Robin Lopez's contract (three years, $42 million remaining) so New York is going to have some cap space going into the summer of 2017 where guys like Russell Westbrook and Stephen Curry (he's likely not leaving but you never know!) are free agents.
As far as the Bulls go? They get to move on from Rose and are handing the team over to Jimmy Butler (that backcourt, when healthy, didn't work out as the Bulls missed the postseason). Chicago is probably not going to go into full rebuild mode and will try to get parts to complement Butler. Lopez is a decent enough big man (10.3 points, 7.3 rebounds, and 1.6 blocks per game) and Jose Calderon can still be good in a limited role (7.6 points and 4.1 assists).
The draft isn't even here yet and the NBA is already making noise with these trades. Geez.
---
Follow Rey-Rey on Twitter at @TheNoLookPass for all tweets about the NBA and terrible pop music. Also, check out his podcast, Rey-Rey Is Fundamental.

us on FaceBook! Thank you!