This is the Hangover. We get basketball-wasted all the time. Yes, we recap the NBA every night in our own way.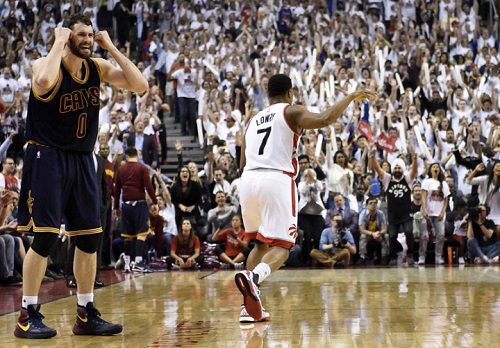 (PHOTO CREDIT: Frank Gunn/The Canadian Press/AP.)
#1 CLEVELAND CAVALIERS 99 @ #2 TORONTO RAPTORS 105
EAST Finals – Game 4 – Series is TIED, 2-2
This game spoke volumes for Canada's team.
Toronto continued to pack the paint and dare the Cavs to beat them from behind the arc. Kevin Love and J.R. Smith couldn't make their threes. In the meantime, the Raptors backcourt were ON. The Raptors were able to grow the lead slowly but surely and by halftime, the lead grew to 16.
The Cavs scored 11 straight at the start of the third as they finally started making their threes. But the Raptors withstood the assault as Kyle Lowry and DeMar DeRozan continued to shoot well. Toronto led by nine at the end of three.
But the Cavs wouldn't miss in the fourth quarter. They finally took the lead there as they made their first 11 shots of the period. Free throws would put Toronto back ahead, though, and they keyed in on the outside shooters. DeMar DeRozan's tough bank shot made it a four-point lead. After Bismack Biyombo rejected J.R.'s three, Lowry would blow by Smith for a lay-in to make it a six-point lead. Raptors tie the series at two.
Both teams shot well (Raptors at .538 and Cavs at .470) but the early barrage by Toronto as well as Cavs missing from the outside gave the edge to the Raptors. Cleveland definitely had a chance as they were tied at 96. But the Raptors were impressively resilient as they withstood Cleveland's runs. Very few people thought Toronto would win one game against Cleveland, let alone two. The Raptors SHOULD be proud of this accomplishment.
But, really, they have bigger plans in mind. They're only two wins away from their first-ever NBA Finals.
BEHIND THE LINES
Kyle Lowry (TOR): 35 pts, 5 rebs, 5 assts, 3 stls.
DeMar DeRozan (TOR): 32 pts.
Bismack Biyombo (TOR): 5 pts, 14 rebs, 3 blks.
LeBron James (CLE): 29 pts, 9 rebs, 6 assts.
Kyrie Irving (CLE): 26 pts, 6 assts.
WATCH THIS PLAY
Biyombo was quite the rim protector in Game 4.
(VIDEO CREDIT: NBA.)
It goes without saying but Game 5 is a must-win for both teams.
---
Follow Rey-Rey on Twitter at @TheNoLookPass for all tweets about the NBA and terrible pop music. Also, check out his podcast, Rey-Rey Is Fundamental.

us on FaceBook! Thank you!