This is the Hangover. We get basketball-wasted all the time. Yes, we recap the NBA every night in our own way.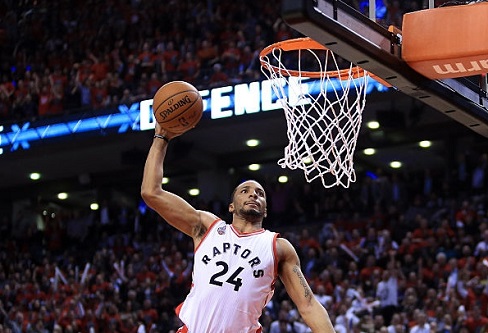 (PHOTO CREDIT: Vaughn Ridley/Getty Images.)
#7 INDIANA PACERS 99 @ #2 TORONTO RAPTORS 102
EAST First Round – Game 5 – RAPTORS lead series, 3-2
A barrage of three-pointers would put Toronto down by 15 after the first as we all thought, "HERE WE GO AGAIN!" The good news was that DeMar DeRozan finally woke up from his slumber as he did his thang thang in the second quarter.
Anything DeRozan did, however, Paul George would counter. He was dynamite in the third as he ended with 37 points with a quarter left to go. Indy led by 13 at that point and it was looking Glass Joe for Team Canada.
But Toronto came back with a vengeance as their swarming defense disturbed the force around the Pacers. An electrifying dunk by Norman Powell tied the game. And then DeMar DeRozan made DeThree-pointer to give DeRaptors DeLead. (I am so horrible.)
Still, a clutch three by Solomon Hill cut the deficit to one with 20 seconds left. After two DeRozan foul shots, the Pacers had a chance to tie the game with a three with 2.7 seconds left. George was able to pass it off to Solomon Hill for a three. He made it but he was a few milliseconds too late. Canada escaped with a 3-2 series lead. Somehow.
BEHIND THE LINES
DeMar DeRozan (TOR): 34 pts.
Bismack Biyombo (TOR): 10 pts, 16 rebs.
Paul George (IND): 39 pts, 8 rebs, 8 assts.
#5 BOSTON CELTICS 83 @ #4 ATLANTA HAWKS 110
EAST First Round – Game 5 – HAWKS lead series, 3-2
I just deemed this the best series thus far in the NBA playoffs. And, of course, the Celtics laid an egg in the ATL.
Atlanta outscored Boston, 74-42, in the middle quarters. The Hawks defense was suffocating throughout and it left the Celtics, especially Isaiah Thomas baffled for Tuesday night. Thomas eventually tweaked an ankle and left the game early in the fourth but he said he'll be ready by Game 6.
He'd better. Or else summer vacation starts early for them. I mean, in any other situation, I would totally take an early summer vacation.
BEHIND THE LINES
Mike Scott (ATL): 17 pts, 5 rebs.
Kyle Korver (ATL): 13 pts, 5 stls.
Evan Turner (BOS): 15 pts, 5 rebs.
WATCH THIS PLAY
Norman Powell walks the skies with no problem. Sometimes, I just have trouble walking, period (because I'm super lazy).
(VIDEO CREDIT: NBA.)
---
Follow Rey-Rey on Twitter at @TheNoLookPass for all tweets about the NBA and terrible pop music. Also, check out his podcast, Rey-Rey Is Fundamental.

us on FaceBook! Thank you!