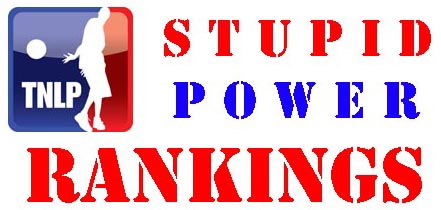 Power Rankings can be really stupid. So stupid that The No-Look Pass just had to have "Stupid Power Rankings."
These rankings are from the start of the postseason 'til now. Disagree with the rankings? Well, we already prefaced that these are stupid. Just have fun with these as I rank these however I feel where they stupidly belong.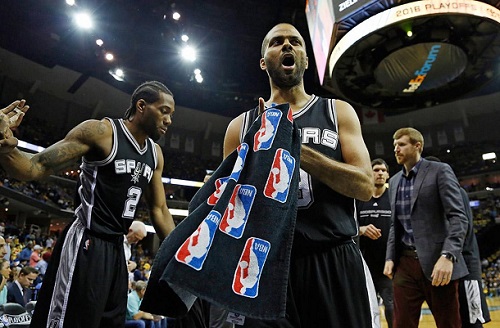 (PHOTO CREDIT: USA Today.)
1) Spurs Have Easy Road
The San Antonio Spurs are on to the second round after they beat down a very game but also very depleted Memphis Grizzlies team. It simply wasn't a fair fight.
However, this can't get any better for the Spurs in the first week of the NBA playoffs. They don't play their veteran players tons of minutes and they dispatched their opponents in a clean sweep. The Spurs get to rest for a week and are going to be as fresh as a daisy in the Western Conference Semifinals.
To me, they have become the favorites to win the championship. Why? More on this in a bit.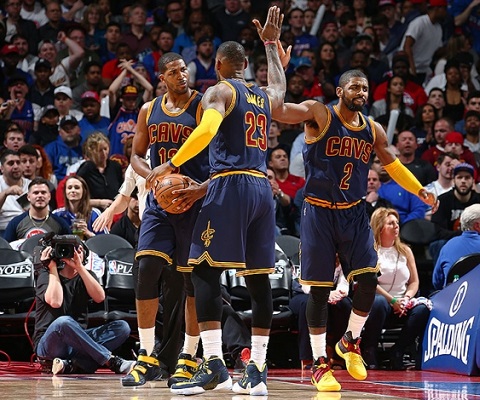 (PHOTO CREDIT: Nathaniel S. Butler/Getty Images.)
2) Happy Cavaliers
The Cavs had a very competitive series against the Pistons, even if it was a sweep. Nevertheless, look at these Cavaliers after a clutch shot from Kyrie Irving. They haven't looked happy all year but suddenly, they seem a ton more engaged in this postseason and have looked elated doing it.
This looks like excellent news for Cavs fans. Let's see if they stay smiling the rest of the East playoff run.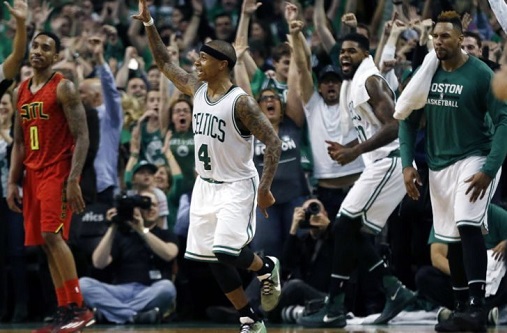 (PHOTO CREDIT: Michael Dwyer/AP.)
3) Hawks/Celtics Series
This series has easily been the best of the postseason. It's two games apiece for these teams. The 5'9″ (5'8″, really) spitfire Isaiah Thomas has made himself even more of a star in this series. We have a few more Celtics playing really well (Jonas Jerebko, Evan Turner, etc). We also have a little subplot with Dennis Schroder against the Celtics fan base. And we just had Paul Millsap's monster game in Game 4 (45 points!).
Here's hoping for more of this. I hope it goes the full seven. Although neither fan base would probably hate that.
(VIDEO CREDIT: NBA.)
4) Dave Joerger's Post-Series Presser
I love the emotion here. Coach Joerger did an excellent job coaching a team that was struck with bad luck and injuries (28 people suited up for the team during the season, which is an NBA record). And they somehow made the playoffs. They gave a hell of an effort. And, yes, they were smashed by the Spurs in the first round. But the Grizzlies gave it their all for the organization and the fans. And, sometimes, that's all you can ask for.
Despite what they all went through, the Grizzlies still had a good season. Dave Joerger has a lot to be proud of.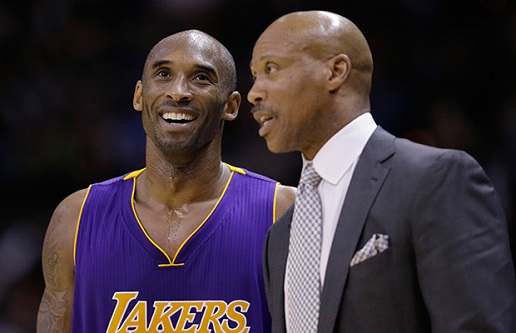 (PHOTO CREDIT: Eric Gay/AP.)
5) Lakers Finally Moving On
I'll admit to being overcome with excitement when Byron Scott got canned as Lakers coach. I'll also say that I won't exactly promote for someone… ANYONE… to get fired.
But Byron Scott HAD to go. If you wanna talk PROCESS, I wasn't a fan of what he did with the young core. He threw his guys under the bus in the media a lot of the time. And, yes, he might have been right with D'Angelo Russell being immature but that doesn't mean you have to discourage him in public. Yeah, I get it; he is old-school and some people will respond differently to criticism. But SOME people doesn't mean ALL. The young Lakers didn't seem to be thrilled every time Byron said something. Remember when Jordan Clarkson had to tell D'Angelo not to say anything crazy when Russell was asked a question about Byron Scott? Yup.
If you wanna talk RESULTS, Scott won 38 games. In TWO SEASONS. And the Lakers won only 17 games this season. Scott coached them to the two worst Lakers seasons in HISTORY. That should be enough to get him out of here. Also, it's not like they brought in Roy Hibbert, Lou Williams, and Brandon Bass for no reason; they were brought in because they had aspirations of being a PLAYOFF TEAM. You remember when Scott would start Lou Williams and have him finish games? FOR VICTORIES. And they couldn't even get those.
It was best for Byron and the Lakers to go their separate ways.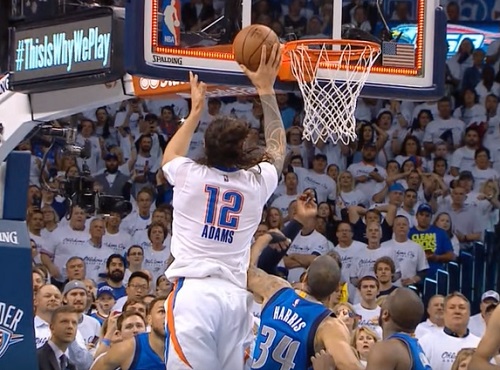 6) Steven Adams Denied of a Moment
This was in Game 2 against Dallas with OKC down one. Steven Adams tipped in a shot that was initially ruled to be good. Replays showed he was too late and Adams was not given his shine.
It didn't affect the Thunder THAT much as they are up, 3-1, in the series. Of course, they could be getting ready for their series against the Spurs by now…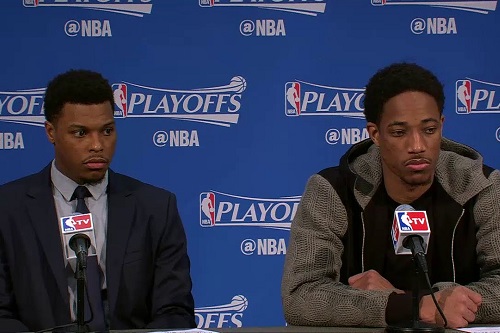 7) Raptors Backcourt Shooting Woes
Kyle Lowry is shooting .322 (19 for 59) in their series against the Pacers. DeMar DeRozan is even worse at .296 (21 for 71). DeRozan is averaging 10 fewer points in the playoffs than the regular season. Ouch.
The good news out of all of this? At least, they're TIED in their series with the Pacers instead of being down or eliminated.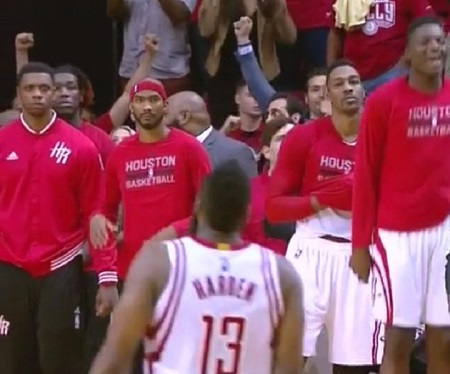 8) Ecstatic Rockets on James Harden's Go-Ahead Basket
I would, at least, show a LITTLE excitement if my team made a basket to go up one against the best team in the West. Sure, you can say that there is still too much time left for the Dubs but they couldn't even show a little happiness? Especially since the team doesn't look like they could stand each other when they're on the court?
It's like me acting all sullen after Lindsey Pelas shows up on my doorstep out of nowhere. That's just weird.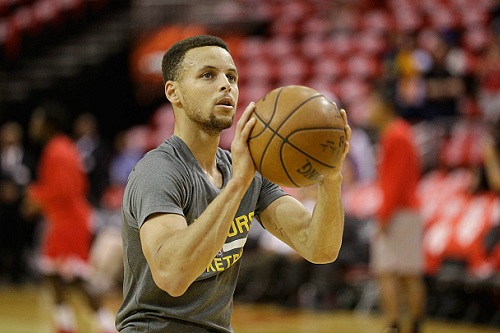 (PHOTO CREDIT: Getty Images.)
9) Losing Stephen Curry For A Minimum Of Two Weeks
It could have been worse. But it just goes to show that one slip can change the complexion of the NBA Playoffs. Now the Warriors have to go win a series (or even TWO series) without the MVP of the league.
So much for records and best team monickers. It's about survival at this point.
The Spurs suddenly look better now.
Rockets fans cheer as Steph Curry heads to the locker room & Shaun Livingston steps on court to start 3rdQ

— Michael Lee (@MrMichaelLee) April 24, 2016
10) Fans Cheering On Injuries
Not cool. Not classy. Would you want me to cheer if your dad breaks a limb? Yeah, I didn't think so.
R.I.P. Prince. R.I.P. Chyna.
---
Follow Rey-Rey on Twitter at @TheNoLookPass for all tweets about the NBA and terrible pop music. Also, check out his podcast, Rey-Rey Is Fundamental.

us on FaceBook! Thank you!