This is the Hangover. We get basketball-wasted all the time. Yes, we recap the NBA every night in our own way.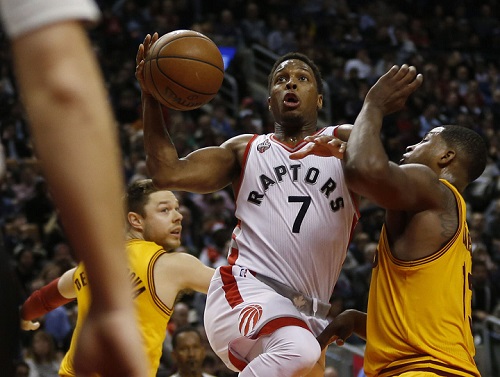 (PHOTO CREDIT: Todd Korol/Toronto Star/Getty Images.)
Friday night had eight games. Here we go.
02/26/2016
THE GAMES
CHARLOTTE HORNETS 96 (30-27) @ INDIANA PACERS 95 (31-27)
Monta Ellis got clutch again as he made a basket to give Indy the lea with 16 seconds left. But Kemba Walker also got clutch by countering that with a lay-up nearly 15 seconds later. Indy decided to go to PG-13 but what probably happened after that was Rated R for excessive cursing because Paul George missed the jumper that would've won the game.
BEHIND THE LINES
Marvin Williams (CHA): 26 pts, 13 rebs.
Kemba Walker (CHA): 22 pts, 10 assts.
Paul George (IND): 32 pts, 6 rebs, 3 stls.
WASHINGTON WIZARDS 103 (27-30) @ PHILADELPHIA 76ERS 94 (8-50)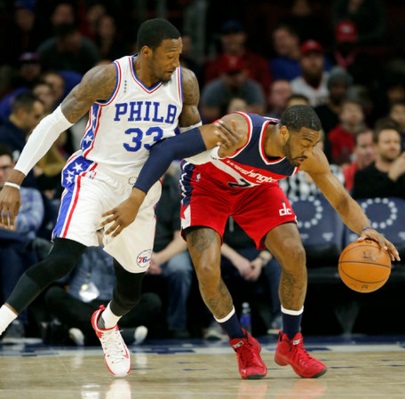 (PHOTO CREDIT: Yong Kim/Philly.Com.)
While the Wizards didn't exactly shoot threes well this game (.304), Jared Dudley made one that put them up double digits. John Wall also did his thang thang with a near trip-dub and, well, maybe it's not that impressive to do it against the Sixers.
BEHIND THE LINES
John Wall (WAS): 23 pts, 8 rebs, 11 assts.
Marcin Gortat (WAS): 12 pts, 11 rebs.
Jahlil Okafor (PHI): 21 pts, 6 rebs.
Robert Covington (PHI): 12 pts, 12 rebs, 3 stls.
ORLANDO MAGIC 95 (25-32) @ NEW YORK KNICKS 108 (25-35)
I still feel bad for the Magic as they continue to seek further in the standings. The Knicks led by 18 at halftime and Orlando never recovered. You'll always have DisneyWorld, Orlando.
BEHIND THE LINES
Carmelo Anthony (NY): 19 pts, 11 rebs, 6 assts.
Arron Afflalo (NY): 14 pts, 12 rebs.
Nikola Vucevic (ORL): 18 pts, 8 rebs.
CLEVELAND CAVALIERS 97 (41-16) @ TORONTO RAPTORS 99 (39-18)
The Cavs led for most of the game but, according to LeBron James, mental mistakes led to their demise. Demise sounds strong and frightening. In any case, the Raptors came back and Kyle Lowry, who scored a career-best 43 points, hit the bullseye with 3.8 seconds left. LeBron went for the three and the win but the ball hit nothing. And that gets the Twitter trolls out from 2010 and yell, "LEBRON NOT CLUTCH."
BEHIND THE LINES
Kyle Lowry (TOR): 43 pts, 5 rebs, 9 assts, 4 stls.
LeBron James (CLE): 25 pts, 8 rebs, 7 assts.
Kevin Love (CLE): 20 pts, 9 rebs, 5 assts.
CHICAGO BULLS 88 (30-27) @ ATLANTA HAWKS 103 (32-27)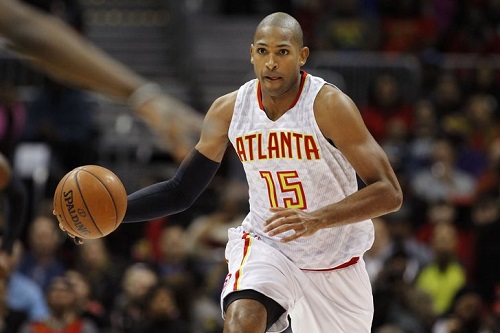 (PHOTO CREDIT: Brett Davis/AP.)
The Bulls shot badly (.364) and turned the ball over often (20). The Hawks built their lead to double digits and made it look like an easy win. But, hey, Doug McDermott is dunking all over the place these days so that's cool?
BEHIND THE LINES
Jeff Teague (ATL): 19 pts, 9 assts.
Paul Millsap (ATL): 12 pts, 13 rebs, 5 blks.
Al Horford (ATL): 18 pts, 5 rebs, 4 blks.
Doug McDermott (CHI): 20 pts, 5 rebs.
Pau Gasol (CHI): 16 pts, 17 rebs.
DENVER NUGGETS 116 (23-36) @ DALLAS MAVERICKS 122 (31-28) (OT)
The Mavericks recovered from a 23-point deficit and took the lead in the third quarter. The game went to overtime after Raymond Felton made a lay-up with 10 seconds left. In OT, the Mavs took the lead for good with a bow and arrow from Wesley Matthews. Will Barton missed a three that would've tied the game and the Mavs won it in extra innings.
BEHIND THE LINES
Chandler Parsons (DAL): 27 pts, 5 rebs.
Dirk Nowitzki (DAL): 20 pts, 13 rebs.
David Lee (DAL): 14 pts, 14 rebs.
Will Barton (DEN): 22 pts, 9 rebs.
D.J. Augustin (DEN): 20 pts.
Kenneth Faried (DEN): 20 pts, 12 rebs.
LOS ANGELES CLIPPERS 117 (38-20) @ SACRAMENTO KINGS 107 (24-33)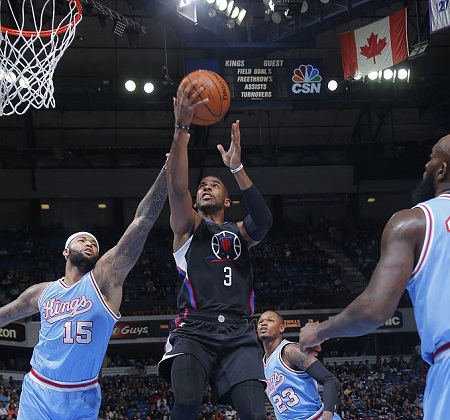 (PHOTO CREDIT: Rocky Widner/Getty Images.)
The Clippers had a huge third quarter and Chris Paul drank a 40 (okay, scored 40 points). Boogie Cousins didn't like that and beaned CP3 with a basketball. Anyway, the Clippers won in this rivalry that really isn't.
BEHIND THE LINES
Chris Paul (LAC): 40 pts, 8 rebs, 13 assts.
Jeff Green (LAC): 22 pts, 5 rebs.
Jamal Crawford (LAC): 21 pts.
DeMarcus Cousins (SAC): 26 pts, 15 rebs.
Rudy Gay (SAC): 23 pts.
MEMPHIS GRIZZLIES 112 (34-23) @ LOS ANGELES LAKERS 95 (11-49)
Um, D'Angelo Russell did good. That's like the only good thing I can say about the Lakers.
BEHIND THE LINES
P.J. Hairston (MEM): 21 pts.
Zach Randolph (MEM): 15 pts, 10 rebs, 5 assts.
D'Angelo Russell (LAL): 22 pts.
GETTING SOCIAL
Boogie Cousins pegged Chris Paul in the back of the head with the basketball and got away with it. Definitely one of my favorite NBA players

— Not Robert Snell (@djrobsnell) February 27, 2016
Kyle Lowry was defiant in saying how little this game mattered. He's hilarious.

— Eric Koreen (@ekoreen) February 27, 2016
This is the Mavericks #NBA leading 10th overtime game of the season

— Chris Dempsey (@dempseypost) February 27, 2016
Oh wait a second, My man @Klow7 was on 🔥🔥🔥🔥 fuego!

— Bismack Biyombo (@bismackbiyombo0) February 27, 2016
Good Win tonight! 🔶🔷 pic.twitter.com/3uaeTrDiU7

— Kristaps Porzingis (@kporzee) February 27, 2016
WATCH THIS PLAY
Kyle Lowry gives the win to Team Canada.
(VIDEO CREDIT: NBA.)
---
Follow Rey-Rey on Twitter at @TheNoLookPass for all tweets about the NBA and terrible pop music. Also, check out his podcast, Rey-Rey Is Fundamental.

us on FaceBook! Thank you!