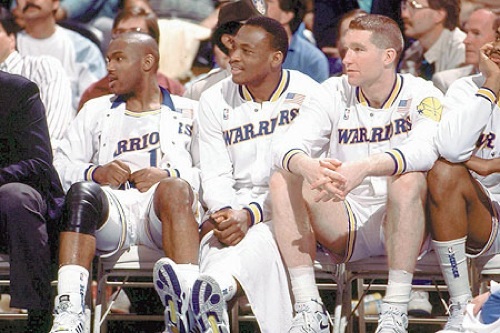 (PHOTO CREDIT: Getty Images.)
Before the scoring of the Splash Brothers dominated the league, the Golden State Warriors had a potent offensive trio that captured people's excitement even if it was only for a short time. This crop of Warriors weren't exactly great on defense but, man, did they put on a show on offense.
There was Tim Hardaway, who made crossovers famous in the early 90s. He used his lightning speed to get to the basket and had a knuckleball release on his shot that was surprisingly formidable.
There was Mitch Richmond, who was a relentless slasher to the basket to go along with that excellent outside shot. Nicknamed "THE ROCK", the powerful Richmond was also the rare defender in that Warriors team. Michael Jordan once called Richmond the toughest shooting guard to defend.
Then there was Chris Mullin, the left-handed sweet shooter that can put it up from anywhere. If he gets a bit of daylight, he will make that shot. He's got some crafty moves around the basket as well.
All three players had wonderful chemistry on the offensive end. They were dubbed Run TMC, a play on the name of rap group Run DMC. Of course, TMC means Tim, Mitch, and Chris. Run DMC themselves actually helped introduce the Warriors before a playoff game in 1991.
But oh, my gosh. Did we all hate this or what? While the Warriors made the playoffs in Run TMC's second year together and actually got out of the first round in 1991, general manager/coach Don Nelson decided they needed to get bigger. He was enamored with Syracuse forward Billy Owens, who was the third pick overall in the 1991 Draft (selected by the Kings). The Kings thought they would get Kenny Anderson before the New Jersey Nets surprisingly selected him. Well, the Dubs wanted to get bigger and the Kings sorely needed… well… a star.
WARRIORS GOT
Billy Owens
KINGS GOT
Mitch Richmond
Les Jepsen
1995 2nd Round Pick (Tyus Edney)
Wow, did the Warriors give up a lot to get a rookie. It's like they were getting LeBron James or something.
Mitch Richmond was a model of consistency for Sacramento. Unfortunately, the Kings never built a team around him. They had some nice players over the years like Lionel Simmons, Wayman Tisdale, Walt Williams, and Spud Webb but they always lacked the depth and a real second option.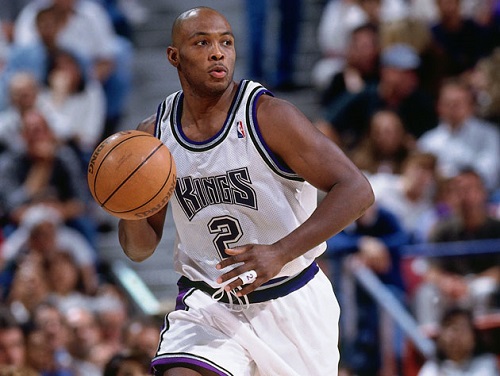 (PHOTO CREDIT: Getty Images.)
Richmond made six straight all-star games while he was in Sacramento but the Kings never capitalized on his talent. It seemed like Richmond was doing it all by himself on most nights. They did make the postseason in 1996 (with a 39-43 record, same as the season before) but were quickly ushered out by the Seattle SuperSonics in the first round. After seven seasons with the Kings (and only that lone playoff appearance), Richmond would get traded before the famous lockout year of 1999 to Washington for Chris Webber (more on him in a bit!) as his career winded down.
On the other side of NorCal, Billy Owens put up some good numbers but not exactly eye-popping numbers. His averages of 14.3 points and 8.0 boards helped the Dubs get to 55 wins in 1991-92 but they were upset by the Sonics in the first round. Injuries ravaged the Warriors the next season (including Owens) but with some draft luck and trades, G. State got… Chris Webber! In 1993-94, Owens put up 15.0 points, 8.1 rebounds, and 4.1 assists as he, Mullin, Webber, and rising star Latrell Sprewell (pretty much taking Richmond's old 2-guard spot) led the Dubs (without Hardaway, who was out for the season with injuries) back to the postseason.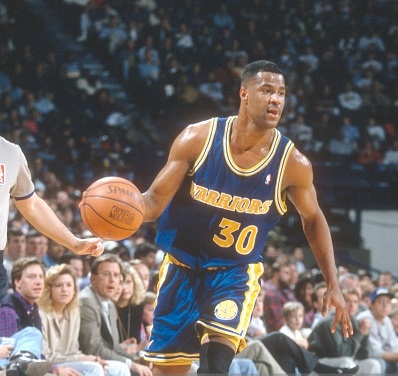 (PHOTO CREDIT: Getty Images.)
But that was the end of Owens' run with the Warriors. Nelson tried to appease Webber by acquiring a center, Rony Seikaly. But he traded Owens, which didn't exactly sit well with some of the Warriors. After some haggling, Nelson was forced to trade Webber as well (to Washington!). Sprewell sulked during the season (writing his old teammates' jersey numbers on his shoes) and the Warriors didn't make the playoffs again until 2007.
In a funny twist of fate, Owens found himself in Sacramento in 1996 where he and Richmond helped the team get to the postseason. And, as mentioned earlier, Richmond got traded to Washington for Webber. Of course, they would finally put together a team around Webber in Sacramento while Richmond got stuck with bad teams in Washington. Richmond signed with the Lakers in the 2001-02 season where he got a ring warming the bench. On the way to the title, the Lakers faced the Webber-led Kings in the Western Conference Finals.
To recap, Richmond averaged 23.3 points, 3.7 rebounds, and 4.1 assists in seven seasons with Sacramento. He made six straight all-star games and Sactown only made the playoffs once during his tenure there. A shame, really. You can make the argument that he was the most underrated player in the 90s.
As for Owens? He averaged 15.0 points, 7.9 rebounds, and 3.4 assists in his first tenure as a Warrior (he became a journeyman and had a second stint with G. State in 2000). Good numbers. Borderline all-star, really. But definitely not as much of an impact as a Mitch Richmond would.
It's a shame we never got to see the full potential of Run TMC. Also a shame that we never got to see if Billy Owens would get better with that Warriors team with Webber and Sprewell. And definitely a shame we never got to see a real team around Mitch Richmond in Sacramento.
The more I think about it, the more I feel like this trade of Owens and Richmond never made sense.
---
Follow Rey-Rey on Twitter at @TheNoLookPass for all tweets about the NBA and terrible pop music. Also, check out his podcast, Rey-Rey Is Fundamental.

us on FaceBook! Thank you!