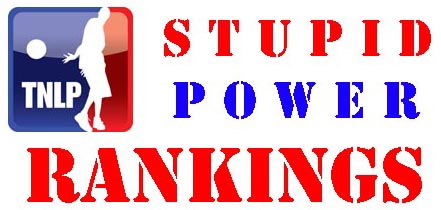 Power Rankings can be really stupid. So stupid that The No-Look Pass just had to have "Stupid Power Rankings." I take 10 things that happened in the league (or/and SOMEWHERE ELSE) and rank them all however I see fit.
This feature is usually on every Monday (well, not really; I haven't done them in three months). Disagree with the rankings? Well, we already prefaced that these are stupid. Just have fun with these as I rank these however I feel where they stupidly belong.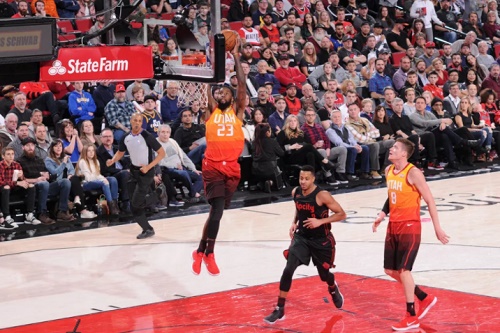 (PHOTO CREDIT: Sam Forencich/Getty Images.)
1) We Are Taking Notes
Do you know who has the current longest winning streak in the league? Not the Warriors. Not the Rockets.
It's the Utah Jazz. They have won nine straight games.
There were a lot of impressive things in this streak. Seven of those wins are on the road (they won at San Antonio and Toronto). They also beat the Golden State Warriors at home. They have the highest net rating when you look at all the teams' nine last games (+16.4). Heck, we had Ricky Rubio, who everyone knows isn't that great of a shooter, went on a tear offensively (34 points against the Spurs and 29 points against the Grizzlies).
They have San Antonio again tonight. But this Jazz team could be a team to watch should they continue to play the way they've been playing the last three weeks or so.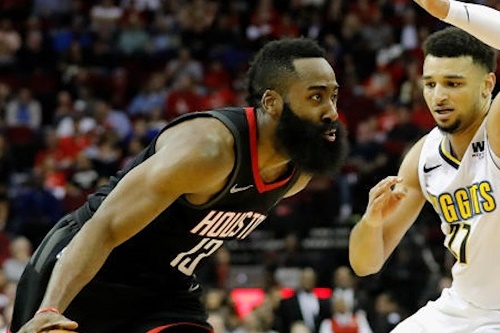 (PHOTO CREDIT: Getty Images.)
2) The Rockets Just Keep Going
I mentioned the Rockets winning eight straight games earlier. Don't look now but they're only a half-game behind the Golden State Warriors. They've been a little overshadowed because of the trade deadline but they are as dangerous as ever. James Harden is still my leading candidate for MVP. Remember that he got that impossible 60-point triple-double last week.
Also, they're getting Joe Johnson off waivers. And while the Rockets have become an embarrassment of riches as of late, Johnson helps them even more in a bench role. He can be a go-to guy on offense when the second unit is on. His defense may not be as good as it used to be but, again, in limited minutes, he can probably still provide some of that in certain situations.
They may be the only team that can challenge G. State in the West.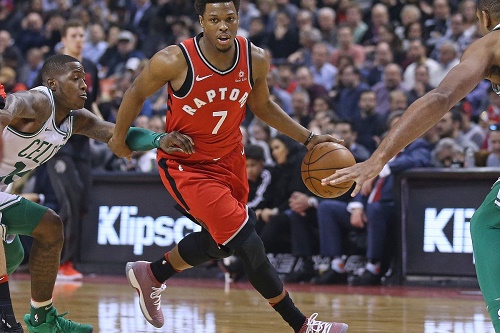 (PHOTO CREDIT: Claus Andersen/Getty Images.)
3) Canada Is First
So I don't think anyone ever saw this coming except for the die-hard Raptors fans. But the Toronto Raptors are #1 in the East in February.
While most people still look at the Cavs, Celtics, and even the Wizards as top dogs in the East, the Raptors are starting to get noticed by some media. They overhauled their playbook (they've joined the modern NBA when it comes to pace and space!), DeMar DeRozan has really become more legit, and they've continued to play some great defense (3rd in defensive rating).
People overlook the Raptors because of their playoff past. But maybe we should take the Raptors more seriously this season. Sure, they don't play sexy but sexy doesn't always win in the long haul. AIN'T THAT RIGHT?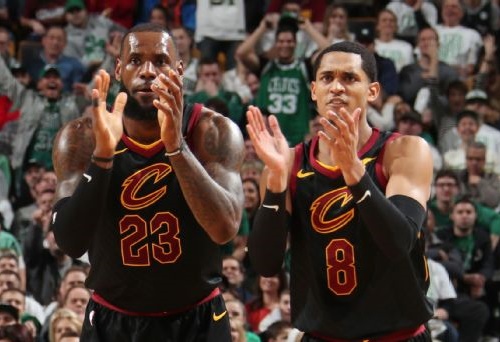 (PHOTO CREDIT: Getty Images.)
4) The Cavs Have Been Cured… For Now
Hey, you heard that the Cavaliers made a bunch of trades at the trade deadline, right? Gone are Derrick Rose, Dwyane Wade, Iman Shumpert, Jae Crowder, Channing Frye, and Isaiah Thomas. In are Rodney Hood, George Hill, Jordan Clarkson, and Larry Nance, Jr.
The newcomers played for the first time on Sunday and they crushed the Boston Celtics. On Paul Pierce Retirement Day. Pierce always seems to get overshadowed by LeBron.
Anyway, the Cavs looked great and bouncy against the Celtics. Also, let's not forget that game-winner that reminded everyone of Christian Laettner that LeBron made against the Wolves. If this is a sign of things to come then the Cavs are back, baby!
Back until the next drama LeBron James puts out.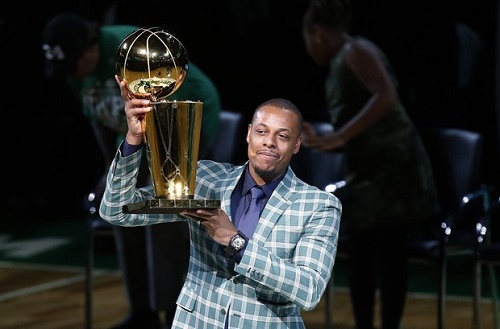 (PHOTO CREDIT: Michael Dwyer/AP.)
5) Paul Pierce's Retirement Day
I like jokes as much as everybody. I will make fun of people. But I also try not to be mean-spirited. At the end of the day, I still like everybody (well, as long as they're not bad people). And as a Lakers fan growing up, I don't really care about "hating" the Celtics, per se. Sure, it's a rivalry when they both meet in the Finals. But I still respect the hell out of everybody.
I respect Paul Pierce's game. And yeah, there are times where he can be really petty (like not letting Isaiah Thomas share the day with him, which turned out to be nothing, anyway). And yeah, people outside of Boston tend to give him a hard time because of the wheelchair and whatever. But Pierce was undeniably an assassin, especially in the closing minutes. He is 15th all-time in scoring. He won NBA Finals MVP. Paul Pierce is pretty friggin' good, man.
Too bad, the Cavs smashed the Celtics on the day of his retirement ceremony.
(VIDEO CREDIT: Le Goat.)
6) Victor Oladipo is Spinning in the Air
Just another one of your routine 360s from slam dunk contest participant Victor Oladipo. Easy.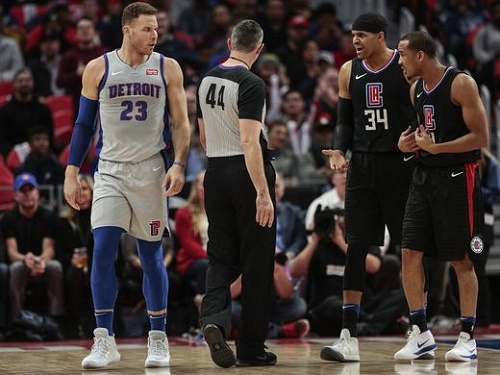 (PHOTO CREDIT: Junfu Han/Detroit Free Press.)
7) Clippers Baffle Me
I get it. I shouldn't question Jerry West, right?
I do get getting Blake Griffin's monstrous salary off the books (five years, $173 million!). But why make him feel like a GOD with the whole presentation when the Clips were trying to re-sign him? Why trade him so quickly?
The Clippers knew he had an injury history (he happened to get hurt again earlier in the season). Maybe it was because they didn't want to lose him for nothing. Okay, I kind of get that.
So maybe they should start over. Have a firesale. Trade DeAndre Jordan. Trade Lou Williams, who was very close to becoming an all-star. Go ahead and try to get that high lottery pick.
Nope, they decided that they were going to go for the postseason. They re-signed Lou and that means they can't trade him until August. So again, why trade Blake? What's the point of a token postseason berth?
This entire thing hurts my head. I guess some Clipper fans would understand this more than I do.
(VIDEO CREDIT: CliveNBAParody.)
8) Blake Griffin Doinks Dennis Schroder in the Head
Yeah. That was an accident. Sure.
I'm sure a very large human being like Griffin can throw the ball OVER Dennis Schroder.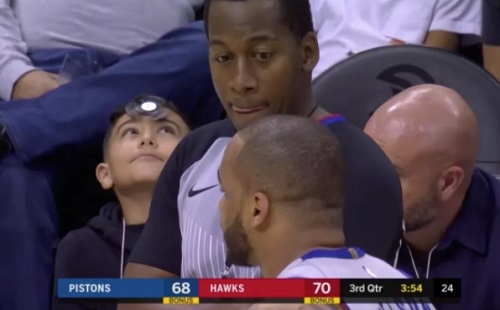 9) That Fidget Spinner on that Kid's Forehead
9-year-old Rey-Rey would find this fun.
39-year-old Rey-Rey does not. That thing could put out an eye, couldn't it?!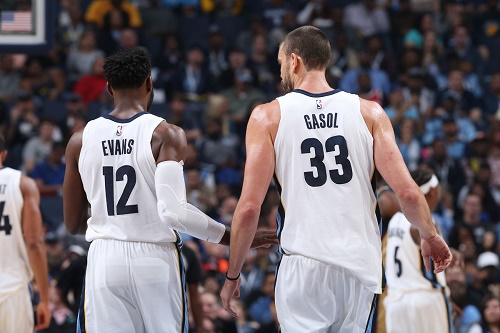 (PHOTO CREDIT: Joe Murphy/Getty Images.)
10) The Grizzlies Didn't Trade Tyreke Evans
The Grizzlies sat Tyreke Evans a couple of weeks ago for the intent of trading the former Rookie of the Year winner and getting possibly a draft pick to help the team rebuild.
The trade deadline passed. Nothing happened.
So now what? They could lose him for nothing. Or they can re-sign him to a heftier contract. But do they want to go this direction?
Man, the Grizzlies declined fast. It's kind of sad to watch.
---
Hey now! Follow Rey-Rey on Twitter at @TheNoLookPass.
You can also see some of his work at Forum Blue & Gold, a site specializing on the Los Angeles Lakers.
Also, while it's on hiatus due to personal and health issues, you can listen to old episodes of Rey-Rey's podcast, Rey-Rey Is Fundamental, which has NBA talk and other topics. The podcast will be back as soon as he's healthy.