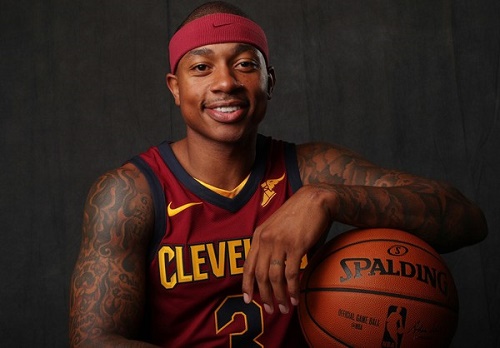 (PHOTO CREDIT: Gus Chan/Cleveland Plain Dealer.)
So that was a doozy of a trade deadline. But let's catch up on everything starting from…
PISTONS get BLAKE GRIFFIN, BRICE JOHNSON, WILLIE REED; CLIPPERS get AVERY BRADLEY, TOBIAS HARRIS, BOBAN MARJANOVIC, 2018 FIRST ROUND PICK, 2019 SECOND ROUND PICK
This deal was made a week ago.
So after we came out of the trade deadline with the Clippers making no further trades, I'm kind of scratching my head here for L.A.
Okay, so the Clippers wined and dined Griffin and made him feel like he's GOD after their free agency presentation to him. He signed for a five-year, $173 million deal extension. Then he gets hurt. The Clippers continued to hang around the playoff picture despite his absence. So they decided that since he is an injury problem and a potential contract albatross, they dealt him.
I really thought they were going to blow it up afterwards. But they decided they're going to go for the postseason after all of this (they extended Lou Williams!). First off, if they were going to trade Griffin, why not during their long losing skid? If they wanted to make a playoff push, why not KEEP Griffin? And why wine and dine Griffin the entire time when they were going to trade him, anyway? The Clippers KNEW he had an injury history to begin with.
The return is obviously not Griffin. Tobias Harris is having a very good season; he's done well in the last couple of games for the Clippers. Avery Bradley got off to a good start for Detroit before he had quite a sharp dropoff. And Boban is huge.
In the meantime, the Pistons have been on a winning streak since Griffin got there. They needed to try something and it's been working so far for them. I initially didn't like the deal for Detroit, either, but it's paying off so far.
PELICANS get NIKOLA MIROTIC and 2018 SECOND ROUND PICK; BULLS get TONY ALLEN, OMER ASIK, JAMEER NELSON, 2018 FIRST ROUND PICK
With DeMarcus Cousins out, they needed more help offensively so they got Mirotic, who had been rumored to be shipped out of Chicago since that big blow-up with Bobby Portis. The Bulls are expected to waive Allen. Asik is back with his original team. As for Jameer? Oh, he was on the move again.
BUCKS get TYLER ZELLER; NETS get RASHAD VAUGHN and 2018 SECOND ROUND PICK
I was wondering what the Bucks did to Rashad Vaughn. He'd be on the move again later. As for getting Tyler Zeller? I think the Bucks just want to collect Plumlees and Zellers.
HORNETS get WILLY HERNANGOMEZ; KNICKS get JOHNNY O'BRYANT, 2020 SECOND ROUND PICK, and 2021 SECOND ROUND PICK
Hernangomez was unhappy with his playing time. So he was shipped to Charlotte. Johnny O'Bryant won't move any goalposts.
NETS get DANTE CUNNINGHAM; PELICANS get RASHAD VAUGHN
Well, like I said, Vaughn was on the move again.
PISTONS get JAMEER NELSON; BULLS get WILLIE REED and the right to swap 2022 SECOND ROUND PICKS
Stan Van Gundy gets to reunite with Nelson. Plus since we have no idea about Reggie Jackson, Nelson is a good insurance policy for them at PG. Bulls are expected to waive Reed as he is suspended for six games after being arrested for domestic violence.
PISTONS get JAMES ENNIS; GRIZZLIES get BRICE JOHNSON, FUTURE SECOND ROUND PICK
Pistons get a two-way wing as they trade another player from the Griffin deal.
BULLS get NOAH VONLEH and CASH; BLAZERS get RIGHTS to MILOCAN RAKOVIC
Hope Vonleh can resurrect his career with Chicago.
LAKERS get ISAIAH THOMAS, CHANNING FRYE, 2018 FIRST ROUND PICK; CAVALIERS get JORDAN CLARKSON and LARRY NANCE, JR.
Well, Isaiah Thomas has been quite the lightning rod in Cleveland. The Cavs knew it wasn't working so they sent him to Los Angeles, along with Channing Frye. By the way, the first round pick that they sent was their own, not the one they got from Boston (via Brooklyn) in the Kyrie Irving deal.
As for the Lakers, they maneuvered themselves to open up two max spots in the summertime. We'll see if Isaiah Thomas actually gets back to his MVP self in L.A. as he gets healthier. That might actually complicate things a little bit if that happens.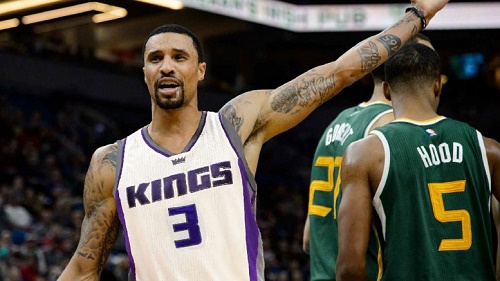 CAVALIERS get RODNEY HOOD, GEORGE HILL; JAZZ get JAE CROWDER, DERRICK ROSE, KINGS get JOE JOHNSON, IMAN SHUMPERT, 2020 SECOND ROUND PICK
Cavs weren't done. They got a veteran scrappy point guard in George Hill. He can help in the scoring department as well. Rodney Hood can help in shooting. It hasn't worked out well for Jae Crowder and Derrick Rose in Cleveland so they were shipped off. Rose is expected to get waived by the Jazz. The Kings get Johnson (also expected to get waived), Shumpert, and a second rounder. Sactown probably just wanted to get rid of George Hill.
The Jazz did keep Derrick Favors. They're on quite a hot streak right now and just did a little subtraction. Maybe they can rejuvenate Crowder. Either way, they're fine.
The Cavs did acknowledge that the full immediate deal for Kyrie has failed. Maybe the pick will be worth something.
HEAT get DWYANE WADE; CAVALIERS get FUTURE SECOND ROUND PICK
The Cavs were STILL NOT done. They decided that Wade was also not working in Cleveland and shipped him back to the Heat. Now Dwyane gets to finish his career with Miami. All is right in South Beach.
SUNS get ELFRID PAYTON; MAGIC get 2018 SECOND ROUND PICK
Phoenix will continue to tinker with their team. And I just don't know with the Magic. I just don't know.
KNICKS get EMMANUEL MUDIAY; NUGGETS get DEVIN HARRIS, Knicks' 2018 SECOND ROUND PICK; MAVERICKS get DOUG McDERMOTT, Nuggets' SECOND ROUND PICK
I understand Mudiay has not been great but I still think you could've gotten more than Devin Harris, who has admittedly played well this season. I guess Denver wanted veteran leadership on this team. Dallas gets more shooting in McDermott; that's fine. The Knicks, however, have a logjam at point guard. They have Jarrett Jack. They have Frank Ntilikina. They have Trey Burke. So what are they going to do with one of those guys? Weirdos.
Other deals? Luke Babbitt is back with Miami; Atlanta gets Okaro White, who they're going to waive. Hawks get Sheldon Mac for a future second round pick. And Raptors trade Bruno Caboclo to Sacramento for Malachi Richardson.
Non-deals? DeAndre Jordan is still with the Clippers. The Grizzlies didn't deal Marc Gasol and Tyreke Evans. Julius Randle didn't go anywhere.
All I know is this: the Cavs might look like something again after a problematic few weeks. They're certainly more athletic, younger, and they have probably gotten rid of all the toxic environment.
(Until LeBron goes into drama mode again!)
---
Hey now! Follow Rey-Rey on Twitter at @TheNoLookPass.
You can also see some of his work at Forum Blue & Gold, a site specializing on the Los Angeles Lakers.
Also, while it's on hiatus due to personal and health issues, you can listen to old episodes of Rey-Rey's podcast, Rey-Rey Is Fundamental, which has NBA talk and other topics. The podcast will be back as soon as he's healthy.