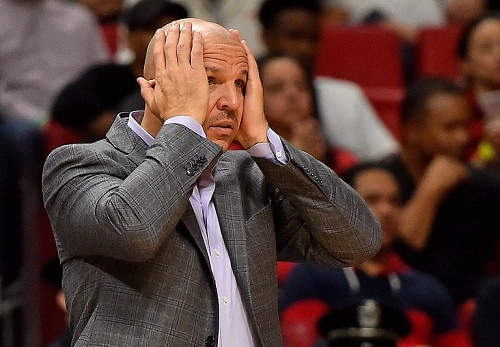 (PHOTO CREDIT: Jasen Vinlove/USA Today.)
Jason Kidd was let go as the Milwaukee Bucks head coach. To some people, that may be surprising. But to some other people, it's probably not that astonishing.
When you think of the Bucks, you think of their length. They have limbs everywhere. Like they're octopi or something. So you would think they would be like the steel curtain of the NBA. But they are far from that. Going into their game against the Suns on Monday night, they were 25th in defensive rating. Yeah, a team that has Giannis Antetokounmpo, Thon Maker, Khris Middleton, and Eric Bledsoe should be much better at defending.
And Kidd, a great positional defender in his day, somehow failed at doing that. Not only that but the Bucks are currently sitting at 7th in the East. Kidd probably didn't help himself by raising expectations after his first year there (the Bucks jumped from 15 wins to 41). But owners and management can only be an "up-and-coming team" for so long, ESPECIALLY when they know they have a superstar on their team. So after a 23-22 record by Kidd this season (which was preceded by 41, 33, and 42-win seasons), Kidd had to go. (There were also some whispers about Kidd clashing with management as well.)
Yeah. We know Jabari Parker has been out. But they have enough offense as is (8th in offensive rating, which we'll give Kidd and his staff credit for). To be a championship-contending team. they have to take that defense to the next level. They had it in Kidd's inaugural year with the squad. To see the Bucks' defense melt down in the following years was discouraging.
And we'll give some credit to Kidd for helping Giannis develop. Obviously, Giannis is a super hard worker so credit has to go to him, too. But Kidd fostered an environment where Antetokounmpo could thrive. It's just that, once again, the defense failed and Milwaukee has to figure out where to go from here.
Giannis apparently wanted to try to change the team's mind on firing Kidd. So the team has to be careful on how to handle Giannis from here on out. Maybe this turns out to be a transition from Mark Jackson to Steve Kerr in Golden State. Or it could be a Mike D'Antoni to Terry Porter situation in Phoenix. They certainly don't want the latter.
In the meantime, assistant coach Joe Prunty took over interim coach duties in their win against the Suns. But we'll see who gets to coach the team on a more permanent basis in the near future.
BULLET PASSES
*I know a lot happened in the two weeks I took off. I'll put past scoreboards and lines and plays of the night as the days go by. But let's see here…
*I'm still laughing at the Rockets/Clippers postgame confrontation. So the rundown? Blake Griffin and Chris Paul's relationship wasn't too great (which some people may or may not knew). Then Blake and Trevor Ariza got into it verbally. Austin Rivers, who wasn't playing, got into it with Ariza. Blake and Ariza were ejected.
Then Paul, James Harden, Ariza. and Gerald Green went through a "secret path" that led to the Clippers' locker room. And Clint Capela was used as a decoy! It all turned out to be not true but that was just hilarious as hell.
I mean, it was the story initially printed!
I want to read more of this YA novel. pic.twitter.com/6yCXgCUoBi

— 𝑹𝒆𝒚-𝑹𝒆𝒚 (@TheNoLookPass) January 16, 2018
In any case, Ariza and Green were suspended two games. Ariza and Austin Rivers made up. But Chris Paul has not talked to Austin Rivers since.
The big conclusion I got out of that game? Chris Paul really wanted to win that game. And NBA players can be really hilarious in their confrontations.
*There was also a bit of a fracas between Arron Afflalo and Nemanja Bjelica. Afflalo swung hard on a punch that connected a bit on Bjelica's head before Bjelica put the Magic swingman in a front facelock that easily could've choked him out. Afflalo was suspended two games for it.
*The players and referees are apparently not getting along as well these days. Players have been complaining a lot more, it seems. Sometimes, the refs can give technicals pretty quickly but I feel like they've been better at that over the last few years. Still, maybe their meeting in L.A. can help resolve it a little bit. The NBA is in a really good place right now, too.
*The Cavs had a meeting recently concerning their losing ways. Their defense is 29th in the league (only ahead of Sacramento) and it's been said that LeBron James feels this is the worst the Cavs have been since he came back. There was also finger-pointing towards Kevin Love, who left their game against the Thunder (a team that scored 147 on them) early due to illness. Some said they faked his illness. Nevertheless, no matter what was said in the meeting, we'll see how the Cavs follow up from it. I still have them taking the East because it's just too damn hard to go against LeBron James.
*I'll have more on the All-Star selections tomorrow. The starters were already named (West has Stephen Curry, James Harden, Kevin Durant, Anthony Davis, and DeMarcus Cousins while East has Kyrie Irving, DeMar DeRozan, LeBron James, Giannis Antetokounmpo, and Joel Embiid). Remember that the format is different this year; Curry and James are the captains and they get to choose from the pool of all-stars. The problem is that, thus far, they're not going to televise the team selections. Why?
*Other than that, I love the NBA. They can be so petty and their feuds on and off the court can be hilarious.
SCOREBOARD
01/22/2018
SAC 107 (13-33) @ CHA 112 (19-26)
UTA 90 (19-28) @ ATL 104 (14-32)
MIA 90 (27-20) @ HOU 99 (33-12)
PHI 101 (22-21) @ MEM 105 (17-29)
PHX 105 (17-30) @ MIL 109 (24-22)
CHI 128 (18-29) @ NO 132 (25-21) [2OT]
WAS 75 (26-21) @ DAL 98 (16-31)
POR 101 (25-22) @ DEN 104 (24-23)
MIN 126 (31-18) @ LAC 118 (23-23)
LINE CROSSER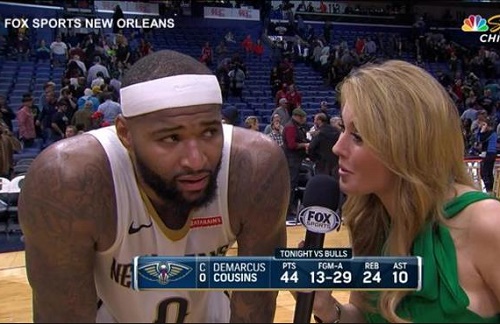 You see that line. My gosh.
Shoutout to Griffin for his own triple-double (32-12-12).
WATCH THIS PLAY
(VIDEO CREDIT: NBA Highlights.)
The just-announced dunk contest participant Dennis Smith, Jr, does a little 360. No big deal.
---
Hey now! Follow Rey-Rey on Twitter at @TheNoLookPass.
You can also see some of his work at Forum Blue & Gold, a site specializing on the Los Angeles Lakers.
Also, while it's on hiatus due to personal and health issues, you can listen to old episodes of Rey-Rey's podcast, Rey-Rey Is Fundamental, which has NBA talk and other topics. The podcast will be back as soon as he's healthy.