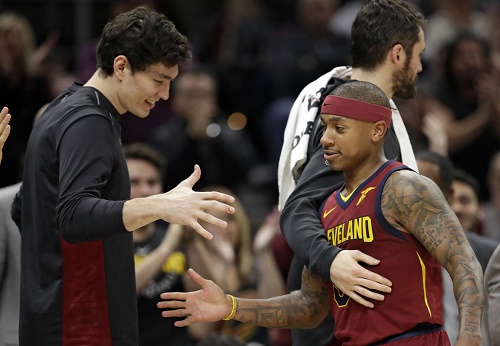 (PHOTO CREDIT: Tony Dejak/AP.)
It's hard not to like Isaiah Thomas.
For all intents and purposes, guys under six feet shouldn't be making it to the NBA. Basketball is a game where tall people have the advantage. I think it's really terrifying when you see a person a foot taller than you that can do all the things you can… and they do it better. Sometimes, a THOUSAND times better.
And yet here's Isaiah Thomas defying everybody.
What he did in Boston is the stuff of legend. He was third in the entire league in scoring last season. A 52-point game in the playoffs while grieving the lost of his sister. And when the fourth quarter comes, it was time for him to shine. Sure, Russell Westbrook ended up leading the league in fourth quarter scoring that season but make no mistake about it; the #4 on his jersey then meant Isaiah Thomas was ready to set the court on fire that period.
So it was great to see him on the court last Tuesday. And he made it look easy, scoring 17 points in 19 minutes in his season debut. He adds another dimension to the Cavs' offense, which was a void left by Kyrie Irving. Thomas is a game-changer on offense. He's like a 1,500-yard running back that can weave his way through the defense with little to no problem; his diminutive size (by NBA standards, that is) has actually helped him in that.
And how can you root against that? Plus he gets beat up so much by bigger bodies. Obviously, the smaller you are, the more it hurts against the larger individuals giving you the pounding. Which is why I understood when they sat him against the Celtics on a second game of a back-to-back.
Tossed away by other teams because of his size, Isaiah Thomas is another example of someone getting another chance. Brad Stevens knew what they had in Isaiah when they got him. And when it was realized, Isaiah was sometimes the best player in the league for stretches of last season. It's why most of the Celtics fan base is still in love with him even though he's with a rival now and that he was only there for a couple of seasons.
The old adage of "it's not the size of the dog in the fight, it's the size of the fight in the dog" very much applies here. I've said it here before but I really wish I rooted for this guy to succeed early in his career. After all, I am also a guy under 6 ft. tall. I can live vicariously through Isaiah.
BULLET PASSES
*It's really shameful to see the Lakers play ever since Lonzo Ball went out. Their offense looks lost a lot of the time and, in turn, their defense (which we said was probably not sustainable) has become atrocious. Sometimes, it looks like they're not even trying. And that's the most damning thing you can say to athletes.
*I like it when people say that big regular season games like the Cavs vs Celtics don't matter one bit. Of course, it does. I do think a psychological advantage matters. Sometimes, that doesn't prevail in the postseason (we've seen that happen so many times) but winning does give players and their fan base a reason to believe. I think that goes a long way.
*The Thunder are 8-2 in their last 10 games. They're only two games behind #4 Minnesota. And honestly, I'm not sure if the Wolves can hold on to that fourth seed.
*Somehow, the Clippers are only two games behind the eighth seed. Sure, they lost to that aforementioned Thunder team but they sure are fighting for that playoff spot.
*I like how people are wondering about Klay Thompson's role when Kevin Durantwas out against the Rockets. Did you watch the Golden State Warriors before 2016?
*I will never understand the crowd that doesn't think DeMar DeRozan is a good NBA player.
*Houston having James Harden out for a few weeks might affect their seeding. They do still have Chris Paul manning the ship but Harden has been the MVP of the league; they were cruising in the top spot for a while there with him.
*Harden's injury did make way for Gerald Green, who has gotten yet another rebirth in the league under Mike D'Antoni. 29 points in a national televised game against the Dubs. He will be kept for the rest of the season. Good for him.
*All-Star voting has started and there is always outrage no matter what. Like I said, for the most part, the voting gets it right in terms of the starters. And even if the "right player doesn't start", it's not the end of the world (although they should STOP putting in those clauses in contracts).
*I also wonder about this All-Star draft. Why are they not making it public?
*Plus does this really fix the All-Star game "problem"? Man, I can't believe we're getting so upset over a fan exhibition.
SCOREBOARD
01/01/2018
MIL 127 (19-16) @ TOR 131 (25-10) [OT]
ORL 95 (12-26) @ BRK 98 (14-23)
LAL 96 (11-25) @ MIN 114 (24-14)
POR 124 (19-17) @ CHI 120 (13-24) [OT]
01/02/2018
POR 110 (19-18) @ CLE 127 (25-12)
SA 100 (26-12) @ NY 91 (18-19)
ATL 103 (10-27) @ PHX 104 (15-24)
CHA 131 (14-23) @ SAC 111 (12-25)
MEM 105 (12-26) @ LAC 113 (17-19)
01/03/2018
HOU 116 (27-9) @ ORL 98 (12-27)
SA 106 (26-13) @ PHI 112 (18-19)
NY 103 (18-20) @ WAS 121 (22-16)
MIN 97 (24-15) @ BRK 98 (15-23)
DET 104 (20-16) @ MIA 111 (20-17)
CLE 88 (25-13) @ BOS 102 (31-10)
TOR 124 (26-10) @ CHI 115 (13-25)
IND 101 (19-19) @ MIL 122 (20-16)
GS 125 (30-8) @ DAL 122 (13-26)
PHX 111 (15-25) @ DEN 134 (20-17)
NO 108 (19-18) @ NO 98 (16-22)
OKC 133 (21-17) @ LAL 96 (11-26)
01/04/2018
GS 124 (31-8) @ HOU 114 (27-10)
OKC 127 (22-17) @ LAC 117 (17-20)
LINE CROSSER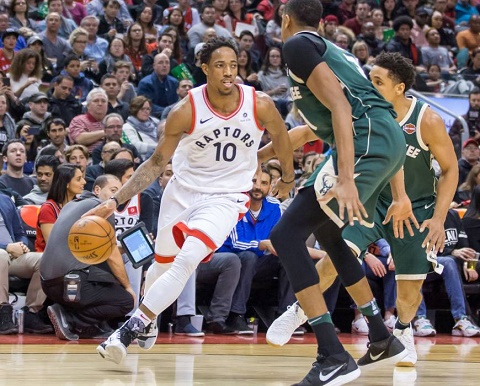 (PHOTO CREDIT: USA Today.)
Mon, Jan. 01: DeMar DeRozan (52 pts, 5 rebs, 8 assts)
Tue, Jan. 02: Devin Booker (34 pts, 5 rebs, 7 assts, 3 stls)
Wed, Jan. 03: Anthony Davis (29 pts, 15 rebs, 3 stls)
Thu, Jan. 04: Russell Westbrook (29 pts, 12 rebs, 11 assts)
WATCH THIS PLAY
01/01/2018
(VIDEO CREDIT: NBA Channel.)
Jarrett Allen of the Nets dunks this on Bismack Biyombo's mug.
01/02/2018
(VIDEO CREDIT: Lazar.)
All Deyonta Davis could do is watch as Blake Griffin stuffs the hoop.
01/03/2018
(VIDEO CREDIT: Prince Marcus.)
Spencer Dinwiddie gets this floater over Taj Gibson for the eventual game-winner and upset over the Wolves. Shoutout to Stephen Curry for HIS game-winner over Dallas, too.
01/04/2018
(VIDEO CREDIT: Superyam.)
You know when we say when people that get crossed over get their "ankles broken"? Well, Chris Paul LITERALLY made ex-teammate David West hurt his ankle. Ouch. I actually feel bad for West.
---
Hey now! Follow Rey-Rey on Twitter at @TheNoLookPass.
You can also see some of his work at Forum Blue & Gold, a site specializing on the Los Angeles Lakers.
Also, while it's on hiatus due to personal and health issues, you can listen to old episodes of Rey-Rey's podcast, Rey-Rey Is Fundamental, which has NBA talk and other topics. The podcast will be back as soon as he's healthy.