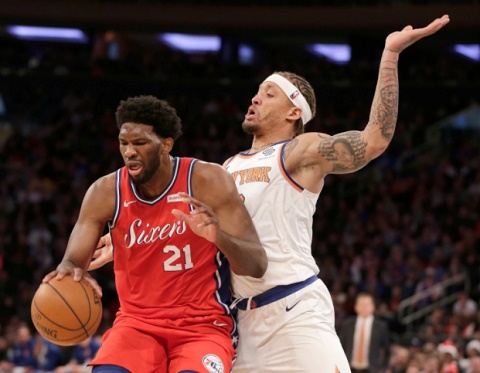 (PHOTO CREDIT: Rick Scuteri/AP.)
Joel Embiid had quite the performance on Christmas Day as he helped defeat the Knicks with a 25-16 game. The Sixers are going to be a force to be reckoned with in the future.
IF Embiid stays healthy.
I mean, it should be natural that we worry about it. He's only played 56 professional basketball games thus far in his career. And he's technically in his fourth season. Embiid has missed a ton of games.
The Sixers already re-signed him on an immense contract (five years, $148 mil). I'm always all for players getting as much money as they can. But will it bite the Sixers if Joel doesn't stay healthy?
Embiid had a foot injury that kept him out for two seasons. Now he's got a nagging back that kept him out for a few games last week. He's back now but will these injuries stick around for the rest of the year or his career?
We hope Embiid's health trajectory is like that of Zydrunas Ilgauskas. Three of his first four seasons in the league were injury-plagued (missing his entire first season). But he would go on to play ten more seasons after that, staying relatively durable throughout that period.
But if he does stay healthy, watch out. Embiid is obviously a way more dominant player than Ilgauskas. It'd just be a shame if the charismatic center for the Sixers can't stay on the court.
I hope Philly has a Plan B just in case this doesn't work out. They appear to be all in right now with the max contract but it doesn't hurt to have a back-up plan. Maybe build the team around Ben Simmons and a healthy Markelle Fultz.
See? Fultz can't even stay healthy. And remember that Simmons sat out his first year himself.
Geez, Philly. You're just hexed.
BULLET PASSES
*The NBA mentioned that Kevin Durant should've been called for a foul on LeBron James in a crucial play where the ball was called out on LeBron. The Warriors were up by two then inside two minutes. The Cavs would never score again in the game.
So basically, it went like this.
"Hey, don't steal those cookies again, okay?"
"Okay."
And… scene.
*What a crushing loss by the Grizzlies against the Suns. Check the play below.
*I can't emphasize enough on how Kyle Kuzma should be starting permanently for the Lakers and not just because they have injuries. Also, scoring is SO easy for him. I'm almost convinced that he should be the #1 scoring option. He's got a varied enough repertoire on the offense. His passing obviously needs work, which is why Brandon Ingram and Lonzo Ball have the ball a lot more but Kuzma can get his own shot.
*Good to see Tobias Harris wake up in their game against Indiana.
*But bad news for the Pistons. Reggie Jackson is out 6-8 weeks. It didn't help them last year when he was out initially. This stretch will be crucial for them.
*Blake Griffin should be back this week.
*The Thunder are really getting it together. They've won five straight games.
*Why does Minnesota insist on slowing the pace when they're young and athletic?
SCOREBOARD
12/25/2017
PHI 105 (15-18) @ NY 98 (17-16)
CLE 92 (24-10) @ GS 99 (27-7)
WAS 111 (19-15) @ BOS 103 (27-10)
HOU 107 (25-7) @ OKC 112 (19-15)
MIN 121 (21-13) @ LAL 104 (11-21)
12/26/2017
IND 83 (19-15) @ DET 107 (19-14)
TOR 93 (23-9) @ DAL 98 (10-25)
ORL 89 (11-24) @ MIA 107 (18-16)
CHI 115 (11-22) @ MIL 106 (17-15)
BRK 97 (12-21) @ SA 109 (24-11)
UTA 83 (15-20) @ DEN 107 (19-15)
MEM 97 (10-24) @ PHX 99 (13-23)
SAC 95 (11-22) @ LAC 122 (14-19)
LINE CROSSER
12/25/2017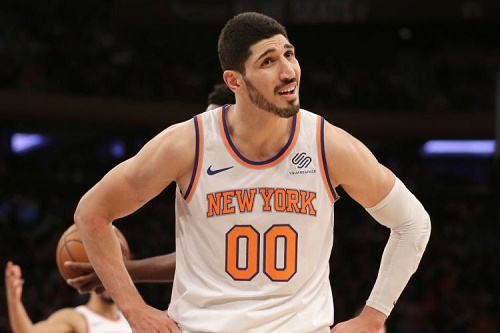 (PHOTO CREDIT: Seth Wenig/AP.)
Enes Kanter must have gotten a ton of presents from Santa Claus, including the gift to put on a show at MSG for Christmas.
31 points, 22 rebounds.
Should've asked for one more gift. A win. Sadface.
12/26/2017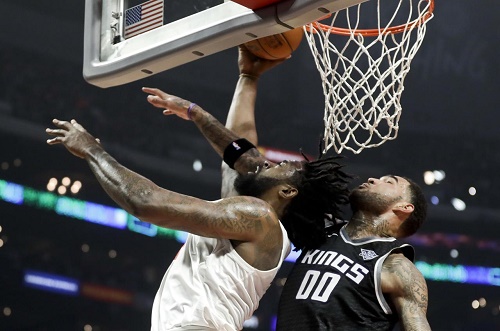 (PHOTO CREDIT: Chris Carlson/AP.)
DeAndre Jordan was a monster against the Kings.
21 points, 18 rebounds.
That was a good beatdown by the Clips.
WATCH THIS PLAY
12/25/2017
https://youtu.be/4juZMeVPVBI
(VIDEO CREDIT: Rique.)
Corey Brewer saw the KAT's meow up close. Yikes.
12/26/2017
(VIDEO CREDIT: whodey.)
Tyson Chandler and the Suns only needed 0.6 seconds to beat the Grizzlies.
---
Hey now! Follow Rey-Rey on Twitter at @TheNoLookPass.
You can also see some of his work at Forum Blue & Gold, a site specializing on the Los Angeles Lakers.
Also, while it's on hiatus due to personal and health issues, you can listen to old episodes of Rey-Rey's podcast, Rey-Rey Is Fundamental, which has NBA talk and other topics. The podcast will be back as soon as he's healthy.