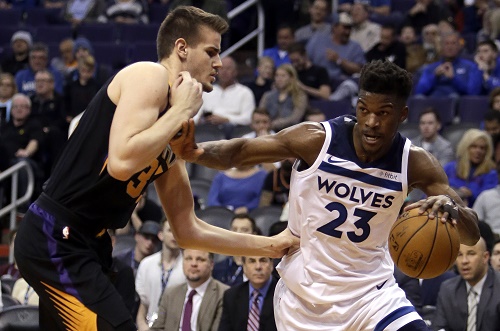 (PHOTO CREDIT: Rick Scuteri/AP.)
Christmas Eve is usually a day off for the league and this year is no exception. Before we get into tomorrow's big schedule (we all know the NBA takes over Christmas), let's see how all of these teams are doing as we exit 2017.
First, the East: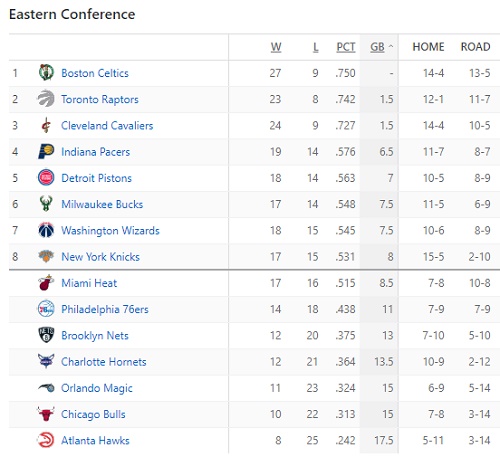 The Celtics have struggled as of late but are still #1 in the East for now. The Raptors, who I don't think anybody outside of Canada believes they have a shot at winning the East, have the fewest losses in the conference. They're being helped by a six-game surge. Maybe those few adjustments that were mentioned a few days ago will help them in the postseason.
Once again, the Cavaliers' record doesn't matter as long as they're in the playoff picture. They have ageless LeBron James; they'll be fine. Indiana Pacers have been one of the more pleasant surprises in the East as Victor Oladipo has taken it to the next level. Oladipo is now sixth in scoring at 25.3 points per game.
Detroit had that huge seven-game skid but they're still hanging on at 5th. Milwaukee can't seem to break to the next level just yet but Giannis Antetokounmpo is still only 22. Washington's start is baffling as we all thought they'd be battling in the Top 3. New York, free of almost all the turmoil from the past few years, has been steady at 8th. Michael Beasley has been the story for them in the last week.
Miami is outside of the playoff picture as of now but they'll be in the trenches all year. Philadelphia has been losing as of late as Joel Embiid can't seem to stay healthy. Brooklyn is admirably fighting through the injuries; 12-20 is better than anybody anticipated. Orlando is sadly struggling again. Chicago had an improbable 7-game winning streak, which is why they're out of the cellar. And Atlanta's 60-win season seemed like a decade ago but it was really only three seasons ago.
Now let's look at the West: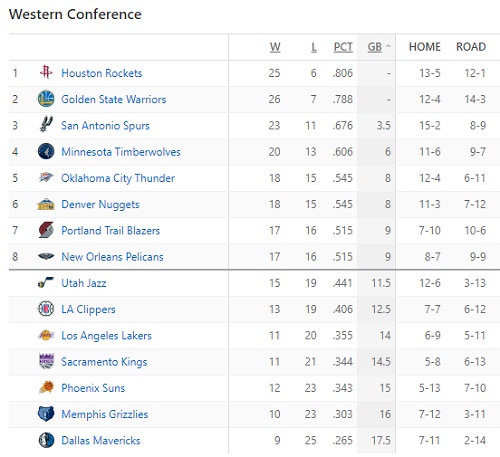 The Rockets lost two in a row despite James Harden scoring 51 points in each of those contests! They temporarily lost the top spot in the West (league) before the Golden State Warriors tripped up against the Nuggets. The Spurs are holding steady in the third spot with Kawhi Leonard still working his way back in the line-up. Minnesota seemed like they have been up and down this season but they're actually fourth despite Karl-Anthony Towns' struggles in defense and Andrew Wiggins' offensive woes.
Oklahoma City has risen to fifth as they might be starting to figure things out now. We mentioned Denver beating Golden State last night; now they are tied with OKC's record but technically sixth in the West. Portland is struggling a little bit but is seventh in the West. And New Orleans is holding firm at the 8th spot.
Right outside are the Jazz. Injuries have also beset this team (and we know what free agency did to them). The Clippers are full of injuries and it's a bit of a miracle they're only 3.5 games behind the Pelicans. The Lakers are right where I expected them to be for a young team. Sacramento and Phoenix are also two teams I thought were going to struggle. Memphis is sadly in need of a direction now (maybe a rebuild?) and Dallas is definitely rebuilding.
One thing is for sure: I like that there seems to be more parity this year. I don't think this has been emphasized enough.
BULLET PASSES
*Was the Warriors win streak fool's gold? Although that sounded really dumb considering these are the champions we're talking about. Nevertheless, Stephen Curry being out has affected the Dubs the last few games. They went 3/27 (.111) for three against the Nuggets on Saturday night. Including that, they have been only shooting .305 from behind the game in the last five games. If we don't include Saturday's game, they have been average at .356 in the other four games.
The game is a little different for them when Curry is out. Good thing that they have a few other all-stars to help hold down the fort. Still, it seems like they're not getting looks that are as good (especially Klay Thompson in the last couple of games; 3/19 from three!). They'll have to figure that out.
*The Raptors lamented (DeMar DeRozan, really) that they want to be scheduled for Christmas. As you know, Christmas Day is a showcase for the league; usually New York, Los Angeles, and up-and-coming and top teams are on the schedule.
Toronto should fit that bill, right? They've been excellent for the last few years. Maybe if they go win the chip or something…
By the way, this is the Christmas schedule:
PHI @ NY (12 PM EST/9 PM PST, ESPN)
CLE @ GS (3 PM EST/12 PM PST, ABC)
WAS @ BOS (5:30 PM EST/2:30 PM PST, ABC)
HOU @ OKC (8 PM EST/5 PM PST, ABC)
MIN @ LAL (10:30 PM EST/7:30 PM PST, TNT)
Yup. I'll be glued to my TV for 10 hours of Christmas Day.
*Andrew Bogut mentioned that the young guys on the Lakers are frustrated and distracted about their plans in the next year or two. We have guys like Kentavious Caldwell-Pope and Brook Lopez that are free agents and potential trade pieces in Julius Randle and Jordan Clarkson.
Randle, in particular, is interesting because he didn't get a contract extension offer from the team. And while I think Clarkson knows his role on a team as a super-sub, we all feel Randle could be so much more. Currently, the team's future nucleus include Brandon Ingram, Lonzo Ball, and surprise Rookie of the Year candidate Kyle Kuzma. They hope to lure LeBron James, Paul George, or even Kevin Durant with that core.
I feel like this is too much of a long shot. I don't know but I think the team should try to grow within. They can let go of Lopez and KCP and just open up one max slot instead of two.
*A lot of teams went through back-to-backs in the last couple of days but I don't think anyone had a more interesting two days than the Wizards. They got smashed by the Nets by 35 points but came back to wallop the Magic by 27.
Seriously, I expected more from the Wiz. Maybe they'll get it together in 2018. After all, Bradley Beal claimed in November that they were the best team in the East.
SCOREBOARD
12/22/2017
NY 101 (17-15) @ DET 104 (18-14)
NO 111 (16-16) @ ORL 97 (11-22)
WAS 84 (17-15) @ BRK 119 (12-19)
LAC 128 (13-18) @ HOU 118 (25-6)
ATL 117 (7-25) @ OKC 120 (17-15)
CHA 104 (11-21) @ MIL 109 (17-13)
DAL 101 (9-24) @ MIA 113 (17-15)
DEN 102 (17-15) @ POR 85 (16-16)
LAL 106 (11-19) @ GS 113 (26-6)
12/23/2017
PHI 86 (14-18) @ TOR 102 (23-8)
MIL 106 (17-14) @ CHA 111 (12-21)
BRK 119 (12-20) @ IND 123 (19-14) [OT]
ORL 103 (11-23) @ WAS 130 (18-15)
DAL 107 (9-25) @ ATL 112 (8-25)
CHI 92 (10-22) @ BOS 117 (27-9)
NO 109 (17-16) @ MIA 94 (17-16)
LAC 112 (13-19) @ MEM 115 (10-23)
OKC 103 (18-15) @ UTA 89 (15-19)
DEN 96 (18-15) @ GS 81 (26-7)
MIN 115 (20-13) @ PHX 106 (12-23)
POR 95 (17-16) @ LAL 92 (11-20)
SA 108 (23-11) @ SAC 99 (11-21)
LINE CROSSER
12/22/2017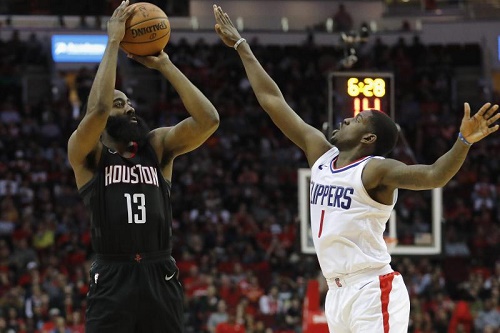 (PHOTO CREDIT: Tim Warner/Getty Images.)
I mean, James Harden reached this amount of points for his second straight game:
51 points, 8 assists, 3 steals.
And somehow, the Rockets lost both games. Defense, guysh!
12/23/2017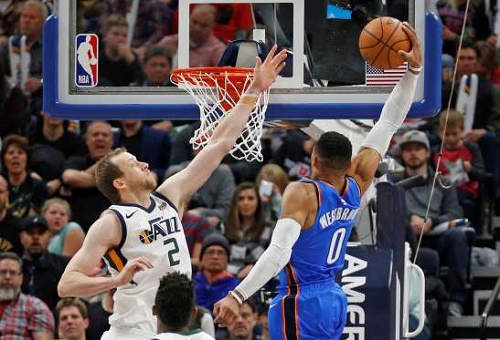 (PHOTO CREDIT: Rick Bowmer/AP.)
Russell Westbrook got Triple-Double #11:
27 points, 10 rebounds, 10 assists.
That's their fourth straight win. OKC is now 5th in the West.
WATCH THIS PLAY
12/22/2017
(VIDEO CREDIT: Thunder Nation.)
Westbrook sinks the Hawks with this game-winning three.
(At least, Paul George didn't shoot it. BALLGAME.)
12/23/2017
https://youtu.be/PlYL17oH62s
(VIDEO CREDIT: Global Entertainment Tube.)
C.J. McCollum (Steve Urkel!?) gets into the lane and finishes with this strong two-handed jam over the Lakers. DID I DO THAT?
---
Hey now! Follow Rey-Rey on Twitter at @TheNoLookPass.
You can also see some of his work at Forum Blue & Gold, a site specializing on the Los Angeles Lakers.
Also, while it's on hiatus due to personal and health issues, you can listen to old episodes of Rey-Rey's podcast, Rey-Rey Is Fundamental, which has NBA talk and other topics. The podcast will be back as soon as he's healthy.