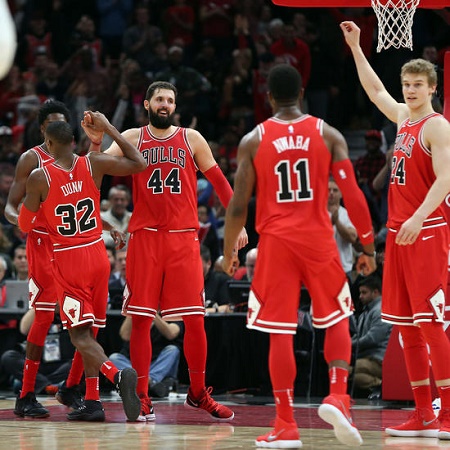 (PHOTO CREDIT: Terrence Antonio James/Chicago Tribune.)
So the Chicago Bulls have won six straight games. All hell has broken loose.
They are doing this win streak after losing 10 in a row. They've bounced back to a more respectable 9-20 record. And we have to give credit where credit is due.
These players are responding to Fred Hoiberg. Somehow, Nikola Mirotic and Bobby Portis are playing well together after that scuffle that sent Mirotic to the hospital with a broken face. Kris Dunn has become a good player. Lauri Markkanen continues to play well for them, Robin Lopez has been the consummate pro, and David Nwaba has been a revelation.
But is this what the Bulls and their fans really want?
The league is weird in that way. This isn't like the NFL and MLB where borderline playoff teams can win the championship; a team that has showed excellence throughout the regular season usually wins out. And the preferred fastest way to become great is to be a bottom team so they can draft a player that can potentially alter their franchise for the best.
So basically, being a middling team is the worst place to be. The Bulls aren't the most talented; anyone can see that. In fact, a lot of pundits picked them to be the worst team in the league. So to see them win like this (again, this league is weird) is probably not the best thing for them. They end up with, say, 35 wins and they're too far from getting the best chance of getting a top pick of the draft. Of course, there is a chance that the 7th pick of the draft can become a superstar (Stephen Curry!) but obviously, you want the first chance of getting a fantastic player.
The thing is… the Bulls have been a middling franchise the last couple of years. They obviously expected a rebuild after they traded their last great player, Jimmy Butler, to the Timberwolves.
I suppose a playoff berth can't be that bad. But I'm not sure if that will attract potential free agents next summer. And good luck on getting a franchise player at Pick #15.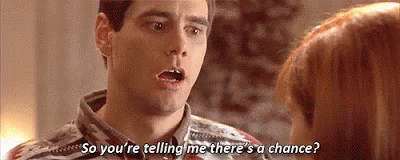 BULLET PASSES
*Speaking of top teams, look at the Rockets go again. They've won 14 straight games. If you're keeping track, Chris Paul is STILL undefeated in games he's played since leaving Los Angeles. Houston is 15-0 with CP3 in the line-up.
*Let's not forget the Golden State Warriors. They beat a very game Los Angeles Lakers team (no doubt boosted by the Kobe Bryant retirement ceremony) and have won their 9th straight game. They've been missing Draymond Green and Stephen Curry but they have the luxury of having four all-stars in their prime so they'll still be fine.
*So many close games happened on Monday night. A few of them involved being clutch on the line. There was Kevin Durant making a jumper under pressure and David West making a huge defensive play.
And then there's Bojan Bogdanovic throwing away a pass to Terry Rozier. That is SUCH a cruel way to lose.
*I've written about Kobe Bryant many, many times. I did it here, here, here, and here. I don't need to repeat all the things I've said about him over the years as an athlete.
It's just gotten so complicated, though. Many people practically worship him and today's Kobe Bryant reveals a much softer person and a man that seems to have learned a lot about life over the years.
It's why it's so hard to fathom what happened in Colorado in 2003. And in these troubled times where a lot of women are speaking out (the #MeToo movement) about sexual assault, it can be difficult for a lot of people to see Kobe Bryant get his jersey numbers (8 AND 24) retired. It felt almost too easily that we let this slide. Hell, I let it slide for so long myself because I (like a lot of people) refused to think this actually happened.
There's no doubt that Kobe is a legend in basketball. One of the greatest of all-time. Some even say THE greatest of all-time. But his legacy shouldn't leave out the part about what happened in a hotel room in Colorado. To me, I just don't think you can separate the celebrity from the person.
SCOREBOARD
12/17/2017
SAC 93 (9-20) @ TOR 108 (20-8)
ORL 110 (11-20) @ DET 114 (17-13)
IND 109 (17-13) @ BRK 97 (11-18)
CLE 106 (23-8) @ WAS 99 (16-14)
12/18/2017
NY 91 (16-14) @ CHA 109 (11-19)
BOS 112 (26-7) @ IND 111 (17-14)
MIA 104 (15-15) @ ATL 110 (7-23)
PHI 115 (14-15) @ CHI 117 (9-20)
UTA 99 (14-17) @ HOU 120 (25-4)
POR 107 (16-14) @ MIN 108 (18-13)
DEN 94 (16-14) @ OKC 95 (15-15)
PHX 97 (11-21) @ DAL 91 (8-23)
LAC 91 (11-18) @ SA 109 (21-10)
GS 116 (24-6) @ LAL 114 (10-18) [OT]
LINE CROSSER
12/17/2017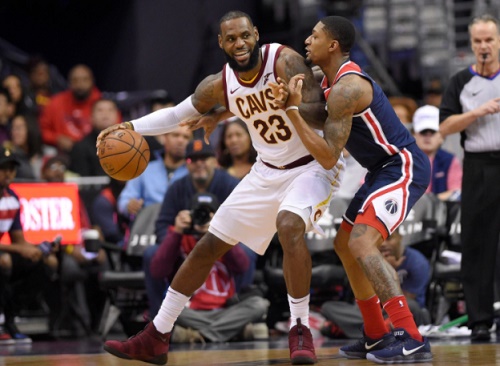 (PHOTO CREDIT: Nick Wass/AP.)
You know, this feels like a copy-and-paste in this section. Anyway, yet another triple-double for LeBron James.
20 points, 12 rebounds, 15 assists.
The 61st of LeBron's career and the 6th of the season.
12/18/2017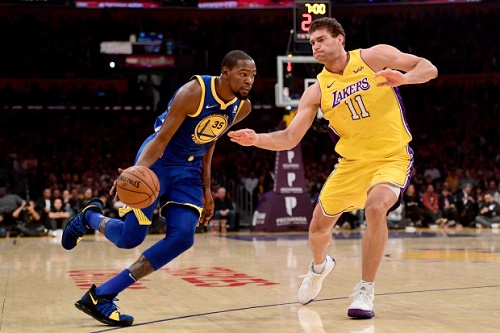 (PHOTO CREDIT: Harry How/Getty Images.)
He didn't shoot very well. But in the end, Kevin Durant put up a monstrous line in front of Kobe Bryant (at least, until Kobe left right after regulation):
36 points, 11 rebounds, 8 assists, 3 blocks.
Yeah, even though he went to G. State, let's not forget that Durant can STILL carry a team with little to no problem.
WATCH THIS PLAY
12/17/2017
(VIDEO CREDIT: NBA CHANNEL.)
It's Sunday so you'll see touchdown passes. Like LeBron James to Jeff Green.
12/18/2017
(VIDEO CREDIT: MLG Highlights.)
Terry Rozier literally stole a win for the Celtics. Down one with time ticking away AND on defense, Rozier was able to get a hand on an errant pass and broke away for the game-winning dunk.
Shoutout to Larry Nance, Jr. for putting one on Kevin Durant. My goodness.
---
Hey now! Follow Rey-Rey on Twitter at @TheNoLookPass.
You can also see some of his work at Forum Blue & Gold, a site specializing on the Los Angeles Lakers.
Also, while it's on hiatus due to personal and health issues, you can listen to old episodes of Rey-Rey's podcast, Rey-Rey Is Fundamental, which has NBA talk and other topics. The podcast will be back as soon as he's healthy.