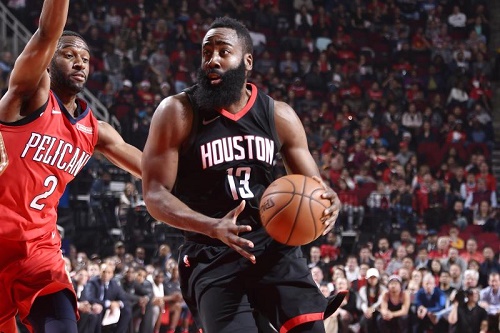 (PHOTO CREDIT: Bill Baptist/Getty Images.)
James Harden has my vote for the Most Valuable Player so far in the league. If I had a vote, that is.
Yes, I know it's early December. But it's never too early to see these sort of things. Harden has spearheaded the Rockets to a 10th straight win. Yeah, it definitely helps to have Chris Paul on his side (funny enough, the Rockets are 11-0 WITH CP3). But a bit of a decreased workload has made Harden even better.
He's putting up 32.0 points (leads the league), 5.1 boards, 9.5 assists (second in the league), and 1.88 steals (6th place) per game. He's shooting a career-best .406 from three. And let's remind everyone that the Rockets have the best record in the league with a 21-4 record.
James Harden just finds a way to score, regardless of rule changes. He gets to the line with no problems whatsoever (averaging 9.3 foul shots per game). He's not the fastest guy but he gets to the rim seemingly almost at will. He's crafty with his ballhandling and he can change directions with a drop of a hat. You can't give him space because he'll knock down the pull-up jumper.
And with the threat of Chris Paul (to go along with all of the other outside shooters and capable big men like Clint Capela and Nene), he can go one-on-one and he will make the player pay so badly he'd be in debt. Harden has always put up the numbers but now he's got a much better cast around him, which has made him even deadlier than ever before.
Harden has always been made fun of for his lack of defense but he showed that he's very capable of it against the Pelicans. In fact, he played some strong defense in the closing minutes of that game; his steal pretty much sealed their 10th win in a row. If he continues to play defense like that for most of the games (and they continue their winning ways), I don't see how he can't win his first MVP of his career.
Hate Harden's game all you want but you can't deny that it has produced eye-popping results.
BULLET PASSES
*It was a really weird NBA on Monday. The Celtics got smashed by the hapless Bulls like it was 1996. The Raptors had their six-game win streak snapped by the not-so-great Clippers. And the Thunder continue to lose ballgames; this time, they lost to the below-average Hornets.
*The Warriors are winning and sometimes, we take for granted that they have four all-stars in their prime. So even if TWO are missing, they're still the favorites to win the game. Let's not forget that they still have awesome depth. Andre Iguodala and David West are still very capable even in their "advanced age" in the NBA. And they have very good role players like Shaun Livingston (who has always been very good), Patrick McCaw, JaVale McGee (he now has experience as a champion role player!), and Nick Young (he knows his role and has gotten acclimated as a Warrior).
*The Lakers are not very good as of now but even the basics should be known for a young team. You want to extend the game, right? How about NOT letting the clock run down to 9 seconds when you're down four? This is so simple, guys. The more time you have left, the better chances of you guys coming back because you'd have… MORE CHANCES of scoring baskets.
*Welcome back, Kawhi Leonard. The Spurs lost but you know they'll be fine. Also, welcome back to Milos Teodosic, who was instrumental in the Clips' upset win over the Raptors.
*Don't look now but the Brooklyn Nets are only 2 1/2 games behind that four-way tie in the East from 6-9. Wizards, Sixers, Pistons, and Knicks are all 14-13.
Pistons, I believed in you so much.
*Wednesday is going to feature the return of Paul George to Indiana for the first time since he got traded. It's going to be so sweet for the home crowd if Victor Oladipo goes off yet again. I still can't believe Oladipo is having a better season than PG-13 but you'd still be a fool to pass on PG. If I was the Thunder front office, I'd STILL do that trade a hundred times over.
*So y'all remember when Bobby Portis rearranged Nikola Mirotic's face with a fist? And that got Portis suspended for eight games? And it took Mirotic out for more than a month? Well, Mirotic recently returned and the Bulls have won three straight games since. Well, those two guys played really well together against the Celtics.
A postgame show in Chicago referred to them as:
1️⃣-2️⃣ 🥊 pic.twitter.com/G1LuuBxtev

— NBC Sports Chicago (@NBCSChicago) December 12, 2017
Oh, you guys are hilarious.
SCOREBOARD
12/11/2017
BOS 85 (23-6) @ CHI 108 (6-20)
NO 123 (14-14) @ HOU 130 (21-4)
MIA 107 (13-13) @ MEM 82 (8-19)
CHA 116 (10-16) @ OKC 103 (12-14)
POR 104 (13-13) @ GS 111 (22-6)
TOR 91 (17-8) @ LAC 96 (10-15)
12/12/2017
ATL 114 (6-21) @ CLE 123 (20-8)
DEN 103@ DET 84 (14-13)
LAL 109 (10-16) @ NY 113 (14-13) [OT]
WAS 98 (14-13) @ BRK 103 (11-15)
SA 89 (19-9) @ DAL 95 (8-20)
PHI 118 (14-13) @ MIN 112 (16-12) [OT]
PHX 92 (9-20) @ SAC 99 (9-18)
LINE CROSSER
12/11/2017
I already gave my case for James Harden as MVP. Well, this line was a bit of proof, right?
26 points, 17 assists, 6 steals.
SIX STEALS. Harden was always one of the best thieves in the league but this was just next level.
12/12/2017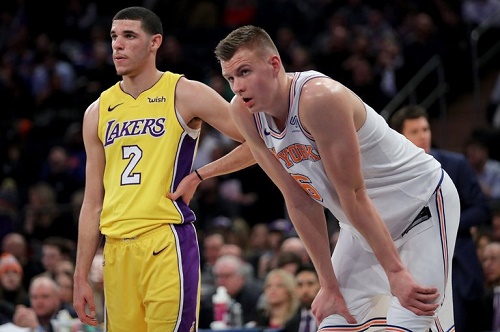 (PHOTO CREDIT: Abbie Parr/Getty Images.)
So many great lines on Tuesday but Kristaps Porzingis really did his thing against the Lakers:
37 points, 11 rebounds, 5 blocks.
He was unstoppable.
WATCH THIS PLAY
12/11/2017
(VIDEO CREDIT: CliveNBAParody.)
Russell Westbrook probably has a license plate now on his car that says RIP MKG.
12/12/2017
https://youtu.be/-cdnY3PYc-s
(VIDEO CREDIT: House Of Highlights.)
LeBron, who is in his 471st season in the NBA, can still throw down with the best of them.
---
Hey now! Follow Rey-Rey on Twitter at @TheNoLookPass.
You can also see some of his work at Forum Blue & Gold, a site specializing on the Los Angeles Lakers.
Also, while it's on hiatus due to personal and health issues, you can listen to old episodes of Rey-Rey's podcast, Rey-Rey Is Fundamental, which has NBA talk and other topics. The podcast will be back as soon as he's healthy.