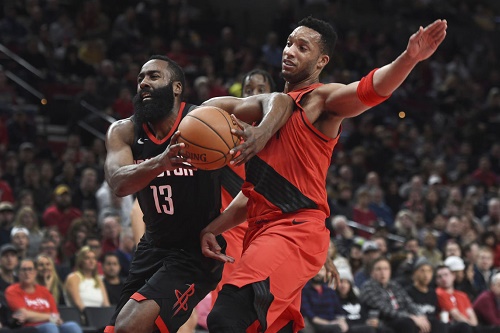 (PHOTO CREDIT: Steve Dykes/AP.)
Okay. We mostly thought the Houston Rockets was going to be the team to challenge the reigning, defending champion Golden State Warriors in the Western Conference. But with the Warriors a little shaken up and the Rockets catching volcanic fire, Houston is really making all of us think at the moment.
These guys are seriously legitimate right now.
Ever since Chris Paul came back, the Rockets have won nine straight. They have the best record in the league at 20-4. We knew their offense was already good and some wondered if the addition of CP3 would hinder that. Nope. They are still second in offensive rating (they are scoring 115.2 points per 100 possessions). Mike D'Antoni has also tended to stagger Paul and James Harden's minutes and it's really such an ordeal for the opposing team's bench.
Plus when they're on the court together, you know that they can both play off ball really well. And Harden, while an extremely gifted point guard, was a 2-guard to begin with.
Where they really shine, though, is defense. Maybe we should have seen this coming but the Rockets made some signings that were huge. P.J. Tucker came over from a Toronto rental. Luc Mbah a Moute also decided to escape L.A. to join Paul in Houston. Eric Gordon (also a former Clipper) is playing defense like he was early in his career. Trevor Ariza is still a really good perimeter defender and they have Clint Capela inside. That's more than enough to offset Harden and Ryan Anderson's liabilities on defense.
And Tucker and Mbah a Moute have become very good outside shooters that they don't have to sit down when they need scoring.
Mike D'Antoni and assistant head coach Jeff Bzdelik mentioned that they want a Top 5 Defense (D'Antoni, yes, has embraced defense). That's where they are at the moment on defensive rating, allowing only 103.9 points per 100 possessions. And if all else fails them, they still have Harden, one of the most sublime scorers in the last decade, and Paul, one of the best floor generals and still capable of taking over a game. They may have everything to counter the Warriors' explosive offense.
Let's also remember what motivates them. Paul has never made the Conference Finals. Harden hasn't made the Finals since he became the #1 option of a team. And D'Antoni has never made the Finals as a coach.
No pressure, Rockets.
BULLET PASSES
*There were a few close games on Saturday, including that wild finish between the Wizards and Clippers in Los Angeles. After a few shots, the Wizards actually had two chances to win the game. The first play that saw Bradley Beal make a shot quite late (even if everything was done right) was waved off because the timekeeper started the clock too early.
What was weird was that the clock had a millisecond shaved off to 1.1 seconds. Also weird? The Wizards had to take the ball out deeper into the sideline (basically near the corner of the court). Anyway, the Wiz didn't get a good look; Marcin Gortat had to put up a wild three. The Clippers won.
*What sucks was giving the ball away. That's what the Magic literally did to the Hawks. Kent Bazemore stole the ball and made a breakaway dunk TWICE in the waning seconds.
*Ugly finishes? The Thunder and the Grizzlies had that. We had missed free throws (ESPECIALLY from the Grizz) and wild last shots at the buzzer. One of those teams HAD to win the game, I guess.
*Laker fans would be happy to know that in the fourth quarter, the Lakers exploited Dwight Howard's weakness on defense. Jordan Clarkson and Julius Randle spammed Dwight with pick-and-roll plays in the fourth. Magic Johnson's team finished a very impressive back-to-back with wins over the Sixers and the Hornets.
*Speaking of the Sixers, Ben Simmons was scary with his vision and slams. Still, LeBron James helped the Cavs get back on the winning track.
*And Giannis Antetokounmpo was just messed up. Even towards the final buzzer.
SCOREBOARD
12/09/2017
WAS 112 (14-12) @ LAC 113 (9-15)
MIA 101 (12-13) @ BRK 89 (10-15)
LAL 110 (10-15) @ CHA 99 (9-16)
ORL 110 (11-17) @ ATL 117 (6-19)
PHI 98 (13-12) @ CLE 105 (19-8)
NY 102 (12-13) @ CHI 104 (5-20)
UTA 100 (13-14) @ MIL 117 (15-10)
SA 104 (19-8) @ PHX 101 (9-19)
OKC 102 (12-13) @ MEM 101 (8-18) [OT]
HOU 124 (20-4) @ POR 117 (13-12)
LINE CROSSER
It's really tough to ignore three players who had triple-doubles on Saturday. It's also super tough to ignore James Harden's line:
48 points, 8 rebounds, 3 steals.
He just keeps putting up these huge numbers.
WATCH THIS PLAY
(VIDEO CREDIT: DaHoopSpot Productions.)
After a back and forth between these two teams, Lou Williams had the final answer with this three with 1.2 seconds left. The Clippers would prevail against the Wizards on this Saturday matinee.
---
Follow Rey-Rey on Twitter at @TheNoLookPass. You can also see some of his work at Forum Blue & Gold, a site specializing on the Los Angeles Lakers. And lastly, it's on hiatus due to personal and health issues but you can listen to old episodes of Rey-Rey Is Fundamental, which consists of NBA talk and other topics he feels like talking about. The podcast will be back soon.