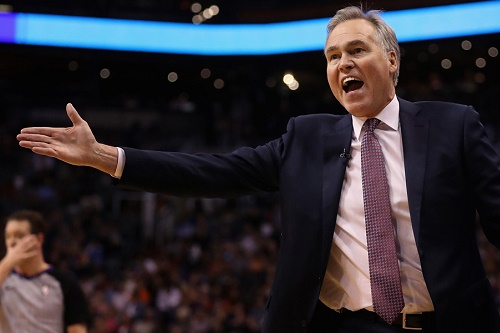 (PHOTO CREDIT: NBA.Com.)
Current Rockets head coach Mike D'Antoni was just named Western Conference Coach of the Month. Houston is flying high at 18-4. And we all know that D'Antoni gets crap for his teams not playing defense but the Rockets are FIFTH in defensive rating. They are only allowing 103.2 points per 100 possessions. And that's with a team led by James Harden!
But D'Antoni also has Jeff Bzdelik, former Denver Nuggets head coach, on his staff. Bzdelik is known for his defensive mind and he's helped the roster have that defensive mindset. They also added players with some good defense with P.J. Tucker, Luc Mbah a Moute, and, of course, Chris Paul. Plus they already have Clint Capela.
Anyway, my point is that D'Antoni never seems to get enough credit as a coach. He was the mastermind behind the Steve Nash Phoenix Suns in the mid-2000s. His approach to offense has been plastered all over the league with his pace and space attack. Alvin Gentry did well for the Suns after D'Antoni left. Steve Kerr took that approach with Gentry on his staff in their first title run. You can say even Gregg Popovich adjusted to that type of play; the Spurs were ground and pound for a lot of years. Today's NBA has D'Antoni's blueprints everywhere.
D'Antoni has helped make the game exciting. He was like Nirvana to music. He was like ECW to wrestling. The league and their fans clamored for change. We all wanted more offense. Remember when we were thrilled whenever we watched the Sacramento Kings and the Dallas Mavericks in the early 2000s? The Suns souped it all up in 2004-05. And they were winning with that approach. Now three-pointers are the norm. Ball movement is vogue. Especially if you have the right personnel to do it.
Not only that but he has made some names out of previously unheralded players. Earl Clark had a really good year his lone season with D'Antoni and the Lakers. Chris Duhon set the Knicks franchise record with 22 assists. And we can't forget the insanity that was Jeremy Lin, who has now become a regular starter wherever he went.
He didn't get full chances with the Knicks and the Lakers, in my opinion. The Knicks got off to a great start with D'Antoni and Stoudemire before the Carmelo Anthony trade mucked it all up. He would end up resigning after a power struggle. Then in the Lakers, he was always villified because he was chosen over Phil Jackson. But oh, he would be so perfect as the Lakers coach NOW. Luke Walton essentially plays the same system for that team.
The only thing missing for D'Antoni is a championship ring (he hasn't even made the Finals yet as a coach). For the most part, that's how coaches and players get validated. It's dumb but that's just the way it is. Hopefully, he can get it sooner than later. The Rockets are tabbed to have the best chance to beat the Warriors in the West this season.
Lastly, remember when Magic Johnson was elated that D'Antoni left the Lakers?
Happy days are here again! Mike D'Antoni resigns as the Lakers coach. I couldn't be happier!

— Earvin Magic Johnson (@MagicJohnson) May 1, 2014
Well, there was a receipt three years later.
Laurel D'Antoni, Mike's Mrs., at the game tonight was asked how it feels to be back in LA. Said, "Is it classless to say 'Happy days are here again?

— Jonathan Feigen (@Jonathan_Feigen) December 4, 2017
Oof.
But yeah, Mike D'Antoni really deserves more credit from the league and the fans.
BULLET PASSES
*Kyle Anderson is out for two to three weeks with a sprained knee.
*Anthony Davis has a hurt groin but is day-to-day. Still. Ban injuries.
It's especially scary for Davis because he never seems to stay healthy.
*I am still baffled by Luke Walton's decision to keep Larry Nance, Jr. as the starter and Kyle Kuzma off the bench. If scoring consistently, especially after a 30-point game, doesn't keep you in the starting line-up, what will? I get that he's not a defensive wiz, but most rookies don't. At the very least, if Kuzma is coming off the bench, have him play 25-30 minutes.
*This is a really intriguing article from Rafael Torres but he thinks Russell Westbrook is not the same. Part of it is that he seemingly continues to hunt for stats. He's also deferring too much to Paul George and Carmelo Anthony. Their overall ball movement isn't great to begin with and when Carmelo has the ball, you know what happens most of the time.
The article also suggested he could be tired. That's not a good sign. Of course, it looked like he never took a play off last season. I mean, you remember what he did.
*Speaking of getting tired, I wonder if it will really catch up to the Warriors and the Cavaliers this season. Remember that we were touting that the Heat were the first time to make four straight NBA Finals since the 80s. Now we have both teams aiming for their fourth straight Finals. Ooh, boy.
SCOREBOARD
12/02/2017
PHX 111 (8-16) @ BOS 116 (20-4)
DAL 82 (8-13) @ DAL 108 (6-17)
ATL 114 (5-17) @ BRK 102 (8-14)
MEM 111 (7-15) @ CLE 116 (16-7)
DET 103 (14-8) @ PHI 108 (13-9)
SAC 104 (7-16) @ MIL 109 (12-9)
LAL 100 (8-14) @ DEN 115 (13-9)
NO 123 (12-11) @ POR 116 (13-10)
12/03/2017
ORL 105 (10-14) @ NY 100 (11-11)
GS 123 (18-6) @ MIA 95 (11-12)
LAC 106 (8-14) @ MIN 112 (14-10)
SA 87 (15-8) @ OKC 90 (10-12)
HOU 118 (18-4) @ LAL 95 (8-15)
LINE CROSSER
12/02/2017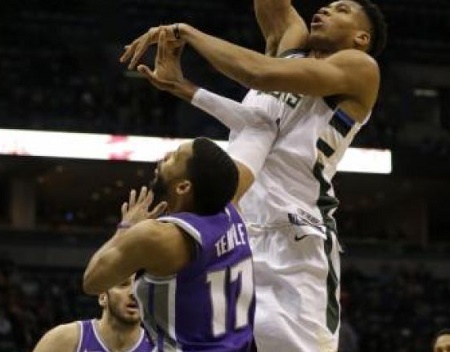 (PHOTO CREDIT: Jeffrey Phelps/AP.)
Giannis Antetokounmpo got it done against the Kings.
33 points, 13 rebounds, 5 rebounds, 3 steals.
That's quite a night for Giannis.
12/03/2017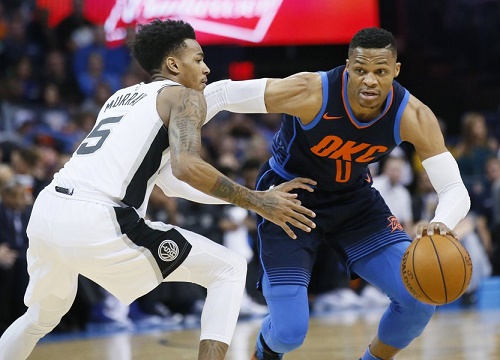 (PHOTO CREDIT: Sue Ogrocki/AP.)
Russell Westbrook got his 7th triple-double of the season:
22 points, 10 rebounds, 10 assists.
Big victor for them even if the Spurs had a few injuries going on.
WATCH THIS PLAY
12/02/2017
(VIDEO CREDIT: DaHoopSpotProductions.)
Gary Harris does a little 360 in the air before the fingerroll. No big deal.
12/03/2017
(VIDEO CREDIT: Detodo Unpoco.)
This was messed up. Look at Josh Huestis catch this alley-oop and climb on Danny Green's back.
---
Follow Rey-Rey on Twitter at @TheNoLookPass. You can also see some of his work at Forum Blue & Gold, a site specializing on the Los Angeles Lakers. And lastly, it's on hiatus due to personal and health issues but you can listen to old episodes of Rey-Rey Is Fundamental, which consists of NBA talk and other topics he feels like talking about. The podcast will be back soon.