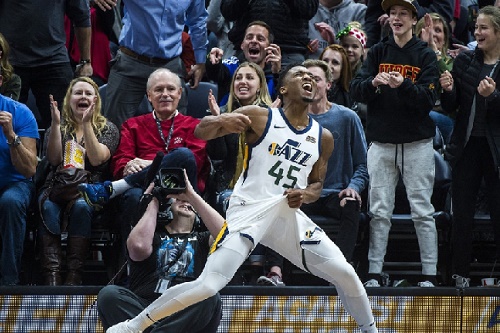 (PHOTO CREDIT: Chris Detrick/Salt Lake Tribune.)
I'm really salivating over the rookies this year. It feels like the most productive rookies in quite some time. Now I'm not ready to compare them to the 1984, 1996, or 2003 crowd just yet but these guys seem to be more on the forefront than rookies of previous years. Maybe because the expectations didn't seem to be sky high. Well, other than Lonzo Ball, who gets an ungodly amount of coverage.
Witness Donovan Mitchell score 41 points for the Jazz, who have won their fifth straight. Suddenly, they found someone that can pump in points for the team. It was offense the Jazz needed after Gordon Hayward left a crater-sized hole in scoring. Mitchell isn't exactly shooting well at .402 but he has come through as the second-leading scorer of the team at 16.4 points per game. The Jazz may bounce back quicker than people expect.
Kyle Kuzma has really been a sensation for the Lakers from Summer League on. Fans have had a love affair with him since then and Kuzma has continued to produce as the team's leading scorer at 16.7 points per. He's easily been the better rookie for the Lakers (Western Conference Rookie of the Month!) but it's not like Lonzo has been doing too bad. Lonzo is a nightly triple-double threat at 9-7-7 for the season. His shooting has been glaringly bad that his other skills have been sometimes overlooked. Ball gets the offense going with his contagious passing and rebounding that gets the break going. He's helped make the Lakers the fastest team in terms of pace.
Some are loath to include Ben Simmons here but this guy is terrifying for the Sixers. He's pretty much a 6'10" point guard. Simmons also threatens a triple-double every game as well. As much as guys like Mitchell, Kuzma, and Ball impress, Simmons is the runaway favorite to win Rookie of the Year. Again, people don't want to consider him a rookie but you can't deny how excellent he has been. 18.6 points, 9.4 rebounds, 7.2 assists, and 2.3 steals per contest. And yes, he won Rookie of the Month in the East.
We haven't even talked about the other guys. Jayson Tatum, the third pick, has already been a huge key to Boston's early success. The Bulls are terrible but Lauri Markkanen is having a really good rookie year. The Mavs are on the same boat but Dennis Smith, Jr. (people picked him to win Rookie of the Year before Simmons blew us away) has done well. Josh Jackson has done fine for the Suns. De'Aaron Fox is doing his thing for Sacramento. John Collins is holding his own in Atlanta. Frank Ntilikina is making a difference defensively for the Knicks. And there are guys that came out of nowhere (the Kuzma types!) like Mike James for Phoenix, Dillon Brooks for Memphis, and Antonio Blakeney for the Bulls.
And yet Markelle Fultz has barely stepped on to the court because of an injury. Imagine if he was healthy.
Anyway, maybe it all just happened to be coincidental. A lot of teams happen to be in transition as the Warriors (heck, Jordan Bell has showed something!) continue to dominate the scene. Excellent teams like the Celtics had high draft picks and were able to seamlessly fit in their young guys. Teams trying to stay afloat like the Jazz gave Mitchell a spot immediately. Teams trying to get out of the hole like the Lakers want to give their rookies PT right away. And of course, rebuilding teams are gonna let their potential future stars do their thing and get experience since they weren't expected to win.
Time will tell on how good this class is going to be. But I like what I've seen thus far in the first six weeks.
BULLET PASSES
*I'm the type that wants everyone to do well. I really wanted to see new teams in the scene like Denver. Unfortunately, they are undermanned as Paul Millsap has a wrist injury that could keep him out until February. And Nikola Jokic will be out for several games because of an ankle injury. The Nuggets might be deep enough to withstand these losses but those are two of their best players they just lost.
*So are we done doing those "Cleveland is done" doom and gloom columns yet? They've won 10 straight and LeBron James is playing like he clearly wants a fifth MVP trophy in his case.
The Cavs are up to second place in the East now after that Pistons loss to the Wizards on Friday night.
*I hate that Anthony Davis keeps getting hurt. He suffered a groin injury on Friday. Ugh.
*The Memphis Grizzllies can't stop losing. Their slide is up to 10 games. Youch.
*I continue to keep a close watch on the Thunder saga. They did beat the Wolves with little production from Carmelo Anthony (9 points in 7 shots). But Steven Adams was perfect: 27 points and did NOT miss in 11 field goal attempts. Paul George went for 36 points and 9 boards.
They did have 28 assists in the win. More of this, please.
*The Spurs have silently creeped back up to the third spot in the West. This is what they do. Every single season.
SCOREBOARD
11/30/2017
ATL 114 (4-17) @ CLE 121 (15-7)
PHI 97 (12-9) @ BOS 108 (19-4)
CHI 110 (3-17) @ DEN 111 (12-9)
MIL 103 (11-9) @ POR 91 (13-9)
UTA 126 (11-11) @ LAC 107 (8-12)
12/01/2017
DET 91 (14-7) @ WAS 109 (12-10)
GS 133 (17-6) @ ORL 112 (9-14)
IND 115 (12-11) @ TOR 120 (14-7)
CHA 100 (8-13) @ MIA 105 (11-11)
SAC 107 (7-15) @ CHI 106 (3-18)
SA 95 (15-7) @ MEM 79 (7-14)
MIN 107 (13-10) @ OKC 111 (9-12)
NO 108 (11-11) @ UTA 114 (12-11)
LINE CROSSER
11/30/2017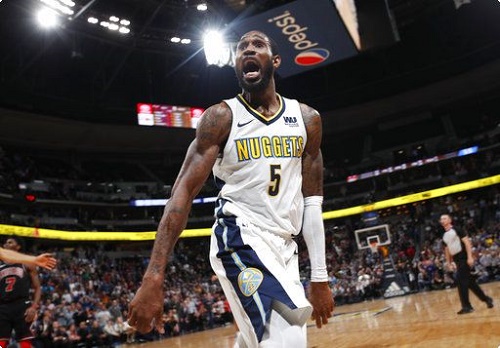 (PHOTO CREDIT: David Zalubowski/AP.)
I mentioned Denver earlier with their injuries. Millsap is already out until probably the all-star break and Jokic suffered that ankle injury before the first half ended (he did not return). But Will Barton thrilled Denver with a career-best:
37 points (13/19 FG, 6/9 3FG).
What a win that was for Denver.
12/01/2017
The rook Mitchell has to get this:
41 points, 6/12 3FG.
Shoutout to Victor Oladipo, who went for 36-7-6.
WATCH THIS PLAY
11/30/2017
(VIDEO CREDIT: DunkFest.)
After Kris Dunn made a difficult go-ahead lay-up for the Bulls with 9.6 seconds left, Barton broke free for his own lay-up to give the Nuggets the lead with 3.2 ticks left. The Nuggets would hold on for the victory. Thursday night was Will Barton's.
12/01/2017
(VIDEO CREDIT: DaHoopSpotProductions.)
The Warriors made sure it was over. Look at this pass by Draymond Green to Jordan Bell for the oop.
---
Follow Rey-Rey on Twitter at @TheNoLookPass. You can also see some of his work at Forum Blue & Gold, a site specializing on the Los Angeles Lakers. And lastly, it's on hiatus due to personal and health issues but you can listen to old episodes of Rey-Rey Is Fundamental, which consists of NBA talk and other topics he feels like talking about. The podcast will be back soon.