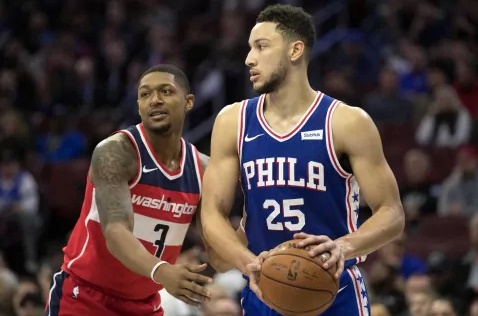 (PHOTO CREDIT: Bill Streicher/USA Today.)
Make your free throws. We always say that about our NBA players, especially to the ones who quite frankly suck at them.
For years, the NBA hasn't done much in terms of making rules for what was originally called Hack-A-Shaq. Foul the opposing team's poorest free throw shooter (take Ben Simmons for example, which happened LAST NIGHT) and hope their possession goes to waste and the player clanks both foul shots.
We've all heard the complaints and I share most of those sentiments. It slows the game down. It rewards the team that committed the foul. And as of recently, that team can foul off the ball (which gives them the opening to foul the other team's poorest free throw shooter) for the first 10 minutes of each quarter (before that, you can do it all game until the last two minutes of the contest). Fouling in those final two minutes of a quarter will result in a free throw AND possession for the opposing team.
Most people have said that players should get better and practice their free throw shooting. Do people NOT think they do that? They always have free throw drills. They shoot hundreds of them in practice. Dwight Howard was known to shoot 80 percent of his free throws during practice. It just doesn't translate to games for various reasons.
I want the perenially bad free throw shooters to get better. And it's not for lack of trying. But it could be various reasons on why they do so poorly. They can't keep a consistent form. They have bad habits when they shoot. They just don't do that well in front of 20,000 people. I'm not as harsh on bad free throw shooters like a lot of people are because, let's face it, we all have our weaknesses in life. Some guys can't make free throws. Some guys can't make three-pointers. Some guys have bad defensive habits. Some guys have a hard time socializing. Some guys have a hard time driving on the road (THIS IS WHAT I'M FACING RIGHT NOW, BY THE WAY). Some guys have a fear of public speaking. It's just the way it goes and you have to take the good with the bad.
I'm on the fence with having no new rulings about this. First of all, very few people in the league shoot this badly (although, yes, individuals have altered basketball rules in the past). Also, I kind of like the strategic component of this game. Does the coach keep the poor FT shooter in the game because he does so many other things well? Or does he take him out because it's becoming a detriment to their offense? And it's not like it always works. Sometimes, the bad shooter gets on a roll and the possessions don't go to waste. And since fouling halts the game, this stop-and-go action really makes it hard for the team to keep a rhythm.
The worst thing about this is that all the stoppage of the action really prolongs the game somewhat unnecessarily and watching someone shoot from the free throw line for a few minutes isn't exactly fun (although I'll admit that, to me, it's amusing watching a player go through this adventure). But, yeah, watching Simmons shoot 24 free throws in the fourth quarter (a RECORD in one quarter!) isn't how we want to spend a Wednesday night. By the way, both Washington and Philadelphia combined for 101 free throw attempts. My eyes hurt.
There are a lot of pros and cons to this. I still don't know what the real answer is other than leaving it alone. Again, we just can't yell at these guys to "practice their free throws"; they already do! It is on them to get better. But they'd rather have not someone telling them all the time to practice. I certainly don't tell you guys how to do your job all the time.
(Of course, you can be Andre Drummond and suddenly become a passable free throw shooter.)
BULLET PASSES
*There's a first time for everything. LeBron James got ejected for the first time in his NBA career on Tuesday night.
*I know a lot of people were calling Brandon Ingram a bust. Because it's fashionable to call players who aren't even in the league for two full seasons a bust. But Ingram pumped in 32 points against the reigning, defending champs Golden State Warriors in a hotly contested OT game. He seems to be getting to the rim at will as of late and he's really beginning to understand how to use his length.
*But, hey, Ben Simmons went for 31 points and 18 boards. Not bad for the first and second picks of the 2016 NBA Draft. Even though, yeah, we're calling Simmons a rookie because he didn't play the whole 2016-17 season.
*We all saw a sad Russell Westbrook after the Orlando Magic snapped their nine-game skid by beating the equally not-so-hot Oklahoma City Thunder. From the jump, the Thunder don't move the ball as well as most other teams; they are 25th in assists at the moment. You would think that the Thunder would have a fantastic offense with Westbrook, Paul George, and Carmelo Anthony. But the ball stops too much and the offense ends up being the isos of NBA old.
I still think they'll figure it out. And I don't think the franchise is as bad a shape as people think. After all, Westbrook just signed an extension and he likely won't demand a trade.
*I'm still scratching my head and, at the same time, happy for the Detroit Pistons. They blew out a young Suns team and those were the types of games that I thought they would lose as they try to work their way up. Andre Drummond is back to being a monster inside (again, let's applaud his free throw shooting improvement!) and Tobias Harris is having a career year. Oh, yeah. They are third in three-point shooting percentage, which is a complete turnaround from years past.
*The Grizzlies drama has escalated over the past week and yet we add another layer. There is a bit of squabble in the ownership department. Majority owner Robert Pera may be forced to sell the team soon as minority owners have decided to use the buy/sell clause they had agreed upon. Pera has to either buy out minority owners Steve Kaplan and Daniel Straus or sell the team to them.
This was right after the Grizz let go of coach David Fizdale. Remember when Memphis was one of the more stable teams in the last half-decade or so? Youch.
SCOREBOARD
11/28/2017
MIA 97 (10-10) @ CLE 108 (14-7)
PHX 104 (8-14) @ CHI 99 (3-16)
WAS 92 (11-9) @ MIN 89 (12-9)
DEN 77 (11-9) @ UTA 106 (10-11)
MIL 112 (10-9) @ SAC 87 (6-15)
11/29/2017
PHX 107 (8-15) @ DET 131 (14-6)
OKC 108 (8-12) @ ORL 121 (9-13)
WAS 113 (11-10) @ PHI 118 (12-8)
MIA 86 (10-11) @ NY 115 (11-10)
NO 113 (8-12) @ TOR 126 (13-7)
IND 97 (12-10) @ HOU 118 (17-4)
MIN 120 (13-8) @ NO 102 (11-10)
BRK 109 (8-13) @ DAL 104 (5-17)
MEM 95 (7-13) @ SA 104 (14-7)
GS 127 (16-6) @ LA 123 (8-13) [OT]
LINE CROSSER
11/28/2017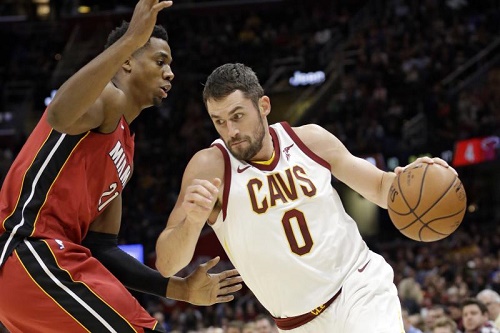 (PHOTO CREDIT: Tony Dejak/AP.)
Kevin Love did a lot of damage against the Heat on Tuesday.
38 points, 9 rebounds.
32 of those points where in the first half.
11/29/2017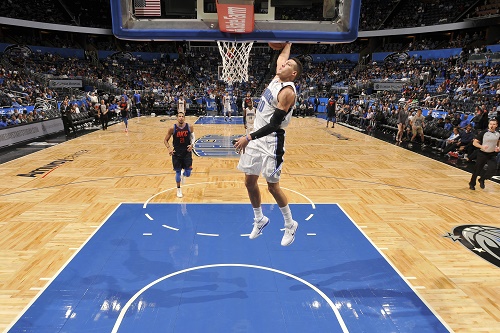 (PHOTO CREDIT: Getty Images.)
Aaron Gordon did more than his part to stop that long losing streak by the Magic.
40 points, 15 rebounds, 4 steals.
That's Gordon's second 40-point game this season.
WATCH THIS PLAY
11/28/2017
(VIDEO CREDIT: Detodo Unpoco.)
Look at Giannis Antetokounmpo run the break. Nice bounce pass by Eric Bledsoe.
11/29/2017
(VIDEO CREDIT: Prince Marcus.)
Well, first off, I had no idea Dwight Howard could do a crossover. But to add to that, I didn't know he could still do these kinds of facial dunks. Sorry, Jakob Poeltl and Serge Ibaka.
---
Follow Rey-Rey on Twitter at @TheNoLookPass. You can also see some of his work at Forum Blue & Gold, a site specializing on the Los Angeles Lakers. And lastly, it's on hiatus due to personal and health issues but you can listen to old episodes of Rey-Rey Is Fundamental, which consists of NBA talk and other topics he feels like talking about. The podcast will be back soon.