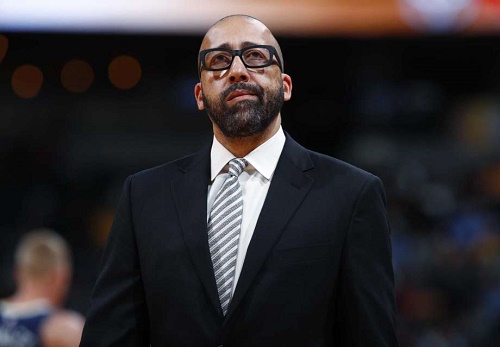 (PHOTO CREDIT: David Zalubowski/AP.)
David Fizdale was the coach of the Memphis Grizzlies. WAS. He was let go by the team on Monday as the Grizz are going through an eight-game swoon.
The team hasn't had Mike Conley in the last six games and he's pretty much the offense of the Grizz. Marc Gasol was, however, benched in the fourth quarter of Sunday's game against the Nets. That may have been the breaking point; Gasol apparently didn't have a great relationship with Fizdale. And with the team on a long losing streak, it was either star player or coach. Spoiler alert: star player usually wins.
Yup. Not the first time this has happened. I think Fizdale was unfairly canned by the team; former Rockets interim coach J.B. Bickerstaff will take over the Grizz in the meantime. But whenever a team goes on a losing streak, even if there are key injuries (hi, Mike Malone and Sacramento; also Scott Brooks and Oklahoma City), the coach is the scapegoat. You can't fire all the players, after all, so you fire the coach. The franchise has to keep their star players happy and in the hiearchy of importance on a team, it's the outworldly talent of the players on top.
All in all, though, it usually comes down to winning on a team that's trying to go for the postseason. The Grizzlies probably could have ignored the rift between Gasol and Fizdale if they were on an eight-game winning streak instead; winning does cure all, right (well, usually; look what happened to David Blatt and the Cavaliers)?
Fizdale will be okay as the NBA community usually takes care of their own. He'll probably resurface back in Miami, where he was Erik Spoelstra's assistant. He might do a little analyst work for a major network. Or some other team can axe their current head coach and hire Fizdale. He's certainly a very good coach. He helped the Grizzlies to the postseason last year and took the mighty Spurs to six games. He'll be fine.
As for the Grizzlies? The team just isn't that great to begin with. Conley is out. Tyreke Evans is a black hole on offense. Chandler Parsons really hasn't been the same and has a huge contract that hasn't pleased the Grizz faithful. Ben McLemore still hasn't found his footing since he got to the league. And there are plenty of players on the team who are admirably competing but are just outmatched for the most part. The 32-year-old Gasol is probably on the trading block and Memphis might go on a painful rebuild. They'll probably hold on to Conley, who is on a very big deal himself, and tell him to be patient for a bit.
So yeah. Grizzlies are likely in trouble and the NBA coaching world can be very tenuous. Such is life in the league.
BULLET PASSES
(I've been out for the last few days for a little self-care. Still recovering a bit. But please bear with me. Thanks.)
*As if the Clippers needed any more setbacks. Blake Griffin is out with a sprained MCL after a skirmish for the ball on the floor. He'll probably be out for the next two months. They already lost Patrick Beverley for the entire season.
*Look at Detroit go! They beat the Celtics in Boston. In all fairness, the Celtics have had to play their third game in four days. But a win is a win. And Andre Drummond wants to remind you that he's still a monster on the boards. And a better free throw shooter, too.
The Pistons also want to let you know that they're for real. They're still second in the East at 13-6.
*I have not been enamored with Luke Walton's coaching decisions. Julius Randle should not be coming off the bench; he has such promise as a player. Kyle Kuzma has been their most consistent player on the team this season but after he put up really outstanding scoring games, he was relegated to the bench once Larry Nance, Jr. came back. I would've been good with this if he got his 30 minutes against the Clippers on Monday night. He didn't even get 20. And of course, you need offense and you have Kuzma and Jordan Clarkson sitting on the bench.
Methinks Luke Walton is overthinking everything.
*The Kings upset the Warriors. Of course, Kevin Durant and Stephen Curry rested.
*It's insane how much instant offense Lou Williams can provide. And to think that he was in the same team as Sixth Man of the Year Eric Gordon last year and COULD HAVE BEEN teammates with perennial sixth man of the year candidate Jamal Crawford had Crawford stayed in L.A.
*We're talking about the Grizz's losing streak but they don't own the longest current skid. That belongs to Orlando, who are at nine games. The Bulls themselves are on five games but they're perpetually on a losing streak.
*Oklahoma City is at 8-11 but I still think they'll figure it out at some point. Some take time. Even the 2013 Lakers sort of figured it out at the end before Kobe Bryant went down.
*I know John Wall is out at the moment but I just can't figure out the Washington Wizards. They're supposed to be challenging for the East, right?
*And the Cleveland Cavaliers have the current longest winning streak at eight games. And people are probably still talking about them imploding at some point. It's what happens when you have a team that has LeBron James
SCOREBOARD
11/26/2017
MIA 100 (10-9) @ CHI 93 (3-15)
PHX 108 (7-14) @ MIN 119 (12-8)
BRK 98 (7-12) @ MEM 88 (7-12)
11/27/2017
ORL 109 (8-13) @ IND 121 (12-9)
CLE 113 (13-7) @ PHI 91 (11-8)
DET 118 (13-6) @ BOS 108 (18-4)
POR 103 (13-8) @ NY 91 (10-10)
BRK 103 (7-13) @ HOU 117
DAL 108 (5-16) @ SA 115
SAC 110 (6-14) @ GS 106 (15-6)
LAL 115 (8-12) @ LAC 120 (8-11)
LINE CROSSER
11/26/2017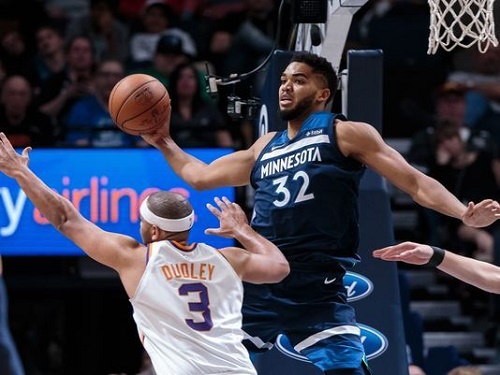 (PHOTO CREDIT: Brad Rempel/USA Today.)
Karl-Anthony Towns did his thing against Phoenix.
32 points, 12 rebounds.
I feel like Towns is starting to not get enough credit because of his not-so-great defense. But his production continues to be great.
11/27/2017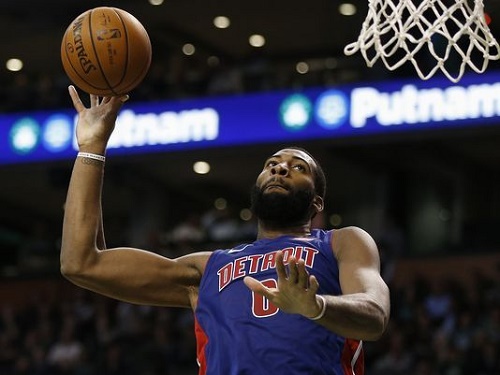 (PHOTO CREDIT: Michael Dwyer/AP.)
Seriously, Andre Drummond.
26 points, 22 rebounds, 6 assists, 4 steals.
That's quite a bundle against Boston.
WATCH THIS PLAY
11/26/2017
https://youtu.be/9BG8QsAwsYc
(VIDEO CREDIT: Today Sports.)
KAT gets it back on the break for the powerful slam.
11/27/2017
(VIDEO CREDIT: whodey.)
The Warriors did lose but man, Andre Iguodala will always be a winner for leaving Willie Cauley-Stein in the dust and finishing with the reverse.
---
Follow Rey-Rey on Twitter at @TheNoLookPass. You can also see some of his work at Forum Blue & Gold, a site specializing on the Los Angeles Lakers. And lastly, it's on hiatus due to personal and health issues but you can listen to old episodes of Rey-Rey Is Fundamental, which consists of NBA talk and other topics he feels like talking about. The podcast will be back soon.