(PHOTO CREDIT: Rocky Widner/Getty Images.)
I have a lot to be thankful for. Some of you know I went through a lot of trials concerning my health. I'm here now so I am very thankful for that.
But I'll keep this in the NBA realm. And there are just a ton of things to be thankful for about the league that it would take forever to mention everything. So I'll keep it as short as possible.
I am thankful for the Lakers trying an earnest rebuild. I'm not especially thankful for all the pub Lonzo Ball's loudmouth father gets but that's the beast of the media. They'll try to maximize the coverage of anything that has to do with potential stars in the public.
I am thankful for Joel Embiid, Ben Simmons, and the Sixers, who are basically appointment television for the league. They are frightening right now as youngsters so imagine how they will be when they have a few years under their belts.
I am thankful for the Celtics being such an excellent team. Especially with the way they were built over the last offseason. Only four players came back from last season's team and they rang off 16 straight wins at the start of the campaign! That's impressive. I am also thankful for Brad Stevens being the wizard coach that he is and I wish he was running plays for my life.
I am thankful for the Warriors' dominance. A lot of people may disagree but I like having a superpowered team in the league (or in sports in general). So if they do lose, it's such a HUGE deal. Imagine if the Rockets toppled the Warriors. Woof.
I am thankful for the Rockets for continuing the basketball revolution. They are averaging 44.2 three-point attempts per game. That is INSANE. And as much as it sucks for the Clippers, I am thankful for the James Harden-Chris Paul union.
I am thankful for the Minnesota Timberwolves forming their own big three. I want to see them finally break that playoff drought, which has been 13 years. They're currently third in the West!
I am thankful for the Cleveland Cavaliers bringing more drama to the game. What will LeBron James do? How is LeBron James still playing the way he does now? Is Dwyane Wade a detriment to the team? Derrick Rose? What about Isaiah Thomas? What is J.R. Smith gonna do next?
I am thankful for Russell Westbrook and his explosive play on the court. And I am very curious of the team as he continues to integrate new teammates Paul George and Carmelo Anthony into the OKC culture.
I am thankful for the skillful big men in the league. Yeah, post play is basically nonexistent. But man, is it so fun to watch Embiid, Giannis Antetokounmpo, Kristaps Porzingis, DeMarcus Cousins, Anthony Davis (the last two are in the SAME team!), and Karl-Anthony Towns show off their skill set.
I am thankful that John Wall is fast.
I am thankful for the bad teams in the league for trying to stay relevant, for my entertainment that I sometimes feel bad for, and for making me learn about what not to do on the basketball court, even if I really can't play anymore. Love you, Mavericks, Bulls, and Hawks.
I am thankful for the rookie class because they're productive up and down the board! Especially thankful for Kyle Kuzma, who is this year's underdog story. And I love underdog stories.
I am thankful for Jeremy Lin because, even if he's out for the rest of the season, we'll always have Linsanity and the reminder that, yo, us Asians can ball, too.
I am thankful for Erik Spoelstra for representing us Filipinos.
I am thankful for the Detroit Pistons being good again because I like it when teams come back from the abyss and make old fresh again.
I am thankful for the Toronto Raptors because it feels good to see a team have an entire country behind them.
I am thankful for all the great players that played in this league that paved the way for all the current stars. Mikan. Russell. Wilt. West. Magic. Bird. Michael. Dr. J. Hakeem. Shaq. Kobe. Timmy. There are so many of them responsible for the growth of this league. Thank you.
I am thankful for Twitter (and other social media platforms like Instagram, Snapchat, and Facebook) about a lot of NBA-related things. First off, it makes the league so much accessible (the interactions crack me up). Second, most of the NBA community is fantastic. I started writing in 2008 and I've met some of the most outstanding people through Twitter. I learn a lot about the game, whether it's certain plays, analytics, players, and the history. I've been influenced by so many people and I hope I did a fraction of what the others have done for me. Truly thankful.
And yes, I am definitely thankful for the NBA for keeping me going through these tough times.
Happy Thanksgiving, everybody. (Sorry if I didn't mention your team.)
BULLET PASSES
*Not a good night for streaks, I guess. The Celtics were down big again (this time against the Heat) but they came up short on Wednesday night. Miami (who once had a team that won 27 straight games!) held on for the victory and snapped Boston's 16-game winning streak. But just the fact that the Celtics won 16 straight is amazing.
Funny thing? The longest winning streak last season was 13. By the Heat.
*The Clippers finally snapped their 9-game skid after they beat the lowly Hawks. But before that, they learned that Patrick Beverley will be out for the season due to knee surgery. That seriously sucks. He was pretty much the main piece in that CP3 trade to the Rockets. And he's one of those bulldog defending guards players have a hard time going against. Speedy recovery, Pat.
*LeBron James missed a dunk. It happens to the best of them.
But he made up for it by scoring 23 points in the fourth quarter (he had 33 for the night). The Cavaliers have won six in a row. How come no one's talking about that? Boston just lost so they have the longest current win streak in the league.
*Oh, Kevin Durant and Russell Westbrook. You're giving the public what they want. But hey, we also understand that sports is in the entertainment business. It's always been. Give them a show, whether it's about the game or about the interactions.
*No games for Thanksgiving so I hope you enjoy all the food and football going on.
SCOREBOARD
11/22/2017
BRK 109 (6-11) @ CLE 119 (11-7)
POR 81 (10-8) @ PHI 101 (10-7)
WAS 124 (10-8) @ CHA 129 (8-9) [OT]
BOS 98 (16-3) @ MIA 104 (8-9)
LAC 116 (6-11) @ ATL 103 (3-15)
TOR 100 (11-6) @ NY 108 (10-7)
ORL 118 (8-10) @ MIN 124 (11-7)
DAL 95 (4-15) @ MEM 94 (7-10)
DEN 95 (10-8) @ HOU 125 (14-4)
SA 90 (11-7) @ NO 107 (10-8)
GS 91 (13-5) @ OKC 108 (8-9)
MIL 113 (8-8) @ PHX 107 (7-11) [OT]
CHI 80 (3-13) @ UTA 110 (8-11)
LAL 102 (8-11) @ SAC 113 (5-13)
LINE CROSSER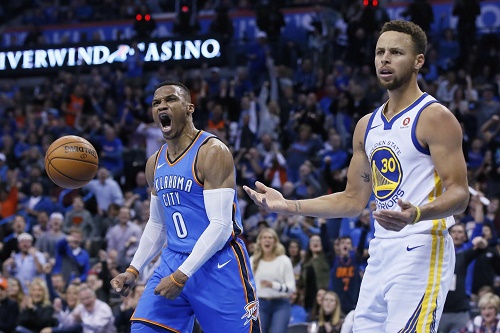 (PHOTO CREDIT: Sue Ogrocki/AP.)
Westbrook nearly missed a triple-double but he sure had his best game of the season after they toppled G. State.
34 points, 10 rebounds, 9 assists, 4 steals.
Shoutout to Blake Griffin, who DID get that triple-double in their streak-snapping win against the Hawks.
WATCH THIS PLAY
(VIDEO CREDIT: NBA.)
Harrison Barnes only needed half a second to steal the win for the Mavericks.
Shoutout to Devin Booker for extending their game against the Bucks with this buzzer-beating three (they lost in the extra session, though).
Happy Thanksgiving!
---
Follow Rey-Rey on Twitter at @TheNoLookPass. You can also see some of his work at Forum Blue & Gold, a site specializing on the Los Angeles Lakers. And lastly, it's on hiatus due to personal and health issues but you can listen to old episodes of Rey-Rey Is Fundamental, which consists of NBA talk and other topics he feels like talking about. The podcast will be back soon.