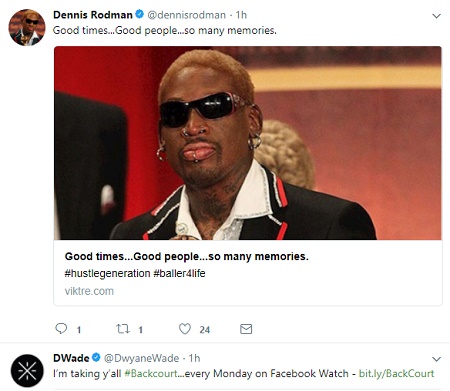 In today's society, as long as you have a computer or a phone that connects to the internets, you can be heard. It's made the world smaller in a way and it's given people more access than ever to public figures.
Public figures include NBA personnel. So you can message your favorite NBA player on any social media platform whether it's Twitter, Facebook, Instagram, or MySpace (I'm KIDDING about MySpace in case you can't tell).
That also means all NBA personnel see EVERYTHING. Some will even go as far as searching their name (don't deny that you've done this).
So imagine if past players lived this era. I feel like everything would have changed.
Let's go back to the 90s, for instance. Michael Jordan, considered the greatest basketball player of all-time, was already bashed all over the place for not winning a title by 1990 (that's six years in the league). Some of you probably didn't believe it but all the newspapers, magazines, and sports talk shows were mentioning this. That's all we had back then.
If Twitter was alive in 1990, a lot of people would criticize Jordan as a choke artist. Just like they did LeBron James for years. Michael "Choking Air" Jordan. That's awful. But you'll see those types of nicknames.
Let's go a little bit later. Jordan was criticized for having those gambling problems. Social media would be ALL OVER HIM.
How about long-term partnerships? We saw Kevin Durant escape to Golden State after he couldn't get it done with Russell Westbrook in Oklahoma City. Would Karl Malone have left Utah earlier after so many playoff failures with John Stockton? You know that if we had Twitter in the 90s, people would be calling for their break-up, even if it seemed nonsensical (I swear, people just want teams to break up for the sake of breaking up). But we also have to remember that before the Spurs, the Jazz were the model and stable franchise of the league. Playoff appearance after playoff appearance for 20+ years. It didn't result in a title, unfortunately. But they were always a threat.
(Also, imagine the "no rings" crowd for that Jazz team in the 90s!)
And, yeah, let's not even talk about Dennis Rodman, Wilt Chamberlain, Bill Russell, and Kareem Abdul-Jabbar. Especially Chamberlain's claim about women. Sheesh.
So I'm not sure how players in the past would've survived social media. Then again, society was a lot different back then, too. But in terms of criticism? It would still be difficult, regardless of the era.
Nobody is ever safe from the mob mentality.
BULLET PASSES
*The Celtics continue to dominate the scene. They have this habit nowadays of making teams feel comfortable before BOOM, a comeback happens and the opponent ends up scrambling against Boston. Kyrie Irving, masked or not, was unbelievable against Dallas. Boston has won 16 straight now.
*So besides the Clippers losing nine straight, we've also noticed that the Orlando Magic hasn't been too hot the last week or so. Five losses in a row for the Magic. They suddenly can't put up points on the board.
*The Warriors have recovered nicely (i.e. they seem unbeatable again) after losing to the Celtics. After getting dominated in the first quarter from a 47-point rush from the Sixers, the Warriors bombed 47 back at the third. That's just ridiculous.
*Are you still worried about the Cavs?
SCOREBOARD
11/18/2017
LAC 87 (5-10) @ CHA 102 (6-9)
UTA 125 (7-10) @ ORL 85 (8-8)
BOS 110 (15-2) @ ATL 99 (3-13)
GS 124 (12-4) @ PHI 116 (8-7)
HOU 105 (13-4) @ MEM 83 (7-8)
MIL 79 (8-7) @ DAL 111 (3-14)
SAC 90 (4-12) @ POR 102 (9-7)
11/19/2017
WAS 91 (9-7) @ TOR 100 (11-5)
IND 120 (9-8) @ MIA 95 (7-9)
GS 118 (13-4) @ BRK 111 (6-10)
DET 100 (11-5) @ MIN 97 (10-6)
CHI 105 (3-11) @ PHX 113 (7-11)
DEN 109 (9-7) @ LAL 127 (7-10)
11/20/2017
CLE 116 (10-7) @ DET 88 (11-6)
UTA 86 (7-11) @ PHI 107 (9-7)
IND 105 (10-8) @ ORL 97 (8-9)
MIN 102 (10-7) @ CHA 118 (7-9)
LAC 85 (5-11) @ NY 107 (9-7)
OKC 107 (7-9) @ NO 114 (9-8)
POR 100 (10-7) @ MEM 92 (7-9)
WAS 99 (10-7) @ MIL 88 (8-8)
BOS 110 (16-2) @ DAL 102 (3-15) [OT]
ATL 85 (4-13) @ SA 96 (11-7)
DEN 114 (10-7) @ SAC 98 (4-13)
11/21/2017
CHI 93 (3-12) @ LAL 102 (8-10)
LINE CROSSER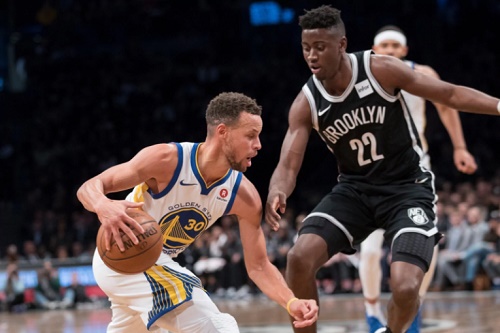 (PHOTO CREDIT: Mary Altaffer/AP.)
Okay. We missed four days of this. So let's all just LINE 'em up.
11/18/2017: GIANNIS ANTETOKOUNMPO (MIL) had 24 points and 17 rebounds.
11/19/2017: STEPHEN CURRY (GS) had 39 points, 11 rebounds, 7 assists, and 3 steals.
11/20/2017: KYRIE IRVING (BOS) had 47 points (16/22 FG) and 6 assists.
11/21/2017: KENTAVIOUS CALDWELL-POPE (LAL) had 21 points, 8 rebounds, and 3 steals.
WATCH THIS PLAY
11/18/2017/
(VIDEO CREDIT: Tomasz Kordylewski.)
Jayson Tatum draws the foul as he went in for the dunk.
11/19/2017
(VIDEO CREDIT: Da HoopSpot Productions.)
So Kyle Lowry missed that on this fastbreak lay-up. But Pascal Siakam climbs on Bradley Beal's back and tip dunks the mess.
11/20/2017
https://youtu.be/jOSXTzYY884
(VIDEO CREDIT: Sabhack.)
Look at this bounce alley-oop pass to Jerami Grant from Paul George. Tasty.
11/21/2017
(VIDEO CREDIT: Chicago Bulls.)
Antonio Blakeney had a huge first half against the Lakers, which included this poster jam.
---
Follow Rey-Rey on Twitter at @TheNoLookPass. You can also see some of his work at Forum Blue & Gold, a site specializing on the Los Angeles Lakers. And lastly, it's on hiatus due to personal and health issues but you can listen to old episodes of Rey-Rey Is Fundamental, which consists of NBA talk and other topics he feels like talking about. The podcast will be back soon.