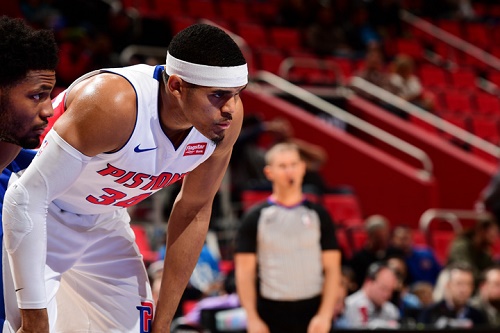 (PHOTO CREDIT: Detroit Pistons.)
I guess it's time to talk about the 10-3 Detroit Pistons, right? It's tough to ignore when the Boston Celtics and the Pistons are sitting on top of the East like it's 1988. Or 2008.
They definitely have better offense to go along with their Top 10 Defense. Currently ranked 8th in offensive rating; they're the rare team that are both in the Top 10 in offensive and defensive ratings (Warriors and Rockets).
Stan Van Gundy's vision is finally being realized, it seems. The offense is going through Andre Drummond, who also seems to be more active on both sides of the ball. Remember the whole 4-out offense SVG employed in Orlando. It's much more realized this season. It's simply because they have better three-point shooters. They have more confidence on the perimeter.
LAST SEASON: 7.7 threes made (27th in the league)/23.4 threes attempted (26th) for a percentage of .330 (28th)
THIS SEASON: 10.7 threes made (9th)/28.2 threes attempted (14th) for a percentage of .380 (9th)
That's a HUGE difference. They've replaced the midrange J for more three-pointers and it's paying dividends.
Their best three-point shooters last year were Reggie Bullock (.384), Reggie Jackson (.359), and the now-departed Kentavious Caldwell-Pope (.350, which is pretty much league average). This year? I highly doubt this is sustainable but Tobias Harris is at .506 and Langston Galloway is at .451. Their new addition, Avery Bradley, is a fantastic perimeter defender but his offense seems to get overlooked; he's shooting .414 behind the line.
Jackson also seems to be bouncing back from last season's not-so-great campaign. He's making better decisions and he's not trying to take on the whole world by himself. And Harris (averaging a career-best 20.1 points) and Bradley, as mentioned, have been a huge help in the perimeter.
And we certainly can't overlook Drummond's free throw improvement. His career average of below 39 percent is atrocious but he's shooting over 63 percent from the stripe this season. If he sustains this, he becomes a MORE dangerous player. It changes the game completely for Pistons as he can stay on the floor now instead of being an albatross. Fouling Drummond on purpose would no longer be a wasted possession for the Pistons.
It doesn't get easier for the Pistons, who swept their five-game home stand. Five of their next six games are on the road and their lone home game would be against the Cleveland Cavaliers (I don't care if they're not playing well; I still think they're dangerous). People can say that the winning streak might be fool's gold but I always say winning streaks are great for confidence. And as I've said many times, confidence can go a long way in this league and in life in general.
Still, it's a marathon, not a sprint. But the Pistons have certainly done well on the first leg.
BULLET PASSES
*Lonzo Ball is the youngest NBA player ever to get a triple-double; he did it at the age of 20 years, 15 days. That's five days younger than when LeBron James did it. But I liked his attitude about it; it didn't matter to him because they didn't win the game.
*I nearly talked about the Nuggets for the main part of this entry but it was too tough to ignore the Pistons. Still, while they're not a sexy team like the Pistons, the Nuggets have gone on to win five of their last six (with their only loss being against the Warriors). Their defense seems to be coming together (Gary Harris!) and some players have made improvements within. Their bench is dynamite with Will Barton and Emmanuel Mudiay (shooting the lights out at three!). The acquisition of veteran Paul Millsap is adding to some stability and calm to the team. And we know what Nikola Jokic can do.
There was kind of a reason why a lot of people have picked them to make the postseason.
*The Rockets are playing so damn well right now. And a Mike D'Antoni team is in the Top 10 in defensive rating? I know it sounds funny (although it's really NOT the first time this has happened) but if that team is seriously defending (a team led by James Harden) then MAYBE they stand a chance against the seemingly-invincible Warriors.
*Utah is losing Rudy Gobert for a minimum of a month. This was a result of Dion Waiters undercutting Gobert while he was going after a loose ball. Gobert thought it was a dirty play but, man, this was just unfortunate.
The Jazz did get a win against Brooklyn but it's going to be tough when their best defensive player (and we know what the Jazz do) is out for weeks.
*The Celtics won their 12th straight game. They may never lose again. (Until probably this week.)
*It was just sad to see the Bulls get dismantled by the Spurs. Look at that score. Yikes.
*Finally, LeBron James avenged his 2011 NBA Finals loss on Dirk Nowitzki.
LeBron James sacando a Dirk Nowitzki a pasear 👑 pic.twitter.com/D4JaJovdyx

— More Than A Game (@Pasion_Basket1) November 12, 2017
It makes me cry to see Dirk get left behind like this.
SCOREBOARD
11/11/2017
LAC 103 (5-7) @ NO 111 (7-6)
ATL 94 (2-11) @ WAS 113 (7-5)
MEM 96 (7-5) @ HOU 111 (10-3)
SAC 91 (3-9) @ NY 118 (7-5)
PHI 114 (6-6) @ GS 135 (10-3)
CHI 94 (2-9) @ SA 133 (8-5)
CLE 111 (6-7) @ DAL 104 (2-11)
LAL 90 (5-8) @ MIL 98 (6-6)
ORL 107 (8-5) @ DEN 125 (8-5)
BRK 106 (5-8) @ UTA 114 (6-7)
MIN 110 (7-5) @ PHX 118 (5-9)
11/12/2017
TOR 94 (7-5) @ BOS 95 (12-2)
MIA 103 (6-7) @ DET 112 (10-3)
HOU 118 (11-3) @ IND 95 (6-8)
DAL 99 (2-12) @ OKC 112 (6-7)
LINE CROSSER
11/11/2017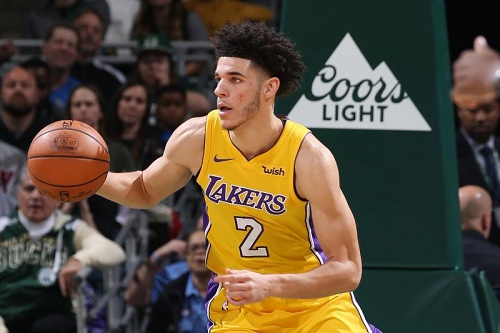 (PHOTO CREDIT: Gary Dineen/Getty Images.)
Lonzo Ball broke a record as mentioned. Youngest NBA player to ever get a triple-double.
19 points, 12 rebounds, 13 assists, 4 blocks, 3 steals.
And he nearly got a 5×5 in the process.
11/12/2017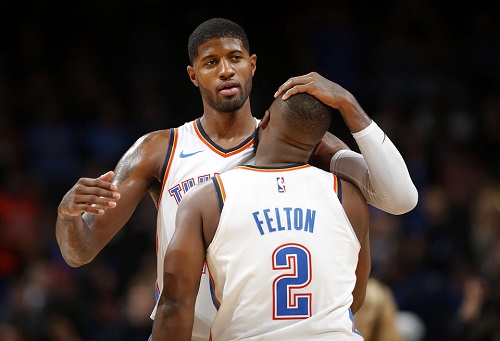 (PHOTO CREDIT: Sarah Phipps/The Oklahoman.)
Paul George's birthday gift to Russell Westbrook was this performance:
37 points, 8 rebounds, 5 assists.
Thunder rolling a little bit here.
WATCH THIS PLAY
11/11/2017
(VIDEO CREDIT: VIDEOVIDEO.)
Nikola Jokic throws a long lob to Kenneth Faried for the stuffs.
11/12/2017
(VIDEO CREDIT: Chioto TV Highlights.)
This dunk was rated PG-13 for violence.
---
Follow Rey-Rey on Twitter at @TheNoLookPass. You can also see some of his work at Forum Blue & Gold, a site specializing on the Los Angeles Lakers. And lastly, it's on hiatus due to personal and health issues but you can listen to old episodes of Rey-Rey Is Fundamental, which consists of NBA talk and other topics he feels like talking about. The podcast will be back soon.