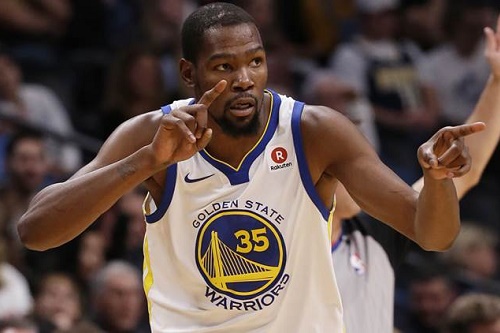 (PHOTO CREDIT: AP.)
People tend to overreact in everything going on in sports, and the NBA is no exception. We see a lot of people panicking over bad starts, celebrating over great starts so much that they're predicting playoffs, and questioning the stats of some players. By the way, it's early November.
I'll go over a few.
Golden State Warriors: Actually, I don't think there's any sort of overreaction right now when they say they're back on track to win the championship. They were the overwhelming favorites coming into the season before they were suddenly knocked back a bit with a 1-2 start.
Now they've won six of seven games. Everything seems to be clicking again (other than their loss against Detroit). Their last three wins had margins of 28, 20, and 19 against good West teams.
The Warriors are not a good example of what I'm trying to do here.
Jimmy Butler: Okay. On the surface, he's only averaging 15.1 points per game and shooting 43 percent. He's also ceding a lot of offense to the Wolves' cornerstone players Karl-Anthony Towns and Andrew Wiggins.
He is making his presence felt on the defensive end, though. The Wolves are still bad at defense (25th in defensive rating) but with Butler on the court, the team allows 4.9 points fewer per 100 possessions than when he's off. On the offensive side, the rating is 7.0 points per 100 possessions better when he's on the court than when he's off. He makes a huge difference.
Butler's offense will come around as he continues to gel with teammates. This would be an issue if the Wolves were a bad team (which they perenially have been). But the Wolves have won five straight games and are 7-3. And to add to that, two of their three losses were without the former Bulls all-star.
Oklahoma City Thunder: Looking at the surface again, they're 4-5 and there's definitely reason to panic. But look at all of their losses. They have all been close. Losses were to Utah by 9, twice to Minnesota (2, 3), Boston by 7, and Portland by 4.
Then you look at their defensive rating and they are SECOND in the entire league, allowing 100.1 points per 100 possessions. That's pretty impressive considering you have reputed defensive liability Carmelo Anthony and reckless Russell Westbrook.
They are 12th on offensive rating (107.6 points per 100 possessions) and with three all-stars, you expect better than that. When you get their net rating, they are a +7.5 and that's good for third in the league (behind Golden State and Boston). Remember that it's still November so fans can step away from the ledge. For now.
Los Angeles Lakers: Wow. They're 5-5! They're ready to go to the playoffs!
Okay. A lot of sane people are actually really surprised that they're 5-5. But I have seen a few that overreacted and said they're making the playoffs (no, not Lonzo Ball's dad; just some fans here and there).
The team is obviously very exciting with Brook Lopez being his usual self (he's a very good offensive player), the great starts by Julius Randle and Jordan Clarkson off the bench, the much-needed defensive presence by Kentavious Caldwell-Pope, the contagious passing by Lonzo Ball, and the surprise emergence of rookie Kyle Kuzma (he's definitely a Top 3 rookie thus far this season).
Their first real test is their four-game trip coming up. They have the 8-2 Celtics, a rematch with the Wizards, the Giannis-led Bucks, and another game at Phoenix. Honestly, I think 2-2 is a small victory here. I don't really expect them to beat Boston and Washington and I feel like Milwaukee is a toss-up here.
Still, a 5-5 start is a pleasant surprise for the Lakers. But also remember that the Lakers started off 10-10 last season and started off 13-13 in 2013-14…
Cleveland Cavaliers: I've gone over this a few times. They're 4-6 after losing to lowly Atlanta. So many people have said they look so joyless playing basketball.
And as I said before, they were also acting like this two years ago. What happened two years ago? They won the NBA championship.
It's still early. I'd worry if they were around .500 by March or even April. Also, they have LeBron James. I still think they're fine.
Being last in defensive rating is pretty gross, though.
Kristaps Porzingis: Hell, what a start this guy has had. Now that he's the #1 guy, I think he's exceeded expectations.
Some are putting him on the level of Giannis Antetokounmpo right now. Is that so much of an overreaction? Probably not? Giannis leads the league in scoring with 31.0 points per game. Guess who's not far behind? Porzingis is second with 30.2 points per.
He went for 40 points, 8 boards, and 6 swats in a fantastic comeback against the Pacers. Can we put Porzingis as an MVP candidate if the Knicks make the playoffs?
How's THAT for an overreaction?
BULLET PASSES
*James Harden went for 56 points and 13 dimes last night. We all got errors on our box scores when it mentioned that he ONLY played 20 minutes but, in reality, he played 35 minutes and 15 seconds. But with the way he dismantled the Utah Jazz on Sunday night, I'd like to think he did it ALL in 20 minutes.
*So Anthony Davis was being very disrespectful towards Justin Holiday:
Bruh, Anthony Davis blocked Justin Holiday, then threw the ball off his head, out of bounds. pic.twitter.com/SdfuaAJ21M

— Kristian Winfield (@Krisplashed) November 5, 2017
Not only does he pack him but he also beans Holiday on the head as he avoids stepping on the floor as he goes out of bounds. Pelicans ball. That's how you get two "L"s on the Bulls, Holiday.
*Melo got ejected for this:
Carmelo Anthony was ejected as a result of this play, which was called a Flagrant 2. pic.twitter.com/tERi6l1Iia

— Jordan Heck (@JordanHeckFF) November 6, 2017
I don't think Melo intended to do that at Jusuf Nurkic. Flagrant One? Sure. I don't think it warranted an ejection. But I can't read people's minds in terms of intent, I guess.
*The Celtics have won eight straight games. I think that's really remarkable early in the season considering they only had four players returning from last season. And miss me with that easiest schedule stuff; wins are wins and they give you more confidence as the season goes on. Confidence goes a long way in basketball and in life.
SCOREBOARD
11/04/2017
MEM 113 (6-3) @ LAC 104 (5-3)
SAC 99 (1-8) @ DET 108 (7-3)
DAL 99 (1-10) @ MIN 112 (6-3)
NO 96 (5-5) @ CHI 90 (2-6) [OT]
GS 127 (7-3) @ DEN 108 (5-5)
11/05/2017
ATL 117 (2-8) @ CLE 115 (4-6)
MIA 104 (4-5) @ LAC 101 (5-4)
BOS 104 (8-2) @ ORL 88 (6-4)
WAS 107 (5-4) @ TOR 96 (5-4)
UTA 110 (5-4) @ HOU 137 (8-3)
PHX 95 (4-6) @ SA 112 (6-4)
IND 101 (5-5) @ NY 108 (5-4)
CHA 94 (5-5) @ MIN 112 (7-3)
OKC 99 (4-5) @ POR 103 (6-4)
MEM 102 (6-4) @ LAL 107 (5-5)
LINE CROSSER
11/04/2017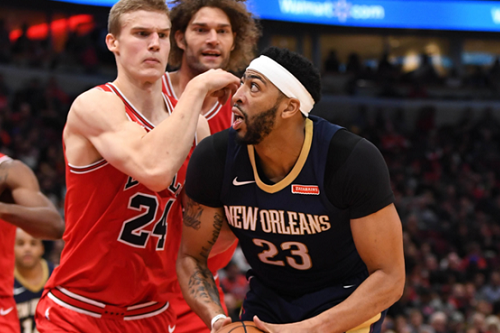 (PHOTO CREDIT: USA Today.)
I'll pick Anthony Davis for Saturday's best and it's not because he pegged Holiday on the head:
27 points, 10 rebounds, 3 blocks.
He should get 20 points alone for that play against Holiday, though.
11/05/2017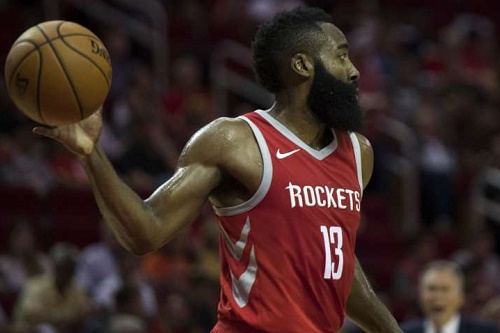 (PHOTO CREDIT: Marie D. De Jesus/Houston Chronicle.)
Let's see that line by James Harden again:
56 points, 13 assists, 19/25 FG.
Ridiculous. Sometimes, I feel Harden is underappreciated.
WATCH THIS PLAY
11/04/2017
https://youtu.be/OtBVwN732pk
(VIDEO CREDIT: Today Sports.)
Kenneth Faried AKA The Manimal can still do this.
11/05/2017
https://youtu.be/VK0-1E_QwUE
(VIDEO CREDIT: Sport My Life.)
Point center Brook Lopez gets fancy on this fastbreak which ends in a Kyle Kuzma jam.
---
Follow Rey-Rey on Twitter at @TheNoLookPass. You can also see some of his work at Forum Blue & Gold, a site specializing on the Los Angeles Lakers. And lastly, it's on hiatus due to personal and health issues but you can listen to old episodes of Rey-Rey Is Fundamental, which consists of NBA talk and other topics he feels like talking about. The podcast will be back soon.