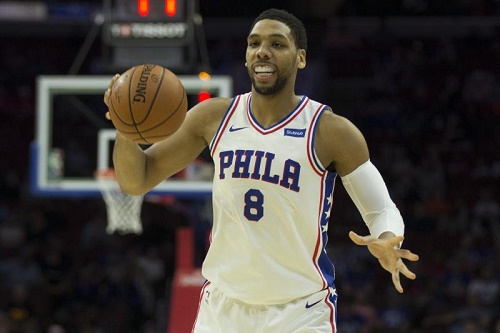 (PHOTO CREDIT: Mitchell Leff/Getty Images.)
A couple of days ago, it came out that Jahlil Okafor and Mario Hezonja didn't get their options picked up by their respective teams. Some are quick to say that Okafor, the #3 pick in the 2015 Draft, is a bust. The same was said about Hezonja, the #5 pick of that same draft. Sure, Okafor isn't, uh, the greatest defender but his rookie campaign saw him score 17.5 points and pull down 7.0 rebounds per game. That's actually really, really good for a rookie season. Hezonja, though, hasn't fared well with his team.
It's weird how we see players in terms of their career and production. There are a lot of players who settle into different roles and there are also a lot of players who end up having short careers in the league whether they're high picks or going in and out of the G-League (D-League).
It's the expectations of being a high pick, I guess.
Everyone sees Kwame Brown (KWAME IS GOD) as a huge bust. But it's because he's the first pick of the 2001 Draft. But even though he only averaged 6.6 points and 5.5 boards per game for his career, he still had a productive NBA career. Kwame was in the league for 12 seasons. But since he's the #1 pick, he's looked at as a failure in many aspects.
There was Anthony Bennett, the surprise #1 pick in the 2013 Draft. He's out of the league at the moment. He played 151 games in four seasons and has averages of 4.4 points and 3.1 rebounds. If he wasn't drafted at all, we can say that he's had a respectable career. But as the #1 pick, he's a bust.
Remember the supposed next Dirk Nowitzki? Nikoloz Tskitishvili went 5th overall in the 2002 Draft. He lasted four seasons in the league and played a total of 172 games. His career averages? 2.9 points and 1.8 boards. Not the greatest.
And then we see second-rounders like Draymond Green, Jeff Hornacek, Patrick Beverley, and Michael Redd thrive in the league. Heck, even undrafted guys like Ben Wallace and Jeremy Lin went on to be good.
I guess it also depends on what role they're put in. Is Evan Turner a bust as the #2 pick even though he's had career averages of 10.5 points, 5.0 rebounds, and 3.7 assists? He went from #1 guy to Philly to a role player in his stops at Indiana, Boston, and now Portland.
What I'm trying to say is that, sometimes, it's unkind to label players because of their draft positions. Sometimes, it's the team's fault for not putting their draftees in positions where they could succeed. And if they get put in the wrong position, their confidence wanes and before they know it, they're out of the league.
I'm not saying the players aren't guilty of this. They could also act out in the wrong situation or maybe they're just not that good at all.
This has gone on forever in the era of sport where players are defined because of their draft position. It's unfair but life seldom is.
BULLET PASSES
*Parity continues in the league. Boston and Orlando lead the East at 6-2 while the Clippers and Rockets are atop the West at 5-2 and 6-3, respectively. There are many teams not far behind. But at this point, we should notice the four teams who only have one win thus far: Chicago, Atlanta, Sacramento, and Dallas.
*Some people were making a point about how it's unfair for players who sat out their entire first year in the league to be eligible for Rookie of the Year. They're getting reps in practice with their teams as well as learning all the plays while they're sitting out. It's certainly a valid point but I also don't think you can beat the experience of playing against other NBA teams in front of 20,000 people. When the lights are on, things drastically change. You should see how some people practice in their craft only to fall apart in front of an audience of a hundred.
*With that said, no one can compare right now to Ben Simmons in terms of the rookies. 18.5 points, 9.6 rebounds, and 7.9 assists thus far.
*By the way, the Celtics have won six straight. That's really more impressive than you guys think when you take into account that Gordon Hayward was lost within the first six minutes of the season and that they have only four returning players from last season's team. Marcus Smart is the longest-tenured Celtic on that team.
*The Magic won their sixth game of the season. And they also had their lowest offensive output at 101 points in their win over Memphis. The game has really opened up for them. And Aaron Gordon could be in the running for Most Improved Player. He's currently at 20.7 points and 8.7 rebounds compared to 12.7 points and 5.1 boards last season.
SCOREBOARD
10/31/2017
SAC 83 (1-6) @ IND 101 (4-3)
PHX 122 (3-4) @ BRK 114 (3-5)
OKC 110 (4-3) @ MIL 91 (4-3)
DET (5-3) @ LAL (3-4)
11/01/2017
MIL 121 (4-4) @ CHA 126 (5-3)
IND 124 (5-3) @ CLE 107 (3-5)
ATL 109 (1-7) @ PHI 119 (4-4)
PHX 122 (4-4) @ WAS 116 (4-3)
SAC 86 (1-7) @ BOS 113 (6-2)
CHI 91 (1-5) @ MIA 97 (3-4)
HOU 119 (6-3) @ NY 97 (3-4)
ORL 101 (6-2) @ MEM 99 (5-3)
MIN 104 (5-3) @ NO 98 (3-5)
TOR 111 (4-3) @ DEN 129 (4-4)
POR 103 (4-4) @ UTA 112 (5-3) [OT]
DAL 98 (1-8) @ LAC 119 (5-2)
LINE CROSSER
10/31/2017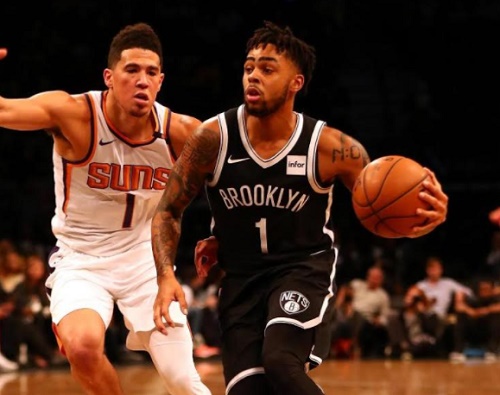 (PHOTO CREDIT: Al Bello/Getty Images.)
D'Angelo Russell continues his impressive season. He went for…
33 points, 6 rebounds.
The Nets lost but it's basically his team now for the foreseeable future.
11/01/2017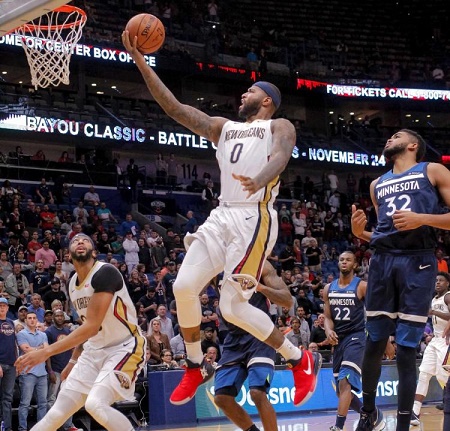 (PHOTO CREDIT: Scott Threlkeld/AP.)
Goodness, Boogie. Even in a loss, this was impressive. DeMarcus Cousins went for…
35 points, 9 rebounds, 6 assists, 3 blocks, 6 steals.
Let's add in the impressive five three-pointers and a perfect 10 for 10 from the line. Wow.
Shoutout to T.J. Warren (40 points, 10 rebounds) and Bradley Beal (40 points).
WATCH THIS PLAY
10/31/2017
(VIDEO CREDIT: Highlights All Sports.)
Steven Adams was fierce on this alley-oop jam.
11/01/2017
https://youtu.be/KmhLT5_Gu5Q
(VIDEO CREDIT: NBA Highlights.)
In all languages, it's all the same. Kris Dunn posterized Kelly Olynyk in this gutsy two-handed slam.
---
Follow Rey-Rey on Twitter at @TheNoLookPass. You can also see some of his work at Forum Blue & Gold, a site specializing on the Los Angeles Lakers. And lastly, it's on hiatus due to personal and health issues but you can listen to old episodes of Rey-Rey Is Fundamental, which consists of NBA talk and other topics he feels like talking about. The podcast will be back soon.