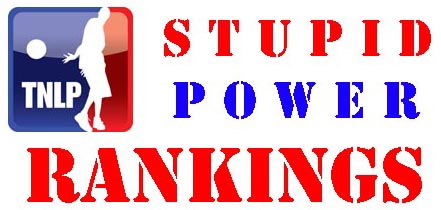 Power Rankings can be really stupid. So stupid that The No-Look Pass just had to have "Stupid Power Rankings." I take 10 things that happened in the league (or/and SOMEWHERE ELSE) and rank them all however I see fit.
This feature is usually on every Monday. Disagree with the rankings? Well, we already prefaced that these are stupid. Just have fun with these as I rank these however I feel where they stupidly belong.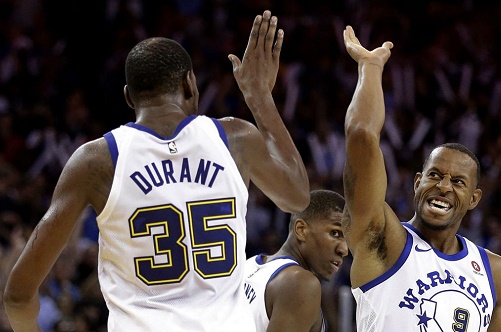 (PHOTO CREDIT: Ben Margot/AP.)
1) The Sudden Parity of the NBA
The reigning, defending NBA champions, the Golden State Warriors, are 4-3. The Cleveland Cavaliers are 3-4. Do you wanna know who's on top of their respective conferences? Memphis tops the West at 5-1 and Detroit is sitting on the East at 5-2. Also, every team has won a game.
Look, this could be all for naught if the Warriors win 20 straight games in the next few weeks. But it's nice to not have that feeling of inevitability that we've had in the last few years with the league.
(VIDEO CREDIT: NBA.)
2) Probably the Dunk of the Year So Far
Utah Jazz rookie Donovan Mitchell comes down from the heavens to put back the ball into the hoop with lightning force. My gosh.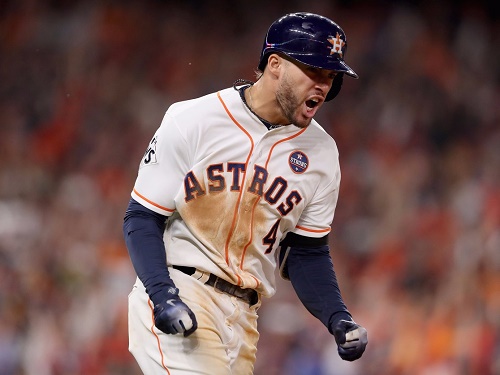 (PHOTO CREDIT: Christian Petersen/Getty Images.)
3) The 2017 World Series Has Been Crazy
Part of me is rooting for the Dodgers because I'm a Southern California boy, after all. But I can't deny how crazy the Finals of Major League Baseball has been.
We thought Game 2 was nuts when the Astros tied the game in the last two innings to force extra time. The 10th inning saw both teams score two runs each. The 11th saw the Astros score two more. We had drama at the bottom of the 11th after Yasiel Puig homered but the Astros held on.
Game 5 was a 5 hour, 17 minute-marathon as runs were scored seemingly at will. The Astros were up, 12-9, going into the 9th before the Dodgers forced extra innings. Finally, Houston won the battle of attrition, 13-12 after a walk-off hit by Alex Bregman in the 10th. The man who scored the winning run? Derek Fisher. No, not the former Laker.
The series goes back to L.A. as the Astros lead the series, 3-2. By the way, 22 homers have been hit in this series and it's not over. Sure, there was lots of mentions about the balls being juiced but I don't care. This series has been magnificent.
JUICE! JUICE! JUICE!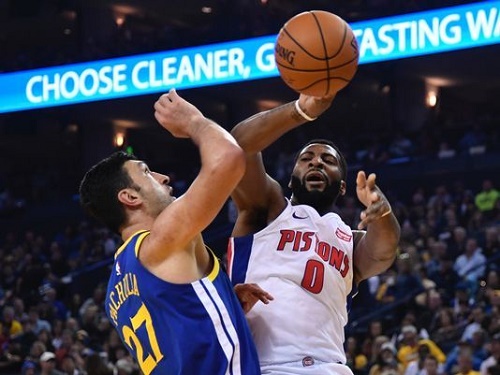 (PHOTO CREDIT: USA Today.)
4) Are The Pistons For Real?
They MIGHT be but they certainly looked like it this week. While they did lose to the Sixers on Monday, they followed it up with a blowout win over the Timberwolves on Wednesday. Then they had impressive back-to-back wins on the road against two of the top teams in the West in the Clippers and the Warriors.
They are #1 in the East right now at 5-2. We'd like to see more from them before thinking they are some sort of threat. This week, though? They looked like juggernauts.
For a bonus? Andre Drummond is shooting 70 percent from the foul line so far. That's nearly double his career percentage. Good for him.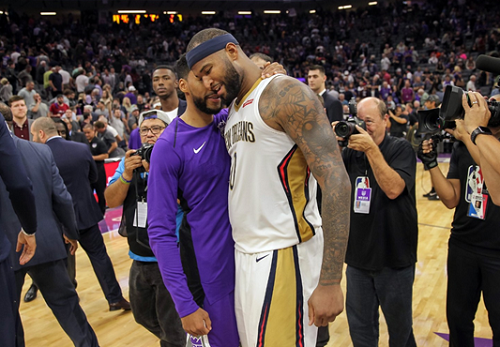 (PHOTO CREDIT: Sergio Estrada/USA Today.)
5) Boogie's Return To Sactown
DeMarcus Cousins returned to Sacramento for the first time since he got traded and put up 41-23-6.
That's what I call sweet revenge.
(VIDEO CREDIT: NBA.)
6) Game-Winning Three-Pointers at the Buzzer
Eric Gordon bailed the Rockets out with the Sixers with this deadeye three. The day after, Blake Griffin did the same against the Blazers. Cold world.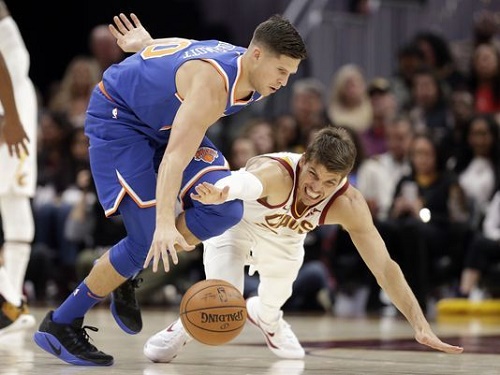 (PHOTO CREDIT: AP.)
7) Cavs Aren't Doing So Good
Well, the Cavs are below .500 and went 1-3 this week. And it's not like their only win this week was spectacular; they barely escaped the Bulls.
I already mentioned how bad the Cavs are doing at the moment. But I still feel they're going to be okay.
Unless they're treading water by March, which would be cause for concern.
Jerseys pic.twitter.com/SMnQ7TmAAy

— Oliver Maroney (@OMaroneyNBA) October 28, 2017
8) Those Nike Jerseys
Can we actually make it official that these jerseys are a problem in terms of durability? That's the third jersey ripped in a month. I don't recall fabric getting torn this often in the NBA.
(VIDEO CREDIT: Everything NBA.)
9) Avery Bradley Lost to the Rim
This rarely happens to professional basketball players but Avery Bradley (whose team is otherwise doing well) doinks what WE THINK is a dunk on his first attempt. And then Patrick Beverley rejects his follow-up lay-up. The Pistons actually ended up scoring in that possession but this is just mortifying for Avery.
(VIDEO CREDIT: Bleacher Report.)
10) NBA Needs Better Rulings on Scuffles
You would think that after this little skirmish, Bradley Beal and Draymond Green would be suspended.
That's not what happened.
Sure, Beal and Green were ejected but after that, they were fined ($50K for Beal and $25K for Green) but were able to play in the next game.
Who was suspended? Carrick Felix and Markieff Morris for leaving the bench area. As we all might recall, C.J. McCollum was suspended one game for being "10 steps away from the bench area."
I'm sort of okay with the "leaving the bench" rule; I'm actually still mad that two key players from the Suns were suspended in their second-round series against the Spurs 10 years ago for that very reason. But seriously? The guys that were in the melee didn't get suspended. Yes, no punches were thrown by either Green and Beal but it was still an incident where people could've gotten hurt. By the way, Kelly Oubre, Jr. was visibly shown throwing punches and he still only got a fine ($15K).
I'm more okay with a case-by-case basis since it's not like these fights happen often. But the NBA should be better on laying down the law on the people that initiate altercations instead of punishing people who take a few steps away from the bench area trying to calm their teammates down.
I guess that's why I don't work for the league office. Still, the NBA has to fix this.
---
Follow Rey-Rey on Twitter at @TheNoLookPass. You can also see some of his work at Forum Blue & Gold, a site specializing on the Los Angeles Lakers. And you can listen to his podcast called Rey-Rey Is Fundamental, which consists of NBA talk and other topics he feels like talking about.