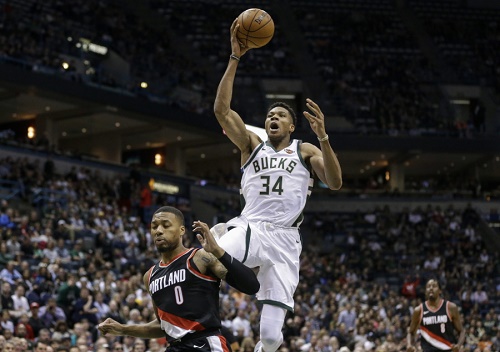 (PHOTO CREDIT: Tom Lynn/AP.)
Well, that didn't take long, right? Now EVERYONE'S eyes are on Giannis Antetokounmpo. I had previously mentioned that MAYBE we should keep on eye on Giannis for MVP.
The young Buck made sure that he had the whole world watching now. He had an indelible performance against the Blazers to give his team a 113-110 victory. The best part was that he delivered in the clutch for them.
Giannis scored 17 of his career-best 44 points in the fourth. With the Bucks down one, his long reach poked the ball loose from C.J. McCollum. Then his long strides got him down the court quickly for a slam with 11 seconds left. Bucks took the lead.
The Blazers tried to counter with Jusuf Nurkic at the rim. But Giannis prevented the basket by getting his revenge on Nurkic, who had blocked Antetokounmpo earlier in the game. The ball went to the Bucks, who came away with the win after two Khris Middleton foul shots.
Early stats are always hilarious. Giannis is averaging a tidy 38.3 points per game but at this point, it's not inconceivable that he does average 30 or more points per contest to lead the league in scoring. He might have to do that if the Bucks were to stand a chance against the top-heavy East or/and get to the next level.
If that's the case, then he should win Most Valuable Player. It was probably just a whisper a few days ago but now everyone can hear the MVP chants screaming from Milwaukee and now the rest of the world.
TIP-INS
*Jameer Nelson, who was released by the Nuggets, was picked up by the New Orleans Pelicans. It immediately paid dividends as he topped off a game-clinching 11-0 Pelicans run against the Lakers with a three-pointer. I had noted the slow starts of the Pelicans and it turned out that the cure for New Orleans was the Lakers Duh.
*Andrew Wiggins might be your man on the buzzer when it comes to long three-pointers. He's hit two already in the first week.
*Earl Watson was fired as Suns head coach, with ex-Raptors coach Jay Triano expected to take over. All 30 head coaches made it through the full 2016-17 season. And in this 2017-18 campaign, one is gone within three games. Watson will find another NBA job, I'm sure (most of the NBA fraternity look out for each other), but it always sucks to get fired.
*By the way, Eric Bledsoe's tweet? Oof.
*So, uhhh, Nikola Jokic, who was a breakout player last season, has only gone 3 for 13 (.231) in two games thus far. He's only scored a total of seven points. Obviously, it's only two games but very bizarre start so far for Jokic.
SCOREBOARD
10/21/2017
PHI 94 (0-3) @ TOR 128 (2-0)
ORL 114 (2-1) @ CLE 93 (2-1)
DAL 91 (0-3) @ HOU 107 (3-0)
IND 108 (1-2) @ MIA 112 (1-1)
DET 111 (2-1) @ NY 107 (0-2)
SA 87 (2-0) @ CHI 77 (0-2)
GS 101 (1-2) @ MEM 111 (2-0)
POR 110 (2-1) @ MIL 113 (2-1)
SAC 79 (1-2) @ DEN 96 (1-1)
OKC 87 (1-1) @ UTA 96 (2-1)
PHX 88 (0-3) @ LAC 130 (2-0)
10/22/2017
ATL 104 (1-2) @ BRK 116 (2-1)
MIN 115 (2-1) @ OKC 113 (1-2)
NO 119 (1-2) @ LAL 112 (1-2)
LINE CROSSER
10/21/2017
How can we not give Saturday's line of the night to Giannis?
44 points, 8 rebounds, 17/23 FG
By the way, let's add those 4 dimes, 2 blocks, and 2 steals to that.
10/22/2017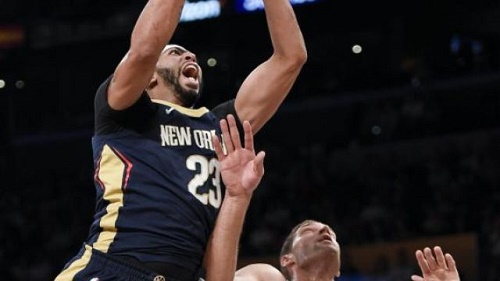 (PHOTO CREDIT: Kevin Kuo/AP.)
Both Pellie big men had double-doubles but I'm giving this one to Anthony Davis.
27 points, 17 rebounds, 3 blocks, 4 steals.
Add 3 dimes to that. He nearly got the elusive 5×5 line.
WATCH THIS PLAY
10/21/2017
(VIDEO CREDIT: Bleacher Report.)
James Johnson sent Victor Oladipo to oblivion with this throwdown.
10/22/2017
(VIDEO CREDIT: NBA.)
After Carmelo Anthony took the lead for the Thunder against the Wolves, Andrew Wiggins ran down, shot a long three, and wins it at the buzzer for the pups.
---
Follow Rey-Rey on Twitter at @TheNoLookPass. You can also see some of his work at Forum Blue & Gold, a site specializing on the Los Angeles Lakers. And you can listen to his podcast called Rey-Rey Is Fundamental, which consists of NBA talk and other topics he feels like talking about.