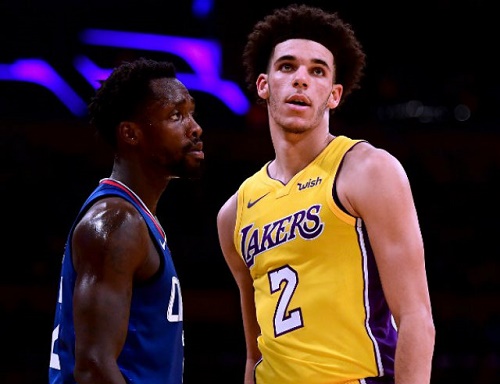 (PHOTO CREDIT: Harry How/Getty Images.)
I mean, I could say a lot about Lonzo Ball's performance from Thursday night. But it's obviously not indicative of what kind of player he is… yet.
I can't say I've seen a much more anticipated debut in recent years. After all, his loudmouth dad was all over the place saying how great his son is. And that's fine.
He also put a target on his back. And his first match-up, Patrick Beverley, relished that challenge.
Beverley played like he normally did. He hounded the Lakers rookie all over the place. He didn't want to be disrespected and outshined by Lonzo. And Ball never really got going. Three points, nine rebounds, and four assists. Not the greatest debut.
And Beverley, who was on the All-Defensive Team last season, plays with a chip on his shoulder. He was a journeyman before landing with the Rockets. He always feels he has to earn a spot on the roster. Meanwhile, Lonzo is being handed the keys to the Lakers. Not that he didn't deserve them but that's gotta make a guy like Beverley juuust a little upset.
As for Ball, he did some good things on the court against the Clips. He's a very good rebounder. He still has excellent court vision and was able to find guys when Beverley isn't bumping him. And Ball's confidence never wavered; at least, it didn't look like it.
And sure, you only get one "first game of your career." But in the end, it doesn't define your career. It's why I'm not going to jump to conclusions.
The good news for Lonzo is that it's probably going to get a little easier. Not every team has an intense defender like Pat Beverley.
But I would start to worry if Lonzo puts up stinkers for two weeks straight. Let's see what he does against the Suns on Friday.
I hate to say this once again to Lakers fans. But they have to be patient.
I know. They've been patient for a few years now.
TIP-INS
*The good news for the Knicks was that Kristaps Porzingis went for 31 points and 12 rebounds. The bad news? The Thunder had their new Big Three combine for 71 points. Russell Westbrook also got his patented triple-double.
*I look at the Bulls team and it's like I hardly recognize anyone on there. Sure, there's rookie Lauri Markkanen. Yeah, Robin Lopez is still there. But the rest of the starters are Justin Holiday, Jerian Grant, and Paul Zipser. Yikes.
*We talked about Lonzo Ball a bit. But I'm not sure where Luke Walton is going with his current rotation. Julius Randle is coming off the bench in favor of Larry Nance, Jr. I understand it's all about trying to fit what they have on the roster. But they just looked like a mess for nearly the entire game. Wasn't that what training camp and preseason are for?
*Not all is bad in L.A., though. The Dodgers made the World Series!
SCOREBOARD
10/19/2017
CHI 100 (0-1) @ TOR 117 (1-0)
NY 84 (0-1) @ OKC 105 (1-0)
LAC 108 (1-0) @ LAL 92 (0-1)
LINE CROSSER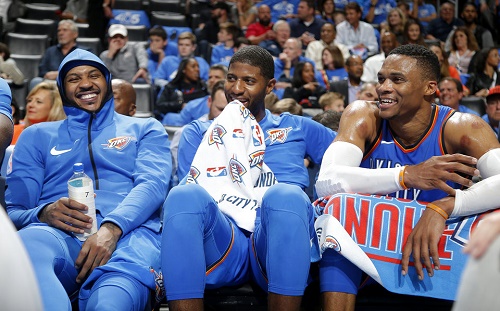 (PHOTO CREDIT: Bryan Terry/The Oklahoman.)
Another day, another triple-double by happy Russell Westbrook!
21 points, 10 boards, 16 assists.
That makes it 80 career trip-dubs for Russ.
WATCH THIS PLAY
(VIDEO CREDIT: NBA.)
Blake Griffin plasters Randle with this ferocious slam.
---
Follow Rey-Rey on Twitter at @TheNoLookPass. You can also see some of his work at Forum Blue & Gold, a site specializing on the Los Angeles Lakers. And you can listen to his podcast called Rey-Rey Is Fundamental, which consists of NBA talk and other topics he feels like talking about.