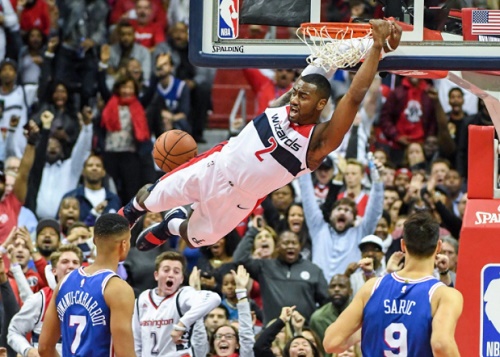 (PHOTO CREDIT: Jonathan Newton/Washington Post.)
I picked LeBron James to win MVP but maybe we should look into some new blood in terms of the award. If anything, if we didn't have those incredible seasons from Russell Westbrook and James Harden, the two I'm about to mention would've probably been the top two vote-getters last year.
Let's talk about John Wall for a second (he had 28 points and 8 assists on Wednesday) . On a straight line with the ball, he's probably the fastest guy on the court. He has a lot of strength for the position he plays for at 6'4″ and 210. He gets to the rim with little to no problem. His jumper is a little more reliable now. And he's one of the best at setting up his teammates. He's always in the Top 10 in assists (six times in seven seasons).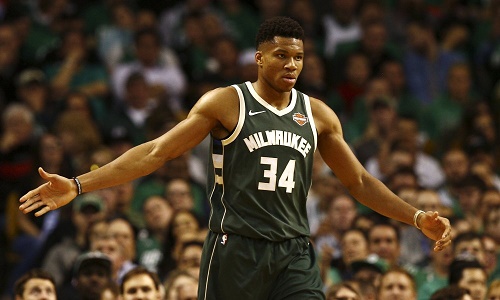 (PHOTO CREDIT: USA Today.)
In the meantime, Giannis Antetokounmpo broke out last season and won Most Improved Player (more on his line tonight). Living up to the Greek Freak nickname, Giannis used his 45-foot wingspan and athleticism to his full advantage as he did everything for the Milwaukee Bucks. He dazzled with his play around the rim. He became a very good passer. He was hard to stop one-on-one. His jumper isn't there yet but if or when it gets there, he'll be unstoppable. Kevin Durant said himself that Giannis at his best could be the best ever to play the game. Maybe hyperbole but Giannis with an accurate outside shot is frightening.
Their averages last season per game?
WALL: 23.1 points, 4.2 boards, 10.7 assists, 2.0 steals.
GIANNIS: 22.9 points, 8.8 boards, 5.4 assists, 1.9 blocks, 1.6 steals.
Again, if it weren't for Westbrook and Harden (even LeBron James), these guys are frontrunners for MVP. They have similar stats to guys like Stephen Curry (2015, 2016 MVP, although that 2016 season was mindboggling), Derrick Rose (2011 MVP), Dirk Nowitzki (2007 MVP), and Steve Nash (2005, 2006 MVP).
NASH '05: 15.5 points, 3.3 boards, 11.5 assists.
NASH '06: 18.8 points, 4.2 boards, 10.5 assists.
DIRK '07: 24.6 points, 8.9 boards, 3.4 assists.
ROSE '11: 25.0 points, 4.1 boards, 7.7 assists.
CURRY '15: 23.8 points, 4.3 boards, 7.7 assists.
So why not them, right? We all have different definitions of MVP. It could be how the team does without said player. Or the best player on the best team. Or the crazy statlines. Westbrook won even though the Thunder were 6th in the conference (that hadn't happened in forever; it's usually a Top 4 finish in a conference).
We do know that the offense sputters a lot for the Wizards when Wall is out of the game. And Giannis is pretty much the offense for the Bucks. If you like advanced stats, Giannis was 11th last year in Real Plus-Minus Wins (which is an estimate of a player's contributions to the team's win total on the season) and Wall is 24th. But basically, both the Wizards and the Bucks REALLY need Wall and Giannis on the floor. As far as win total goes, the Wizards and Bucks won 49 and 42 games, respectively. But with Westbrook winning last season, it's no longer inconceivable for either guy to NOT win because of win total (it still has to be decent but it doesn't have to be Top 4 in a conference).
They're likely not gonna win it if Westbrook and Harden bring out another wonderful statistical season. Or if LeBron, Kevin Durant, and Curry do something spectacular. But voter fatigue is a thing; after all, we humans always want something new to happen. We don't want the same thing over and over. And if they're tired of any of those five guys being in the conversation, Wall and Giannis could be in line to win the prestigious award.
TIP-INS
*Jeremy Lin hurt his knee on a drive. It's like he knew something went wrong when he cried after it happened. He has now been deemed out for the season. Lin cannot get a break and as an Asian-American who roots for Asian(-American) athletes to do well, this is heartbreaking.
*Gordon Hayward is likely out for the year. He did take the time to make a video to thank the fans and his team for the Celtics home opener.
(VIDEO CREDIT: NBA.)
The good news is that there are no torn ligaments on his horrific-looking injury and it's a clean break. Hayward will make a full recovery.
Good luck, Gordon. Take care of yourself.
*So remember when C.J. McCollum was suspended because he came out of the bench during a Suns/Blazers preseason mini-scuffle. Well, they played each other for their season opener and… it was the biggest point differential for a season opener (48 points!). It was also the worst loss in Suns franchise history. The Blazers were up by as many as 58 points.
Maybe the Blazers should have their players get suspended more often.
*On Tuesday, we had Fake Klay Thompson.
Fake Klay Thompson really was the best part of the NBA's opening night 😂https://t.co/zsMWDMPwAo pic.twitter.com/8Z1lYtoMI3

— Complex (@Complex) October 18, 2017
Wednesday? We had Fake James Harden.
Last night there was fake Klay Thompson. Tonight in Sacramento…. pic.twitter.com/J6nGggnHoX

— James Ham (@James_HamNBCS) October 19, 2017
What is going on here?
*Markelle Fultz's foul shot is gross.
*Ben Simmons had 18-10-5 last season. We sort of forgot about him for Rookie of the Year candidacy, didn't we? He counts; he didn't play all of last season.
*Lastly, look at the Suns here.
Absolutely amazing weird NBA moment find by @NBA_Reddit's u/Colvjs, every Suns player starts running at same EXACT time after turnover pic.twitter.com/ztQgZRzIyR

— Rob Perez (@World_Wide_Wob) October 19, 2017
They were so in sync. I drive myself crazy looking at this many times.
SCOREBOARD
10/18/2017
PHI 115 (0-1) @ WAS 120 (1-0)
MIA 109 (0-1) @ ORL 116 (1-0)
CHA 90 (0-1) @ DET 102 (1-0)
BRK 131 (0-1) @ IND 140 (1-0)
MIL 108 (1-0) @ BOS 100 (0-2)
NO 91 (0-1) @ MEM 103 (1-0)
ATL 117 (1-0) @ DAL 111 (0-1)
DEN 96 (0-1) @ UTA 106 (1-0)
MIN 99 (0-1) @ SA 107 (1-0)
HOU 105 (2-0) @ SAC 100 (0-1)
POR 124 (1-0) @ PHX 76 (0-1)
LINE CROSSER
Here's the statline from Giannis.
37 points, 13 boards, 3 steals.
Let's keep an eye on him and Wall.
WATCH THIS PLAY
https://youtu.be/6mXpMfoHe14
(VIDEO CREDIT: NBA.)
How did Giannis catch this? Ridiculous.
---
Follow Rey-Rey on Twitter at @TheNoLookPass. You can also see some of his work at Forum Blue & Gold, a site specializing on the Los Angeles Lakers. And you can listen to his podcast called Rey-Rey Is Fundamental, which consists of NBA talk and other topics he feels like talking about.