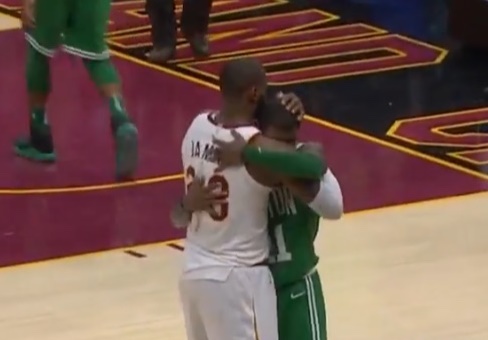 As far as the games themselves on NBA Opening Night, you probably couldn't ask for more. There were two very competitive games from four top teams. It was perfect that Kyrie Irving put up the last shot of the game between his new team, the Celtics, against his old team, the Cavaliers. Irving's shot would've tied it but, unfortunately, for Boston, it went short. It was followed by a hug between two guys that were once teammates and are present rivals for probably years to come.
On the nightcap, the Warriors built a big lead but turnovers and injuries (A LOT MORE on this later) caught up to the champs. The Rockets kept penetrating through the defense and held on for the win after Kevin Durant's game-winner was too late by a moment. It was a bit of a shocking win; how often do we see the Golden State Warriors lose these days?
But let's get to something bigger than basketball. It was pretty much the elephant in the room. But yeah, Gordon Hayward's injury was one of the most gruesome I had ever seen. It happened a few minutes into the season. It was so horrific that it left the crowd in stunned silence. Players from both teams were praying. As much as how competitive these guys get, he's still a friend and colleague to a lot of these players. It really sucked.
Also, the Bulls had a dispute in practice. Nikola Mirotic was hospitalized after he was punched in the face by teammate Bobby Portis. Mirotic has broken facial bones and will be out indefinitely. I don't know why some people found this funny but being hospitalized is never funny.
The players were not only the ones hurt. Referee Tre Maddox was injured after he was accidentally ran over by David West during that hotly contested Dubs/Rockets game. Maddox had to leave the game after he suffered an "abdominal wall strain." It was not a great day for a lot of people in the NBA. I didn't even mention the injuries to Omri Casspi and Draymond Green (who both should be okay).
I just dislike that a lot of fans don't appreciate these people enough. Yes. I mentioned people. I hate that I have to explain these fundamentals but, yes, NBA players and referees are PEOPLE. They have real lives. They have families. They are someone's son and, sometimes, someone's dad. They're away from their families most of the year just so they can do their jobs and entertain us.
I've seen many people post pictures and videos of Hayward's gruesome injury all over the place. Why? Why is that necessary? Just say what happened. I don't want to watch someone's pain. Again, he's someone's dad, son, and husband.
And I've also seen some people say that Hayward "deserved" it after he left the Jazz. Deserved what? Nobody deserves to get their leg broken. Why are people being so mean? Just because he chose to play in a different city? Just because he wanted a new challenge? You can boo him within the context of a game because he's beating your team. But don't wish for a person to break his leg. My gosh.
I wouldn't laugh if someone got facial fractures. Again, that's a human being in a hospital. For crying out loud, I WENT to the hospital recently. I would hope people wouldn't laugh at me for being at the E.R. If they did, then they're incredibly awful people.
What I'm trying to say is that let's not take the people in the NBA for granted. They're all putting together this game that we love so much and they're providing this entertainment for all of us while they're sacrificing their bodies and time away from their families.
Speedy recovery to everyone hurt today.
SCOREBOARD
BOS 99 (0-1) @ CLE 102 (1-0)
HOU 122 (1-0) @ GS 121 (0-1)
LINE CROSSER
LeBron James came close to getting a triple-double.
29 points, 16 boards, 9 assists.
Not bad for an opening night.
WATCH THIS PLAY
https://youtu.be/VGu4n_WzHgM
(VIDEO CREDIT: AOSports.)
LeBron left Marcus Smart in the dust with this beautiful spin and slam.
Happy NBA Opening Week, guysh! And once again, speedy recovery to everyone injured on Tuesday.
---
Follow Rey-Rey on Twitter at @TheNoLookPass. You can also see some of his work at Forum Blue & Gold, a site specializing on the Los Angeles Lakers. And you can listen to his podcast called Rey-Rey Is Fundamental, which consists of NBA talk and other topics he feels like talking about.