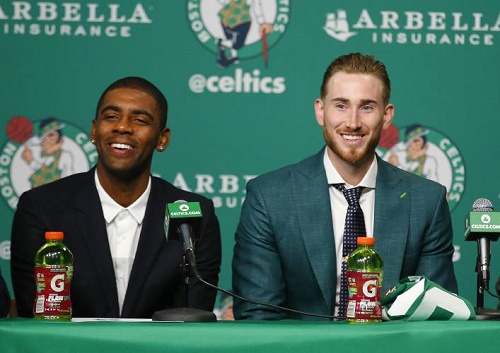 (PHOTO CREDIT: Winslow Townson/AP.)
We all have goals, right? Some aren't even afraid to talk about it publicly. #SquadGoals. #RelationshipGoals. All of that good stuff.
And of course, NBA players have goals, too.
Some want to win individual awards like the MVP. Some want to win as many championships as possible. Some want to maximize their earnings. Absolutely nothing wrong with that.
If that means leaving a team they had been loyal to for years to achieve that, so be it.
I can't fault Kevin Durant for leaving Oklahoma City for Golden State. Yeah, it fudges up competitive balance; Golden State is hellaciously good and has had the best three-year regular season run in history. But there are fans and media always talking about how rings define an NBA player's career. Can you blame Durant for going after the ring? Absolutely not.
I'm not going to fault him for whatever he wants to do. If he chose to stay with the Thunder and Russell Westbrook, that's on him. Of course, if he didn't win a ring with Westbrook, the talking heads would've been like, "Well, he should've gone to Oakland when he had the chance." We understand that you can't please everybody but Durant (or any NBA player, for that matter) shouldn't be skewered so much for whatever choice he made.
Of course, we have the example of LeBron James. Sure, we can forever criticize the Decision but the root of the matter here is that it's his choice to leave Cleveland and he wanted to play with his friends, Dwyane Wade and Chris Bosh. And let's face it; it was a better championship road for him. And that's okay! That was his goal.
Remember when Dwight Howard was next in line to be the franchise player for the Lakers? He decided to choose his happiness over waiting for Kobe Bryant to step aside. He was willing to let go of potentially earning $30 more million just so he can be happier. That's a lot of money but that was his goal.
Tracy McGrady had a chance to have a potential dynamic duo with cousin Vince Carter. The Toronto Raptors were a rising team in the East. But he decided to bolt to Orlando to be part of a dynamic duo with Grant Hill instead. That was his goal.
David West gave up a lot of money to leave the Pacers. He so badly wanted a championship that he was willing to do that. He tried it with San Antonio but he didn't get it there. Then he got that elusive ring after he signed with the Warriors. People call it ringchasing but who cares? Those people are the same ones that judge players based on championships. And again, different players have different goals. West achieved his.
Chris Bosh had a chance to go to Houston to form a new big three in 2014. But he decided to stay home and take the huge contract ($118 million for five years). Can you blame him for taking the money? Absolutely not.
Dirk Nowitzki and Tim Duncan took less money to stay with their respective teams (Dallas and San Antonio). But they wanted to not only make room for free agents coming in but maybe because they don't want to go anywhere else. Moving teams can be a pain, you know.
And of course, we get to Kyrie Irving. Maybe he just wanted a fresh new environment. Maybe he wanted to find out how he would fare without LeBron. Even if that means sacrificing another title run (although he's got another great shot in Boston with the roster currently structured). Maybe he wants to be the #1 guy. Maybe he wanted to escape the circus. Maybe he (and while we're at it, Gordon Hayward, his new partner-in-crime) wanted a new challenge. Those are all perfectly fine reasons to want to leave.
That show called ESPN First Take tried to get answers out of Irving. Kyrie felt he didn't really owe the team and LeBron an explanation. And you know what? That's fine. He wants to move on with his career.
The front office of teams have goals, too. They are going to do everything they can to make sure they're in contention. It must have been extremely difficult to trade Isaiah Thomas, since he was basically a sports hero for the city last season. The idiotic fans that burned his jersey didn't even seem to know that Isaiah did NOT want out; he was traded. Just like that, Isaiah's career vision changed. But that's life; they throw you curve balls and you just deal with it as it goes. On that same vein, teams blindside players just like players blindside teams.
What about you? You want to eventually start your own business, right? You want to work at another store for higher pay? You want to ask out the person of your dreams but you don't know how to go about it? Now imagine if all of those people are watching you and trying to tell you what to do? That's what athletes face most of their careers. It has to be irritating to them. Imagine if a stranger went up to you and said, "Don't go work in Portland. Stay here in Los Angeles." Who are they to you, right? You make your own decisions and go after your own goals when you come at a crossroads in life.
And the athletes will make their decisions and go after their own goals when they come to a crossroads.
---
Follow Rey-Rey on Twitter at @TheNoLookPass. You can also see some of his work at Forum Blue & Gold, a site specializing on the Los Angeles Lakers. And you can listen to his podcast called Rey-Rey Is Fundamental, which consists of NBA talk and other topics he feels like talking about.