This is the NBA Playoff Hangover. We're going to recap all the important games and talk about the hijinks that went on during or after. Here ya go.
How's this for a little surprise?
#2 SAN ANTONIO SPURS 114 @ #3 HOUSTON ROCKETS 75
WEST Semifinals * Game 6 * SPURS WIN the series, 4-2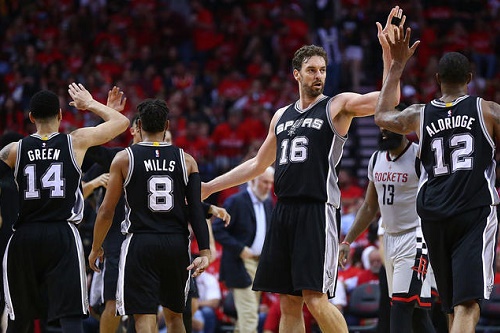 (PHOTO CREDIT: Ronald Martinez/Getty Images.)
Coming into this game, the San Antonio Spurs ruled out Kawhi Leonard as he had an ankle injury. So what the Spurs needed against the Rockets was to have LaMarcus Aldridge be the player he was in Portland, have everyone step up, move the ball around, defend like their lives depended on it, and make James Harden's life a living hell on the court.
What happened was that Aldridge was the player he was in Portland, everyone stepped up, they moved the ball around, they defended like their lives depended on it, and made Harden's life a living hell on the court.
The first thing we're going to get out of the way here was Harden. He looked way off. He was timid about shooting early on (only shot TWICE in the first half) that it drew comparisons to Kobe Bryant going rogue in Game 7 against the Phoenix Suns. But when he did shoot, he never got anything going. He went 2 for 11 and went for 10 points, 7 assists, and 6 turnovers. Basically, he had an awful game.
People can speculate all they want. Maybe he was hurt and he didn't want to tell anybody. Maybe he was overthinking it and decided that getting the guys involved early would throw off the Spurs. Maybe he looked past the Spurs and was looking forward to having a rematch with the Warriors.
Whatever the situation may be, Harden had a bad game and it happened at the worst possible time (let's also give credit to the Spurs defense). After all, he had been incredible throughout the season. He may still win MVP because, after all, that is a regular season award.
Harden mentioned how he never got his rhythm. And we can ALL relate to this. We've all had our bad days in the office. Sometimes, the normally nice guy just makes everybody angry that one day. Sometimes, the straight-A student gets an F on a quiz. And hey, it's the weirdest thing when I try to play Street Fighter and I play Ryu, I can't get a fireball to come out. We just have bad days, sometimes.
But you know who didn't have a bad day? The San Antonio Spurs. Aldridge got going early and ended up dominating after being much maligned. And the Spurs are so good at having the next man up and ready to go. Kawhi Leonard is out so Jonathon Simmons steps in to have the game of his life with 18 points. Tony Parker has been out so Patty Mills does his usual thing with 14 points and 7 assists. When Mills went out, the not-so-nervous Dejounte Murray came in and got a double-double (11 points, 10 rebounds, 5 assists). Danny Green continued to play hellish defense while contributing 10 points. Pau Gasol held his own and went for 10 points, 11 rebounds, 5 dimes, and 3 swats. Manu Ginobili wasn't as great as he was in Game 5 so Kyle Anderson brought in his slo-mo ways and put in 7 points.
Gregg Popovich knows what's up and how to push his team's buttons. It's why they're a basketball machine and it's why they've made the postseason 27 of the last 28 seasons. Even without Kawhi Leonard and Tony Parker, he can get the team to play at an extremely high level.
The Rockets disappointed everyone that thought they would break through while the Spurs go on to finally have that match-up against the Warriors. It may be a year too late. The Spurs may not be as good as they were last year. But would anybody be surprised if the Spurs take this series to seven games or, even more astonishing, beat the Warriors?
I know better than to count the Spurs out. They've been doing this forever.
LINE CROSSER
So Aldridge went for…
34 points, 12 rebounds
It's like he remembered he was capable of being the #1 guy!
WATCH THIS PLAY
(VIDEO CREDIT: NBA.)
The Rockets did do one good play. Clint Capela blocked a dunk by Murray, who thought he was cruising in for the easy two.
Warriors vs Spurs. Finally, right?
---
Follow Rey-Rey on Twitter at @TheNoLookPass for all tweets about the NBA. Also, check out his podcast, Rey-Rey Is Fundamental.

us on FaceBook where we have additional NBA highlights! Thank you!
#SagerStrongForever