We still have a Game 7 in the first round coming up but the conference semis start today so we'll go ahead and preview those.
EDIT ON TUESDAY: Warriors vs Jazz added in here.
EASTERN CONFERENCE
#1 BOSTON CELTICS vs #4 WASHINGTON WIZARDS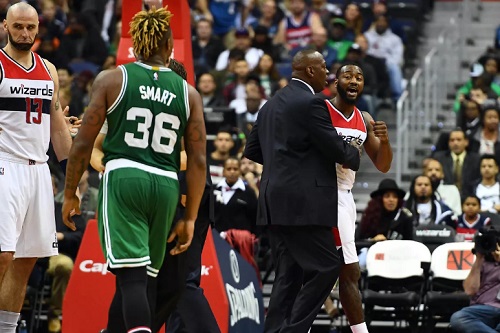 (PHOTO CREDIT: Brad Mills/USA Today.)
There is no love lost between these two teams.
But the match-up that sticks out is the backcourt. >Isaiah Thomas admitted as much that he can't defend anybody at his size. He'll certainly try but at 5'8″, there's not much he can do. I almost feel like they'll do some cross match-ups when the Celtics play defense on John Wall and Bradley Beal. We know Marcus Smart and Avery Bradley are premier defenders. Maybe they'll hide Isaiah on Otto Porter.
That's really where it comes down to me unless Al Horford breaks out and scores 25 a game or something. If the Celtics can figure out a second scorer outside of Isaiah, I think it's Boston's to take. If the Wizard continue to exploit the guards with the play of Wall and Beal, it's all Wizards.
I think it's the latter.
PREDICTION: WASHINGTON IN 6.
#2 CLEVELAND CAVALIERS vs #3 TORONTO RAPTORS
We're going to be thinking how vulnerable the Cavs are until the Finals.
I do think the Raptors have a chance here. This is the match-up that they wanted. Toronto added guys like P.J. Tucker and Serge Ibaka SPECIFICALLY to neutralize LeBron James. And while we worry about the Cavs melting down, they still have LeBron so any problems that they have can be solved by him.
Yeah, the Cavs have been known to get big leads, only to lose them late. But that's the thing; they hold on when they need to. And sure, they'll probably lose a couple of games that way. But there are too many "what ifs" here for Canada to win. And when LeBron's on the other side, the what ifs turn to doom.
PREDICTION: CLEVELAND IN 6.
WESTERN CONFERENCE
#2 SAN ANTONIO SPURS vs #3 HOUSTON ROCKETS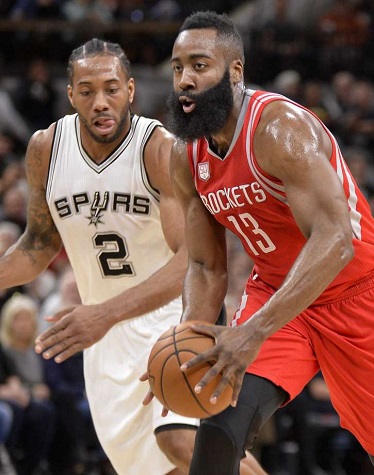 (PHOTO CREDIT: Darren Abate/AP.)
This is a clash of styles. The Rockets want to shoot all game while the Spurs want to systemically and methodically make you submit. While Houston can score from all angles, San Antonio is a fantastic defensive team, especially from the perimeter.
You kind of wonder if the Spurs can have that reliable second scorer. In their series against the Grizzlies, it was Tony Parker. They don't really want that. They want LaMarcus Aldridge to show up. But he did against the Rockets three years ago when he went for back-to-back 40-point games.
James Harden struggled against the Thunder last series. The stats were gaudy but he had to work extremely hard to get them. And it's going to get tougher when Danny Green and THEN Kawhi Leonard check him. Plus the Spurs would rather give up the midrange against you; they are not going to let you shoot threes.
I always feel the Rockets can find a way to score to keep it close. But when the game is on the line, they got this robot named Kawhi that can make all the difference. He'll make a stop on one end and then get a basket on the other. And he'll do it with an emotion of a dude microwaving leftover pizza.
The series will be close; I can certainly see the Rockets taking it. But I like the Spurs when it comes down to the close games, which we'll see a lot of in this series.
PREDICTION: SAN ANTONIO IN 7.
#1 GOLDEN STATE WARRIORS vs #5 UTAH JAZZ
Well, the Warriors already sneered at going against the Jazz simply because "there's no nightlife in Utah." Nevertheless, the Jazz are going to make it more difficult than them and not just because of the nightlife. They have the tools to slow the pace and beat up the Warriors physically. If they can slow it down against the Warriors, they may be able to score a major upset.
But I do think the Warriors have more playmakers on both ends of the floor, especially in the closing minutes. I can see the Jazz making it close for most of the games. I can even see Utah winning a game or two because they willed their way to a throwback 90s basketbrawl. In many ways, this is similar to their match-up against the Thunder last year except that the Jazz don't have two shining stars in Russell Westbrook and… hey… the Warriors have Kevin Durant now.
In the end, G. State just has too much going for them.
PREDICTION: GOLDEN STATE IN 5.
---
Follow Rey-Rey on Twitter at @TheNoLookPass for all tweets about the NBA. Also, check out his podcast, Rey-Rey Is Fundamental.

us on FaceBook where we have additional NBA highlights! Thank you!
#SagerStrongForever