This is the NBA Playoff Hangover. We're going to recap all the important games and talk about the hijinks that went on during or after. Here ya go.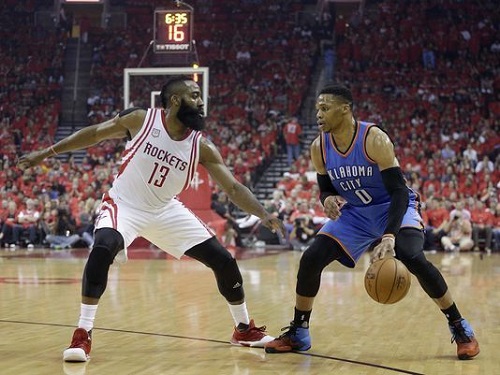 (PHOTO CREDIT: Thomas B. Shea/USA Today.)
#6 OKLAHOMA CITY THUNDER 99 @ #3 HOUSTON ROCKETS 105
WEST 1st Round * Game 5 * ROCKETS WIN the series, 4-1
It was desperation time for Russell Westbrook and company. It really was a tale of four quarters for these teams. We had an ugly 22-16 first period in favor of OKC. It was 35-22, Rockets, in the second and then 33-21 in the third for OKC.
It seemed like it was also desperation time for Rockets owner Leslie Alexander. He walked on the court to complain to the ref during play. Bizarre.
Westbrook was, once again, incredible in the first three quarters. His barrage of threes gave the Thunder the lead going into the fourth.
But as we've seen all season long, the Thunder are basically reduced to kids on recess when he's not on the court. After an 8-0 run by Houston, Westbrook came back on the court.
Unfortunately for the Thunder, Westbrook had trouble making shots yet again. OKC didn't make a field goal for nearly six minutes. Meanwhile, James Harden kept getting to the line at will. Harden's free throw trips kept the Thunder at bay; he would have 13 of the last 15 Rocket points. Russ tried one last-ditch effort by trying to replicate the intentional missed free throw play from Game 4 with 12 seconds left but the rock went to the Rockets. Houston is now moving on to the West semis.
Harden was a smooth operator as usual as he went for 34 points. Westbrook went for 47-11-9 but was 2 for 11 in the final stanza. I'm honestly not too mad that he took all those shots because who would you rather have take those shots? Andre Roberson? Also, OKC is not as bad of a team as some people make them out to be. They have talented players and specialists in Victor Oladipo, Steven Adams, Enes Kanter, Taj Gibson, etc. The huge problem is that they don't have enough playmakers; it's basically just Russ and Oladipo (who doesn't get enough chances to create for his teammates). It's basically a mismatched team and would work so much better if Kevin Durant stayed on the team. I think it's also a testament to them that the entire series outside of the first game was close (-4, +2, -4, -6).
As for Houston? They're moving on. They've erased the bad taste from last season and some think they're the ones that can unseat the Warriors in the West. We'll see but in the meantime, Rockets fans should enjoy this.
By the way, the war on the court and of words between Westbrook and Patrick Beverley was pretty funny to me. I get the on-court barbs. But I love that both kept going in the press conference even though this thing is already over. This MIGHT be the best NBA player feud today.
#7 MEMPHIS GRIZZLIES 103 @ #2 SAN ANTONIO SPURS 116
WEST 1st Round * Game 5 * SPURS lead the series, 3-2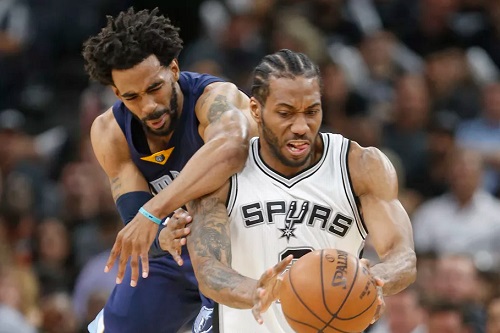 (PHOTO CREDIT: Ronald Cortes/Getty Images)
The Spurs looked like they were going to run away from the Grizz. They led by 18 late in the third.
But we know better than to count the bears out. A seemingly lightning run of 17-3 erased that hefty lead. With around five minutes left, the Spurs hung on to a five-point lead like Buddy Garrity tried to hang on to his family in the first season of Friday Night Lights.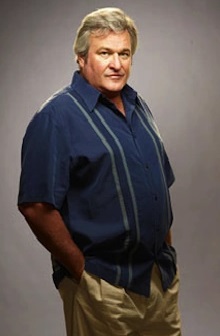 Then Kawhi Leonard and super-sub Patty Mills put it away. Leonard got the run started and Mills did a ton of damage with back-to-back threes. It eventually became a 13-0 run that finished off the Grizzles. They're going back to Tennessee to try to finish the job there.
Leonard finished with 28 points and Mills supported with 20 off the bench. Mike Conley had 26 to lead Memphis.
But for the Spurs, it's Texas Forever. Can't lose the next game, right?
#5 UTAH JAZZ 96 @ #4 LOS ANGELES CLIPPERS 92
WEST 1st Round * Game 5 * JAZZ lead the series, 3-2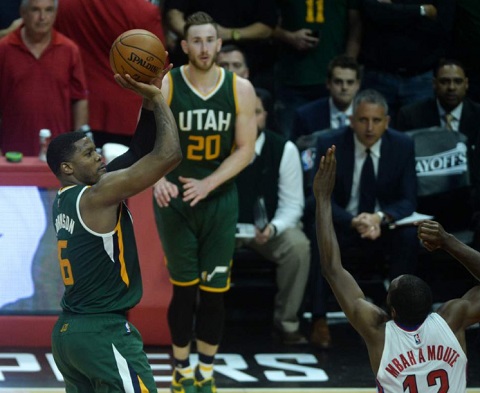 (PHOTO CREDIT: Steve Griffin/The Salt Lake Tribune.)
The Clippers did get back the coach's son, Austin Rivers, but only for limited minutes. Obviously, all the Clips weren't present. Fortunately for the Jazz, everyone on their roster had full life bars.
It wasn't the prettiest game for three quarters and that's the way the Jazz liked it. The 90s slowdown ball worked in their favor and Gordon Hayward showed he was over the food poisoning. He had a buzzerbeating dunk that put the Jazz up six after the third.
Rodney Hood's three put Utah up by 11 before that lead was quickly erased by Chris Paul and J.J. Redick. Utah countered with an 8-0 run of their own as healthy Hayward made two threes in that stretch. The Clips tried to keep it close until a now-familiar foe destroyed their hopes of winning Game 5. Joe Johnson closed them out once again as his jumper with 19 seconds left put Salt Lake up five. Johnson may no longer be the leading man but he's certainly become Utah's version of early 2000s John Smoltz. (I am so proud of that ATL reference for Joe Johnson.)
Hayward led Utah with 27 points. Chris Paul had 28 points while Redick had a huge fourth quarter as part of his 26 points.
In the meantime, we might be headed for disappointment once again for the Clips. And Utah is close to heading back to the West semis for the first time since 2010.
LINE CROSSER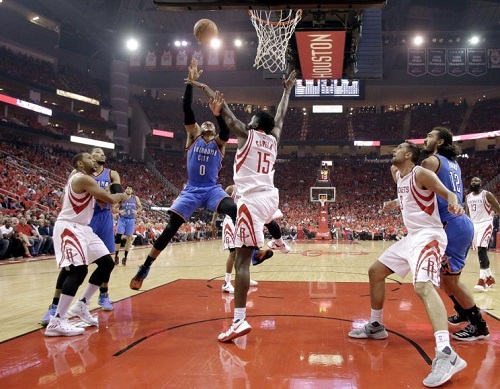 (PHOTO CREDIT: AP.)
Westbrook did all that he could. This is going to be the last time he's going to be in this section this season since the Thunder are done.
47 points, 11 rebounds, 9 assists.
It's been really fun, Russ. Thanks.
WATCH THIS PLAY
(VIDEO CREDIT: Ximo Pierto.)
Where did you come from? Where did you go? Where did you come from, ISO-Joe?!
He's been clutch this entire series. Discount Joe Johnson in the house.
---
Follow Rey-Rey on Twitter at @TheNoLookPass for all tweets about the NBA. Also, check out his podcast, Rey-Rey Is Fundamental.

us on FaceBook where we have additional NBA highlights! Thank you!
#SagerStrongForever