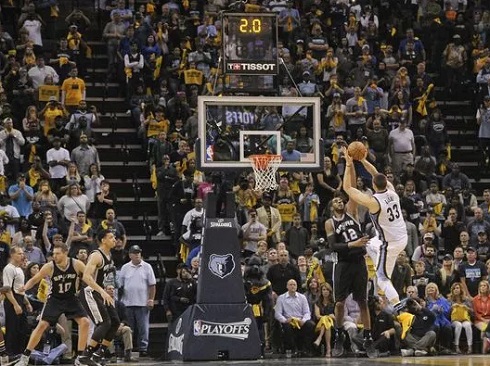 (PHOTO CREDIT: Justin Ford/USA Today.)
This is the NBA Playoff Hangover. We're going to recap all the important games and talk about the hijinks that went on during or after. Here ya go.
Before we begin, Blake Griffin is out of the postseason due to the injured big toe. Clippers have been snakebit in the playoffs for the last few years.
#3 TORONTO RAPTORS 87 @ #6 MILWAUKEE BUCKS 76
EAST 1st Round * Game 4 * Series is TIED, 2-2
The Raptors made a change as they decided to go small by starting Norman Powell and replacing Jonas Valanciunas.
This game was butt ugly. It reminded us of the slowdown 90s basketball, which isn't exactly as great as 90s R&B.
(VIDEO CREDIT: Boyz II Men.)
We were definitely down on bended knee for anybody to make a basket. It only seemed like one player for each team was getting buckets: DeMar DeRozan (who went 0-for-8 in the last game) and Tony Snell (who I make fun of but has honestly shot well in this series). The halftime score was pitiful as it was tied at 41 each.
The Bucks never got going, though, while DeRozan kept scoring. Kyle Lowry finally woke up in the second half (DeRozan would have 33 points while Lowry had 19). Giannis Antetokounmpo had trouble operating in the middle (14 points). Only Snell had it working (19 points) for the Bucks. In the meantime, the move paid dividends for the Raptors as their big man had 12 off the bench and Powell also went for 12.
They're going back to Canada with the series tied. Can somebody tell the Bucks how to get things back the way they used to be?
Funny enough, the fans in Bradley Center chanted "BUCKS IN 6!!!"
#4 WASHINGTON WIZARDS 98 @ #5 ATLANTA HAWKS 116
EAST 1st Round * Game 3 * WIZARDS lead series, 2-1
It's like it was Spurs East all over again as the Hawks, led by Paul Millsap (29-14-5) and Dennis Schroder (27 points, 9 dimes), decimated the Wiz early. ATL Shawty had a 25-point lead at one point. John Wall did everything he could, including putting on this fancy behind-the-back move on the way to the left-handed stuff.
Unfortunately, he was the only one that had it going (29 points for Wall on 10/12 shooting). The Wizards never really got to single digits on the deficit and the Hawks have made this into a series.
Two things. Markieff Morris called Millsap a crybaby. I love that Morris is still talking trash after they got their asses handed to them. I'm kind of hoping they scrap on the court in the next game.
And second thing? Mike Muscala has a Super Mario Bros. 3 tattoo. I'm sure he's made jokes to the ladies about tooting on a whistle.
Mike Muscala with the Super Mario Bros. 3 tattoo. pic.twitter.com/7h1QE0YVWy

— Rey-Rey (@TheNoLookPass) April 22, 2017
ANYWAY…
#2 SAN ANTONIO SPURS 108 @ #7 MEMPHIS GRIZZLIES 110 [OT]
WEST 1st Round * Game 4 * Series is TIED, 2-2
This game is why we watch the NBA Playoffs.
The cyborg that is known as Kawhi Leonard helped the Spurs get to a double-digit lead in the first quarter. But Mike Conley led a quick 7-0 run to pull the bears within three at the end of the period. Memphis went on a 9-0 run at the start of the next stanza and while the Spurs stuck close, a Marc Gasol buzzerbeater gave the home team a four-point lead at the half.
It was a grit-and-grind type of game in the third. The Grizz got off to a 10-point lead in the fourth.
Then robotic things happened. Kawhi just went off in the fourth, giving the Grizz hell on defense and making seemingly every jumper he put off. Memphis fought bravely as Leonard scored the last 16 points for San Antonio. With the bears down two, Conley made his patented off-hand floater with 4.5 seconds left. Kawhi had a rare miss at the other end and the game went an extra five.
Conley (35-9-8) made a lay-up and then split his foul shots to give the Grizz a four-point lead. Then Kawhi struck again with another three to cut the deficit to one with 22.8 seconds left. After Andrew Harrison made both foul shots for Tennessee, the Spurs managed to get Kawhi (he had 43 points!) open again for a corner three. It looked like the game was going to go a second overtime.
But the Grizzlies probably had a Netflix session afterwards. Gasol the Younger (16 points, 12 boards) got the ball and managed to sink a runner with 0.7 seconds left. The Spurs had no more timeouts left so Danny Green had to heave the ball from Nashville to no avail. Hi, Connie Britton!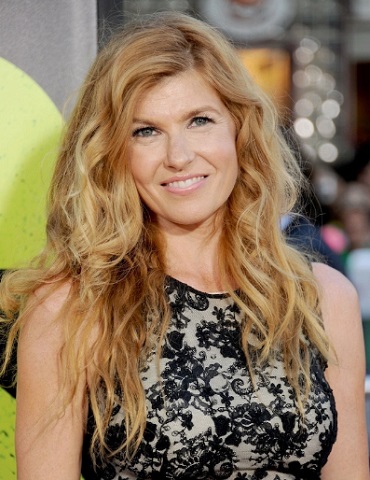 Suddenly, this series is tied and Spurs fans are understandably anxious.
#1 GOLDEN STATE WARRIORS 119 @ #8 PORTLAND TRAILBLAZERS 113
WEST 1st Round * Game 3 * WARRIORS lead series, 3-0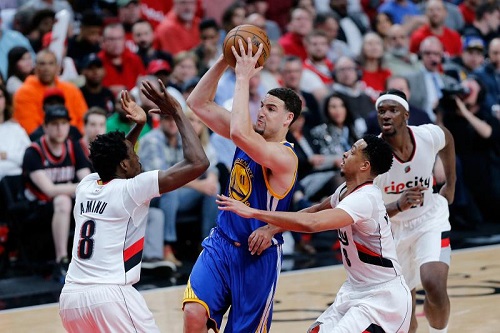 (PHOTO CREDIT: Jonathan Ferrey/Getty Images.)
So the Warriors not only did not have Kevin Durant, Shaun Livingston, and Matt Barnes but they also had head coach Steve Kerr out due to an illness. Former Cavs and Lakers coach Mike Brown took over head coaching duties as he was Kerr's top assistant. As for the Blazers, they got Jusuf Nurkic back. Albeit not 100 percent but back, nonetheless.
It didn't look all rosy for the Warriors early as C.J. McCollum and Damian Lillard went off (per usual, really). The Blazers guards had 39 points combined by the half while Klay Thompson and Stephen Curry struggled. PDX (I'm so cool!) would lead by as many as 17.
Portland was comfortably up, 82-66, halfway through the third. Maybe it shouldn't be described as comfortably because the Warriors are a ticking time bomb. Suddenly, the Dubs cranked up their defense and their golden backcourt got going. Andre Iguodala and JaVale McGee added to the devastation with some eye-popping jams. The lead disappeared in four minutes because the Blazers didn't heed Madonna and Justin Timberlake's warning. It was a 19-1 run, to be exact.
The Blazers started missing shots. Draymond Green kept putting on the pressure (9 points, 8 rebounds, 7 assists, 6 blocks!) while Iguodala kept dunking on fools. Noah Vonleh had a few dunks of his own in an attempt to stay with the two-time Western Conference champs. But in the end, Steph Curry was too much. He made a three to give the Dubs a seven-point lead. After Lillard (31 points; C.J. had 32) countered with three free throws, Curry (34 points) made Allen Crabbe slip and slide a bit inside as he made a short jumper. That was the game and now the Dubs, shorthanded as they are, are only one game away from a sweep.
And, hey, Mike Brown won a playoff game before the Lakers did since he left L.A.!
LINE CROSSER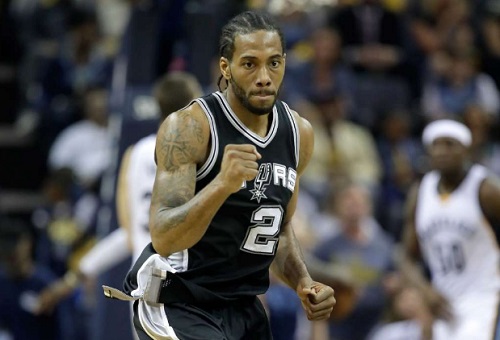 (PHOTO CREDIT: Andy Lyons/Getty Images.)
There were a lot of incredible performances from the Blazers backcourt to John Wall to Steph Curry to Mike Conley to DeMar DeRozan to Paul Millsap. But the best was undoubtedly Kawhi Leonard:
43 points, 8 rebounds, 6 steals.
Incredible game that just fell mighty short for the Spurs.
WATCH THIS PLAY
(VIDEO CREDIT: NBA.)
Marc Gasol wins it for the Grizz with 0.7 seconds left and ties the series after Kawhi Leonard and the bears went back and forth.
---
Follow Rey-Rey on Twitter at @TheNoLookPass for all tweets about the NBA. Also, check out his podcast, Rey-Rey Is Fundamental.

us on FaceBook where we have additional NBA highlights! Thank you!
#SagerStrongForever