This is the NBA Playoff Hangover. We're going to recap all the important games and talk about the hijinks that went on during or after. Here ya go.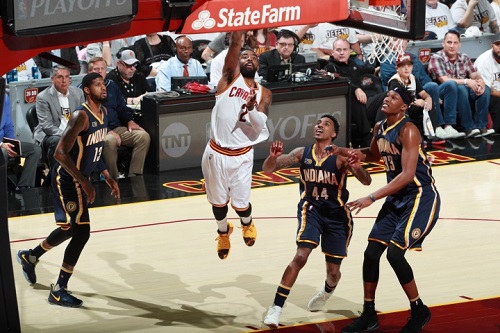 (PHOTO CREDIT: Jeff Haynes/Getty Images.)
#7 INDIANA PACERS 111 @ #2 CLEVELAND CAVALIERS 117
EAST 1st Round * Game 2 * CAVS lead series, 2-0
After that very close first game, Paul George tried to take over the game early. Once again, defense was optional in the first half as the Cavs led the Pacers, 63-58, after 24 minutes.
The Cavs beared down and went to Kevin Love in the third. He went on a personal 10-0 run as nobody from the Pacers could guard him during that particular time. Cleveland led by 18 after three.
But we all know that the Cavs had trouble holding on to the lead. George and company took the lead down to five points.
Too bad, the Pacers somehow got lost in the rotations after LeBron James put on a crushing screen on Jeff Teague to free up Kyrie Irving.
Great defensive job, Pacers. pic.twitter.com/ep73QAVdoZ

— Rey-Rey (@TheNoLookPass) April 18, 2017
The Cavs' Big Three scored 89 out of 117 points. PG went for 32-8-7 but now his team is down 0-2 going back to Indy.
#7 MEMPHIS GRIZZLIES 82 @ #2 SAN ANTONIO SPURS 96
WEST 1st Round * Game 2 * SPURS lead series, 2-0
For a while there, it looked like it's going to be a complete detonation by the Spurs. They once led by 26 in the first half before the Grizz scored the last seven points to cut it to a 19-point deficit before the third.
The Grizzlies (well, I should've just used "beared down" in this paragraph) did their little grit-and-grind in the second half. The Spurs were shut down as they got buckets slowly but surely. The lead was cut down to four as the Spurs were held scoreless for four-and-a-half minutes.
But the Spurs broke out of their grasp and immediately scored ten straight points to boost the lead back up to 15. San Antonio would hold on for the 2-0 series lead as Kawhi Leonard continued to show why he's one of the best players in the league.
What does Memphis coach David Fizdale think?
— Rey-Rey (@TheNoLookPass) April 18, 2017
LINE CROSSER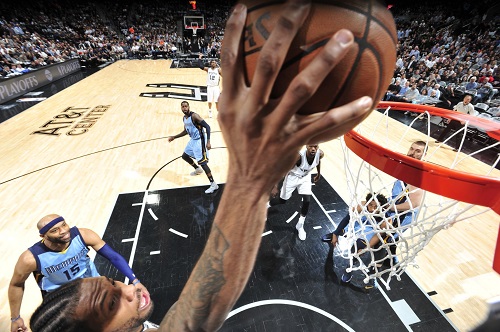 (PHOTO CREDIT: San Antonio Spurs.)
Leonard had sky-high efficiency. He scored all of that in 14 shots.
37 points, 11 rebounds, 19/19 FT.
Career-best by Kawhi in the postseason.
WATCH THIS PLAY
(VIDEO CREDIT: Rique.)
Paul George goes in for the slam. For the jam. For the yam.
---
Follow Rey-Rey on Twitter at @TheNoLookPass for all tweets about the NBA. Also, check out his podcast, Rey-Rey Is Fundamental.

us on FaceBook where we have additional NBA highlights! Thank you!
#SagerStrongForever