This is the NBA Playoff Hangover. We're going to recap all the important games and talk about the hijinks that went on during or after. Here ya go.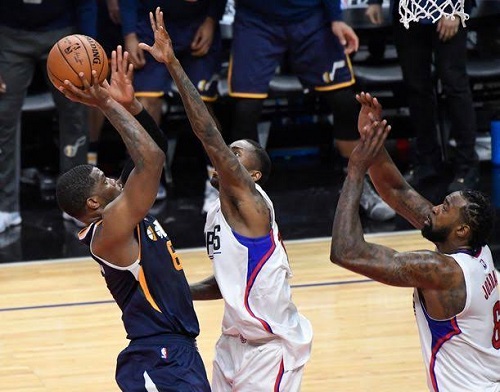 (PHOTO CREDIT: Robert Hanashiro/USA Today.)
#7 INDIANA PACERS 108 @ #2 CLEVELAND CAVALIERS 109
EAST 1st Round * Game 1 * CAVS lead series, 1-0
For the most part, there didn't seem to be any defense played. It was like we're watching the All-Star game in the first half as the Cavs and Pacers casually scored a 66-59 tally. Then in the third quarter, the Cavs attempted to break it open by scoring 10 straight and building their lead to a dozen points.
It was hilarious that the Cavs guarded one-time and new Pacer Lance Stephenson like he's a first-grader. But Lance made them play as he converted open shots. Lance would keep the Pacers within striking distance. Finally, Jeff Teague made a three to shockingly give the lead to Indy. Still, the Cavs would take it right back. Paul George made a deep three to cut the lead to one. After Cleveland missed, the Pacers had 20 seconds to win the game.
In the last possession, PG got double-teamed in the waning seconds. He gave the ball up to C.J. Miles, who decided to go for the game-winner. It was off and Cavs took the duke.
After the game, George said he should've gotten the ball back in that situation and should've gotten the shot. I get his sentiment but his comment seemed offputting. For all intents and purposes, Miles got off a good shot. What if he made it? Would he still say the same thing? George probably would've gotten off a worse shot if he got it back with about three seconds left.
Nevertheless, Cleveland won the game.
#6 MILWAUKEE BUCKS 97 @ #3 TORONTO RAPTORS 83
EAST 1st Round * Game 1 * BUCKS lead series, 1-0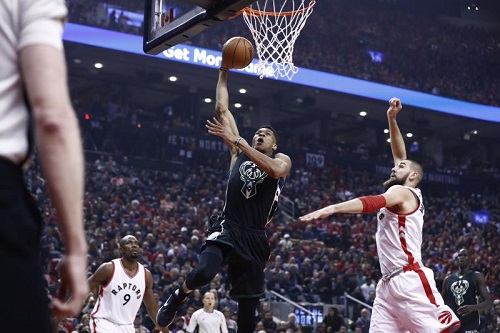 (PHOTO CREDIT: Mark Blinch/Getty Images.)
All game long, Giannis Antetokounmpo dazzled us with his athleticism and length. It almost felt like he dunked on all of the Raptors starters individually.
While DeMar DeRozan and Serge Ibaka kept the Bucks at bay, Kyle Lowry never got it going. Ibaka would injure his ankle in the second half.
Coincidentally, guys like Greg Monroe and Malcolm Brogdon would get it going. Thon Maker would lead the Bucks defensively and they would hold the dinosaurs to 32 points in the second half.
Giannis would punctuate the Bucks' effort by rejecting DeRozan for prom. It was silly that Giannis would get a technical foul out of that emotional outburst but regardless, Milwaukee stole Game 1 from Canada. And, hey, Toronto losing Game 1 in the first round is a tradition like no other.
#7 MEMPHIS GRIZZLIES 82 @ #2 SAN ANTONIO SPURS 111
WEST 1st Round * Game 1 * SPURS lead series, 1-0
The Grizz would jump on the Spurs early with three-point shooting. While Kawhi Leonard and company would bring back San Antonio, Marc Gasol kept dominating throughout the first half, scoring 25 of Memphis's 49 points.
But then the Spurs put on the clamps in the second half, just as Kawhi, LaMarcus Aldridge, and Tony Parker got it going. The miniature three-point lead would swell and grow (what were YOU thinking of?). San Antonio would score 19 unanswered points on the way to an easy win.
It was like the Grizzlies were invisible.
(VIDEO CREDIT: ClayAikenVEVO.)
#5 UTAH JAZZ 97 @ #4 LOS ANGELES CLIPPERS 95
WEST 1st Round * Game 1 * JAZZ lead series, 1-0
In the first possession of the game, Luc Mbah a Moute banged knees with Rudy Gobert. Gobert was taken out for the rest of the game as he was said to have a sprained knee.
Still, the Jazz played their pace beautifully. Derrick Favors was pressed into duty and played great for Utah. Joe Johnson was his ISO self and gave the Jazz an excellent offensive boost.
That slowdown game gave the Jazz an 88-81 lead with four minutes and change. That's when Chris Paul decided to take charge. He valiantly fought the Jazz nearly all by himself. After withstanding big shots from Johnson, Favors, and Gordon Hayward, Paul tied the game at 95 with 13 seconds left with a driving lay-up. CP3 made 12 of the last Clippers' 16 points.
Unlike Indiana, though, Utah didn't call a timeout and went to work. Iso-Joe did exactly that. He drove inside and his floater bounced upwards and into the hoop as time expired. The Jazz stole the first game after losing their top big, Rudy Gobert. That was a hell of a gutsy win.
LINE CROSSER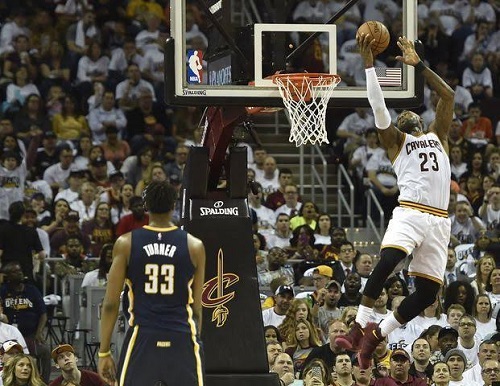 (PHOTO CREDIT: David Richard/USA Today.)
LeBron James did his thing as usual.
32 points, 6 rebounds, 13 assists, 3 steals.
He's doing this in his 14h year. Seriously.
WATCH THIS PLAY
(VIDEO CREDIT: NBA.)
We know what's up. ISO-Joe doing his thing against the Clips.
By the way, condolences to Isaiah Thomas of the Celtics. His sister was killed in a car accident on Saturday. All our thoughts are with him and his family.
---
Follow Rey-Rey on Twitter at @TheNoLookPass for all tweets about the NBA. Also, check out his podcast, Rey-Rey Is Fundamental.

us on FaceBook where we have additional NBA highlights! Thank you!
#SagerStrongForever