The 2017 NBA Playoffs are about to start. Who do I think is going to win each first round match-up? I break it down a little and make my pick. Let's do this.
EASTERN CONFERENCE PLAYOFFS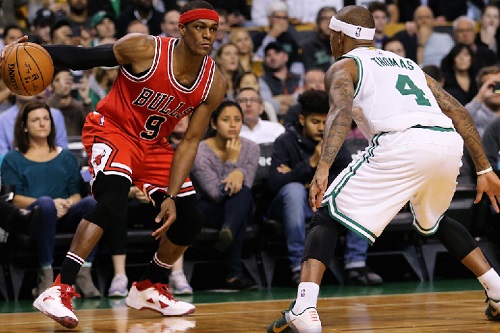 (PHOTO CREDIT: Getty Images.)
#1 BOSTON CELTICS vs #8 CHICAGO BULLS
A lot of people are not exactly buying the Celtics as the top seed. Why not? They play sound defense and they have possibly the best closer in the game in Isaiah Thomas.
The Bulls are playing like they have nothing to lose. That's really dangerous. Plus Jimmy Butler is out to prove something. Dwyane Wade wants to show he can still come through in the playoffs. And what if we see the return of PLAYOFF RONDO? Against his old team, no less? But the Bulls also have the highest chance of becoming out of sync with each other. As opposed to in sync. It's tearin' up my heart.
Still, I don't think the Bulls will be able to stop the King of the Fourth. This will be competitive but be done in short order.
PREDICTION: BOSTON IN 5.
#4 WASHINGTON WIZARDS vs #5 ATLANTA HAWKS
It's going to be tough to stop the Wizards backcourt of John Wall and Bradley Beal. They're going to be scoring all over the place while the Hawks look to Dennis Schroder, Dwight Howard, and Paul Millsap for offense. Maybe we'll get that one random big game from Tim Hardaway, Jr.
The Hawks have been streaky all game and you can't afford to go cold against the crafty Wizards. And I like the chances of the Hawks freezing up at some points in the series.
PREDICTION: WASHINGTON IN 6.
#2 CLEVELAND CAVALIERS vs #7 INDIANA PACERS
The Pacers are coming into the playoffs with some momentum; they've won five straight. As for the Cavs? We've been here before. Remember when they looked disinterested and troubled throughout the regular season before revealing that they actually all loved each other, romping through the East, and then miraculously winning the chip? Well, they looked troubled again but it's because they tried to fit in a new player seemingly every month and they couldn't seem to stop any team.
Still, this team has LeBron James. This guy has taken his team to six straight Finals and who's to say an East team can stop him this year? We'll probably go nuts when Lance Stephenson does some shenanigans towards LeBron, like pull down his shorts or something. But I just don't think the Pacers can overcome a focused Cavs team.
I think the Cavs will be focused.
PREDICTION: CLEVELAND IN 5.
#3 TORONTO RAPTORS vs #6 MILWAUKEE BUCKS
The Raptors have become stoppers after they got P.J. Tucker in Serge Ibaka in trades. And with Kyle Lowry back, they can also turn back into those offensive wizards they have been for years. Giannis Antetokounmpo is going to need to give the Bucks the series of his life but even that might not be enough. I just think the Raptors have too much firepower here. They don't fear Bambi.
PREDICTION: TORONTO IN 5.
WESTERN CONFERENCE PLAYOFFS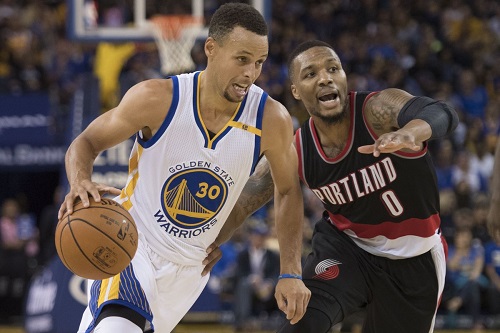 (PHOTO CREDIT: Kyle Terada/USA Today.)
#1 GOLDEN STATE WARRIORS vs #8 PORTLAND TRAILBLAZERS
We know the Blazers made it interesting last season's playoffs even though it was done in five games. The difference was that the Warriors weren't completely healthy. Stephen Curry did come back to have an awesome Game 4 and a three that clinched the series in five.
And that's what is different this series. Knock on wood but Golden State have full energy bars coming into this series, including the returning Kevin Durant. And Portland has one ailing big man, Jusuf Nurkic, who may or may not play in this series.
Not that Nurkic is the big X factor in this match-up but State's firepower is just too much for Rip City. We always seem to forget that the Warriors are as good as anybody when it comes to locking people up. And guess what, Blazers? The Dubs just threw away the key.
PREDICTION: GOLDEN STATE IN 4.
#4 L.A. CLIPPERS vs #5 UTAH JAZZ
This is going to be a seesaw battle. For one thing, I still can't tell if the Clippers are back to where they were early this season after blazing the end of this campaign with seven straight wins. Plus, Utah is made for the playoffs. We know it's going to come down to a full halt and Utah plays that as well as anybody.
This could go either way, to be honest. Clippers can play that grimy game, too. In the end, it's the Clippers' experience in the big stage that will carry them. They know how to navigate their way around when all their chips are pushed to the table.
PREDICTION: CLIPPERS IN 7.
#2 SAN ANTONIO SPURS vs #7 MEMPHIS GRIZZLIES
I don't like this match-up for the Grizz. The Spurs are just so cerebral. Plus the Grizz likely won't have Tony Allen for the series as he has a strained calf.
It's probably going to be a slugfest but I just don't think the Grizzlies have enough haymakers to offset the Spurs. San Antonio's heavy hitter is Kawhi Leonard and who's going to stop him from delivering those knockout blows?
But I'm always down for a Gasol bros reunion.
PREDICTION: SAN ANTONIO IN 4.
#3 HOUSTON ROCKETS vs #6 OKLAHOMA CITY THUNDER
We have one that operates in cruise control while we have another that just wants to destroy everything in sight.
What made the Thunder so good in last season's postseason is that they were able to snuff their opponents. The Rockets aren't exactly known for that sort of play. In the playoffs, we know the pace slows down. Can Houston play like that when it becomes a storm?
I want Mike D'Antoni to succeed as much as anybody. But I'm not sure if I like the Rockets running into a madman who specializes in getting triple-doubles. Patrick Beverley might make it interesting with a shove or a scratch here and there. But I like the Thunder to pull the upset here.
PREDICTION: OKLAHOMA CITY IN 6.
---
Follow Rey-Rey on Twitter at @TheNoLookPass for all tweets about the NBA. Also, check out his podcast, Rey-Rey Is Fundamental.

us on FaceBook where we have additional NBA highlights! Thank you!
#SagerStrongForever