So we all made our season predictions for how each team is going to do this regular season. I was no different. Check out what I tweeted in late October…
NBA Eastern Conference standings predictions: pic.twitter.com/Kljn6CfxSo

— Rey-Rey (@TheNoLookPass) October 25, 2016
NBA Western Conference standings predictions: pic.twitter.com/OrhJsm937K

— Rey-Rey (@TheNoLookPass) October 25, 2016
So let's see how wrong I was!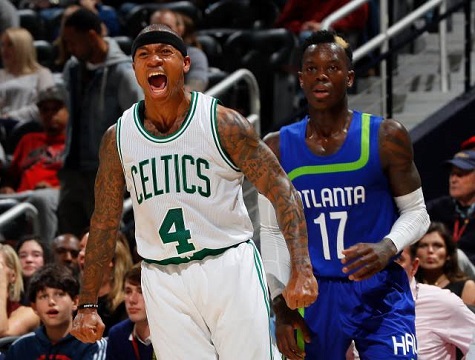 (PHOTO CREDIT: USA Today.)
EASTERN CONFERENCE
1) BOSTON CELTICS (53-29)
Preseason Prediction: 3rd (50-32)
I mean, I wasn't TOO off, was I? Of course, them having home court throughout the East playoffs wasn't something we were all predicting. Also, Isaiah Thomas rising to basically superstar status (although everyone has a different definition for that) was another thing we didn't see coming. He was unstoppable for the most part in the fourth quarter and it gave the Celtics that all-important closer when the team needed it.
Playoffs will be another story as a lot of pundits see the Celtics as the least feared #1 seed in recent memory. I mean, those small guys can only do so much damage, right? Right?
2) CLEVELAND CAVALIERS (51-31)
Prediction: 1st (54-28)
This wasn't off by much, either. And honestly, I can't even tell if they're vulnerable or not.
What I do know is that they kept acquiring players left and right throughout the season. Kyle Korver. Derrick Williams. Deron Williams. Larry Sanders, who ended up getting cut for Edy Tavares. It's hard to acclimate so many players into the team concept as you try to trudge through the season with an excellent record.
Again, playoffs will be a different story. But trying to fit in a key piece seemingly every month is rough when you're trying to win basketball games consistently.
3) TORONTO RAPTORS (51-31)
Prediction: 2nd (50-32)
And this was also nearly on target. Losing Kyle Lowry was rough for a bit but their midseason acquisitions in Serge Ibaka and P.J. Tucker toughened them up. Lowry's wizardry in offense can get them going on the scoring end while Ibaka and Tucker will help the dinos choke their opponents (well, not literally; I don't condone that).
DeMar DeRozan's scoring in the midrange will help in the playoffs, where players will try to prevent scoring from the rim and from three. He also took a bit of a leap in pumping in points. Analytic nerds hate his game but I say you try to score whereever you can.
4) WASHINGTON WIZARDS (49-33)
Prediction: 7th (44-38)
I was foolish to think Bradley Beal had "limited upside" due to his declaration of having his minutes being limited for the rest of his career.
I didn't think Beal and John Wall, for that matter, would get better than where they were. Boy, was I wrong. Wall would probably be a leading candidate for the Most Valuable Player award, if we didn't see those crazy seasons from James Harden and Russell Westbrook.
Their starting line-up is probably the most productive in the league. Otto Porter is a deadeye shooter. And the addition of Bojan Bogdanovic gave them another threat from deep (which their bench badly needed). Plus we make fun of coach Scott Brooks a lot but he sure knows how to handle them point guards.
Now? They might have a chance to go to the Finals. They're that dangerous. We'll see, though.
5) ATLANTA HAWKS (43-39)
Prediction: 4th (46-36)
When they traded Kyle Korver (after losing Al Horford in the offseason), we all thought the Hawks decided they were going to start clean as they build from the ground up with Dennis Schroder and Dwight Howard. But the Hawks decided they were going to go on with this group and took Paul Millsap off the trading block. They were up and down the whole season and ultimately ended at four games above .500.
Once again, they peaked two seasons ago when they won 60 games. I don't think the Hawks are fooling anybody and I'd be surprised if they go anywhere. In the NBA, middle of the road is the worst place to be and, well, that's where the Hawks are.
6) MILWAUKEE BUCKS (42-40)
Prediction: 8th (41-41)
Giannis Antetokounmpo was like point-everything for the Bucks and was Top 20 in every major statistical category. It was unfortunate for them that they lost Jabari Parker to another knee injury but they miraculously got back Khris Middleton a few months early when he was supposed to be out for nearly the entire season. Malcolm Brogdon, their intrepid rookie, was also a boon for them and could win Rookie of the Year (nearly by default, I concede).
These guys might put a scare on the Raptors but they were right on Giannis being their franchise gem all along.
7) INDIANA PACERS (42-40)
Prediction: 6th (45-37)
Indy was pretty average throughout but they did come on late with five straight wins. Nothing surprising coming from them, either way, other than their late acquisition of Lance Stephenson. Maybe he was meant to be Paul George's running mate in Indy.
Either way, I don't expect them to make much of a splash in the playoffs. Although their match-up against Cleveland and LeBron James could be juicy considering the Pacers/LeBron-led Heat series from years past.
8) CHICAGO BULLS (41-41)
Prediction: 12th (32-50)
My mindset for the Bulls was that Dwyane Wade would either be super unhappy or have an early vacation and that Rajon Rondo would disrupt, which would ultimately get him cut from the team. That would permeate throughout the team and they would end with a bad record.
But somehow, the "worst" thing that Rondo did was defend his teammates on Instagram after Jimmy Butler and Wade called the team out on the media. It somehow galvanized the team and Rondo himself. Rondo was seemingly doomed to be released but he finished the season strong. Wade was thought to be out for the season with an elbow injury but he returned last weekend. And Butler, despite terrible circumstances, steadied the team and the Bulls ended with a .500 record.
That honestly feels right about the team with their overall talent. I just thought everything was going to hell for these cows.
9) MIAMI HEAT (41-41)
Prediction: 13th (27-55)
They WERE on track to win only in their mid-20s as they started off 11-30. Everything was going horrendously for the Heat. But then a lot of things happened. Waiters Island happened. Hassan Whiteside led the Heat into becoming a defensive force. Goran Dragic found his Phoenix Suns self. James Johnson did all the dirty work for them. All of this gave them a 30-11 second half and only missed the postseason due to a technicality.
I don't even think the hardest of diehard Heat fans saw this coming. But Erik Spoelstra probably did his best coaching job ever (and that's saying a lot). We had given them up for dead but sometimes, teams are most dangerous when nobody believes in you. That was a hell of a second half run for Miami.
10) DETROIT PISTONS (37-45)
Prediction: 5th (46-36)
This was a team that was supposed to continue to grow within. But you can't get anything done when talent can't play together. Reggie Jackson is a pretty damn good player but he seemingly couldn't fit his game back this year with his fellow Pistons. Last year, he was part of that deadly pick-and-roll duo with Andre Drummond.
They seemed to have trouble scoring. They regressed in three-point shooting, they couldn't get to the line, and they just didn't have that reliable scorer. Their offense just wasn't good enough to catch up with their defense.
It'll be interesting to see where Jackson or even Drummond go from here. But this was a major disappointment for Detroit basketball.
11) CHARLOTTE HORNETS (36-46)
Prediction: 9th (39-43)
They got off to a fast start (8-3) before basically becoming a mediocre team the rest of the way. Kemba Walker became an all-star. Nicolas Batum was pegged to be the second option and their do-it-all kind of player. Cody Zeller's injuries hurt them. But they weren't great at defending the three (first in 3-pointers allowed in both made and attempted) and, well, their defense wasn't great overall to begin with (18th in defensive rating).
Steve Clifford is an excellent coach but maybe they need another hard hitter on offense.
12) NEW YORK KNICKS (31-51)
Prediction: 10th (38-44)
Derrick Rose called this crop of Knicks a superteam. Well, maybe if this was 2010.
Rose was okay for the most part, showing some signs of what made him an MVP six years ago. But Joakim Noah was a shell of himself, Carmelo Anthony was being jerked around as his game slowly declines, and Kristaps Porzingis seemed like he wasn't having fun this season. Phil Jackson continued to meddle around the team as he told coach Jeff Hornacek to use the Triangle Offense. It's all so confusing for the Knicks. And we didn't even mention the awful Charles Oakley incident.
Plus Jackson just mentioned Anthony would be better off somewhere else. Only Phil can make Carmelo a sympathetic character.
13) ORLANDO MAGIC (29-53)
Prediction: 11th (35-47)
General Manager Rob Hennigan was once touted to be one of the shining young prospects in the front office. But after five years on the job, he is out. After all, they haven't made the playoffs since Dwight Howard got dealt. Not being patient with a core was probably what led to Hennigan's demise. They had a cornerstone in Victor Oladipo that they traded to Oklahoma City for Serge Ibaka (who was later traded to Toronto for Terrence Ross). The Bismack Biyombo signing didn't exactly pan out. The jury is still out on Aaron Gordon. Nikola Vucevic is still bad defensively. Evan Fournier has been nice, at least. And while Elfrid Payton can't shoot, he's basically today's Jason Kidd/Rajon Rondo where he's a do-it-all-including-laying-bricks PG.
It's a mismatch of talent. And Orlando is still in the same place right after they traded Dwight.
14) PHILADELPHIA 76ERS (28-54)
Prediction: 15th (17-65)
They trusted the Process. The Process was really Joel Embiid, who had a hell of a 31 games for the team. It's just too bad that it was 31 games. They teased making the playoffs after the turning of the year with scintillating last-second wins against New York and Minnesota (at one point, the Sixers went 9-3 in a dozen January games).
The next step in the process is probably the playoffs. They would also love it if the Lakers fall out of the top three in the lottery so they can have yet another young player to develop or stash…
15) BROOKLYN NETS (20-62)
Prediction: 14th (21-61)
This season was long. The next few are going to be long, too, at this rate.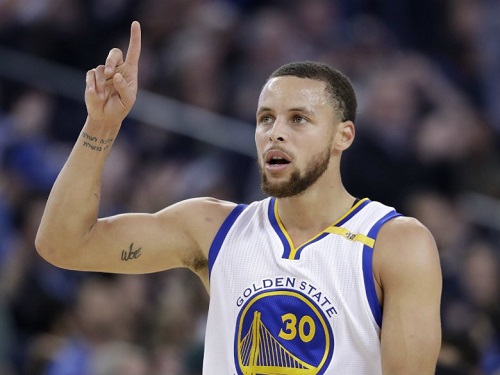 (PHOTO CREDIT: Marcio Jose Sanchez/AP.)
WESTERN CONFERENCE
1) GOLDEN STATE WARRIORS (67-15)
Prediction: 1st (66-16)
Yeah. Like we expected a repeat of the 2013 Lakers since Kevin Durant and Stephen Curry are known to be a couple of egomaniacs who will fight over the throne, right?
2) SAN ANTONIO SPURS (61-21)
Prediction: 3rd (55-27)
Let's repeat that lesson we learned that's been taught over the last two decades: water is wet, two plus two equals four, and the San Antonio Spurs win basketball games.
I know Tim Duncan just retired and everything but we know the Spurs had his medium-sized twin in Kawhi Leonard. I mean, come on.
3) HOUSTON ROCKETS (55-27)
Prediction: 6th (47-35)
Okay. I feel stupid here.
We should've known better that Mike D'Antoni, who has his fingerprints all over the league now, would open up Houston's offensive game. Like we SHOULD HAVE KNOWN THIS. No more paint-clogger in Dwight Howard. Rockets just want to shoot threes or dunks all over the place. James Harden was going to play point guard and we all know that he's an effin' gifted playmaker. What did we think was going to happen?
Playoffs might be a different story. But D'Antoni being the coach of a Daryl Morey team, the biggest analytics geek that's holding a front office job, is a match made in the clouds.
4) LOS ANGELES CLIPPERS (51-31)
Prediction: 2nd (55-27)
They felt underwhelming after their 14-2 start. They lost both Blake Griffin and Chris Paul in different times during the season. But they did come back to seize the fourth spot after winning their last seven games. DeAndre Jordan blossomed this season as a force on both ends.
I have no idea if we're overlooking them or not. But nobody's going to be surprised if they have an early exit.
But I was off by only four wins so hey.
5) UTAH JAZZ (51-31)
Prediction: 4th (49-33)
I think we all expected them to make the leap this season. We knew they had potential with Gordon Hayward leading the way offensively and then Rudy Gobert stifling their opponents on the defensive end. They play old-school and they will make the game rough and tumble in order to win. Hard to watch? Sure. But some team has to go against the grain.
If Rodney Hood and George Hill can stay healthy with their regular contributions this year, the Clippers might have trouble against them.
6) OKLAHOMA CITY THUNDER (47-35)
Prediction: 8th (44-38)
We knew Russell Westbrook was going to come out with a vengeance this season after Durant left OKC for California.
We all didn't think vengeance meant a TRIPLE-DOUBLE AVERAGE DURING THE SEASON. AND 42 TRIPLE-DOUBLES. Russell Westbrook was THE man to watch during the regular season. He might win Most Valuable Player this season and it's tough to deny the Westbrook dynamite.
They might even have a chance against the Rockets in the first round. Now what we wanna see is Westbrook average a trip-dub in the playoffs, which was only done twice (Oscar Robertson in 1962 and Jason Kidd in 2006).
7) MEMPHIS GRIZZLIES (43-39)
Prediction: 7th (45-37)
They can still slow the game to their favorite grit-and-grind special. But let's face it; the Grizzlies aren't what they used to be. Zach Randolph is 35. Tony Allen is 35. Marc Gasol is 32. Hell, Vince Carter is 40. Mike Conley is still in his prime at 29 but the rest of the core is aging. Plus Chandler Parsons, who was supposed to be their new ace wing, didn't pan out due to injuries.
All the injuries last season didn't make it clear for us. But this season was finally the year Memphis stopped putting fear in other teams' hearts.
8) PORTLAND TRAILBLAZERS (41-41)
Prediction: 5th (48-34)
For most of the season, I thought that maybe last season was more of a surprise and that they shocked everyone with their run. I thought that maybe nobody was surprised by them anymore. They didn't even seem poised to make the postseason.
They were 23-33 before they made their deal for Jusuf Nurkic. Nurkic's resurrection helped boost the Blazers and although he would be hurt late March, the team went on a 12-3 tear to snare the last playoff seed in the West and also eliminate Denver, Nurkic's former team.
It's not 48 wins but Portland is still a playoff team.
9) DENVER NUGGETS (40-42)
Prediction: 12th (36-46)
Sure, it may have seemed like a happy accident but they got their guy to build around in Nikola Jokic. Jokic is an offensive wiz. He can shoot from anywhere and can find guys since he has eyes on the back of his eyes. Jokic's rise gave way to trading Nurkic but, unfortunately for Denver, their addition by subtraction bit them in the arse.
Still, Denver might finally go in the right direction with Jokic leading the way.
10) NEW ORLEANS PELICANS (34-48)
Prediction: 10th (40-42)
I think it's pretty funny that the Pelicans, who have struggled defensively in years past, finished 8th in defensive rating this season.
But there was so much turnover for the Pelicans in 2016-17. They played 26 people this season alone. And one of their deals included the biggest trade of 2017, DeMarcus Cousins.
The Pelicans couldn't get anything going and even struggled when they played Boogie and Anthony Davis together. But they'll have a training camp later this fall and they'll get a full season together.
Brow could be running out of patience soon, though.
11) DALLAS MAVERICKS (33-49)
Prediction: 9th (42-40)
Dirk Nowitzki's injuries early doomed the Mavs to a 4-17 start. Then the play of Harrison Barnes, Seth Curry, and Yogi Ferrell blossomed as well as the acquisition of Nerlens Noel got them within an eyelash of a playoff berth for a minute. They ultimately tapped out at the end but it looks like we got a pretty good core in Dallas once Dirk leaves.
I mean, if Dirk EVER leaves.
12) SACRAMENTO KINGS (32-50)
Prediction: 15th (24-58)
The Kings' problems seem to be never-ending. They were actually fighting for a playoff spot when they decided they had enough of Boogie and dealt him. It was a head-scratching trade, to say the least. They did get Buddy Hield on that enormous deal but no one (except Kings owner Vivek Ranadive) thinks he's going to be the second coming of Stephen Curry or anything.
This is like walking in the Sahara desert.
13) MINNESOTA TIMBERWOLVES (31-51)
Prediction: 11th (39-43)
Probably overestimated because of the potential of this team. What are you supposed to think when you have a team that has Karl-Anthony Towns, Andrew Wiggins, Zach LaVine, and Ricky Rubio?
Youth obviously cost them a lot of games. But maybe they can take a leap next season. Maybe. At least, Tom Thibodeau is in complete control of this team.
14) LOS ANGELES LAKERS (26-56)
Prediction: 14th (26-56)
I was right on the dot. But they sure had us fooled if you only watched the Lakers either their first 20 games (when they went 10-10) or their last 6 games (when they went 5-1).
We knew they wanted to protect their pick once they lost grasp of that postseason spot. Injuries doomed them and for a team that depended on depth, those ailments to D'Angelo Russell and Nick Young loomed large. It was good to see Brandon Ingram grow throughout the season.
Now we'll see if all this losing has paid off. Again.
15) PHOENIX SUNS (24-58)
Prediction: 13th (29-53)
I'm sure NONE OF YOU predicted that Devin Booker would score 70 points!
---
Follow Rey-Rey on Twitter at @TheNoLookPass for all tweets about the NBA. Also, check out his podcast, Rey-Rey Is Fundamental.

us on FaceBook where we have additional NBA highlights! Thank you!
#SagerStrongForever