This is the Hangover. This is where I get drunk on the NBA as I recap last night's action as well as a few things going on around the league. Here's your word vomit.
04/01/2017
THE GAMES
LAL 104 (21-55) @ LAC 115 (47-31)
ATL 104 (39-37) @ CHI 106 (37-39)
ORL 111 (27-50) @ BRK 121 (17-59)
SAC 123 (30-47) @ MIN 117 (30-45)
PHX 117 (22-55) @ POR 130 (38-38)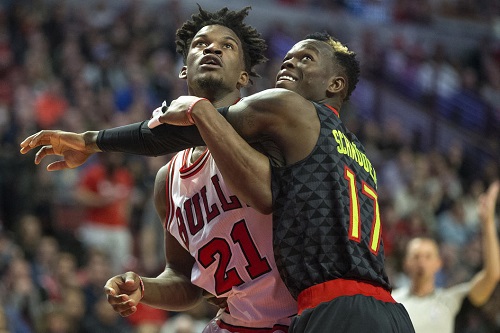 (PHOTO CREDIT: Erin Hooley/Chicago Tribune.)
THE MESSY EAST
So the Bulls beat the Hawks on a Saturday afternoon after two Jimmy Butler free throws. This muddled the bottom of the East playoff picture even more.
5. Milwaukee Bucks (40-36)
6. Atlanta Hawks (39-37)
7. Chicago Bulls (37-39)
8. Miami Heat (37-39)
9. Indiana Pacers (37-39)
10. Charlotte Hornets (35-41)
11. Detroit Pistons (35-42)
Obviously, it'll be hard for the Pistons and Hornets to sneak into the postseason. But technically, they aren't out of it. And also on a technicality, the Bucks still haven't clinched a playoff spot.
But there seems to be something on the line for some of these teams.
BUCKS: Making the playoffs will be a step forward for them. They never did have their full team together the entire season with Khris Middleton out early and then losing Jabari Parker later. And, well, we all know Giannis Antetokounmpo is now the franchise.
HAWKS: They may have to go backwards some more before trying to get back into the elite. They have a chance to lose Paul Millsap this summer and they'll have to make-do with Dwight Howard and Dennis Schroder. The Hawks ain't scaring anybody with that duo so they'll have to make some shrewd trades and/or get lucky in the draft.
BULLS: Honestly, I can't believe they're still in this, let alone the 7th seed. Nevertheless, it's probably going to be in shambles next season. Dwyane Wade might be gone. Jimmy Butler might grow even more unhappy. Who knows what idiotic deal the Bulls do?
HEAT: What looked bleak early is now promising. Miami is one of the destination cities and Hassan Whiteside and Goran Dragic are good building blocks. Plus there is structure in the Heat. Who wouldn't wanna play for Erik Spoelstra and Pat Riley?
PACERS: While Lance Stephenson was signed to seemingly appease Paul George, we could be counting down his days as a Pacer. And if they don't make the playoffs, he could be kicking and screaming this summer. So for their team's health, they'd better make the postseason.
HORNETS: I don't know what to make of them. Maybe if Cody Zeller was healthy, they'd be a better team? I don't think they should get rid of Steve Clifford. Maybe give this team another shot and try to add more pieces?
PISTONS: Stan Van Gundy might want to blow this up. At the very least, try to deal Reggie Jackson. It's just not working.
We'll see in two weeks how this all works out!
THE REST OF THE LEAGUE
I'm also curious on what Orlando is going to do with GM Rob Hennigan. They haven't moved forward at all since Dwight Howard was traded. And they can't get rid of Frank Vogel; they need stability first.
We're at the point where the Lakers just seemingly want to get to the offseason. You can tell the lack of energy, sometimes, with this team. This was such a far cry from that 10-10 start.
Despite losing Jusuf Nurkic, Portland still won on Saturday. Granted, they beat the Suns, who are also basically waiting for the season to be over with. Portland is at .500, though. They hadn't been .500 since December 8th when they were 12-12. Oh, yeah. The Blazers have won six straight and are primed to take the 8th seed. Somehow, they just make those runs, don't they?
Lots of games tonight before we get into Championship Monday in college. But again, the playoff picture won't be clear for a while. It's going to be fun to see teams trying to win and get that spot in the postseason.
LINE CROSSER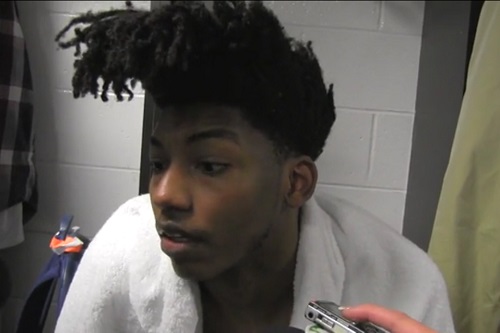 Another triple-double! This time by Elfrid Payton:
20 points, 11 rebounds, 11 assists.
That is his fifth triple-double of the season, which would probably lead the league in just about every season. But you know.
WATCH THIS PLAY
(VIDEO CREDIT: NBA.)
Aaron Gordon throws it down reverse-style on the break with today's trip-dub man throwing the lob.
---
Follow Rey-Rey on Twitter at @TheNoLookPass for all tweets about the NBA. Also, check out his podcast, Rey-Rey Is Fundamental.

us on FaceBook where we have additional NBA highlights! Thank you!
#SagerStrongForever