This is the Hangover. This is where I get drunk on the NBA as I recap last night's action as well as a few things going on around the league. Here's your word vomit.
03/31/2017
THE GAMES 03/30
BRK 89 (16-59) @ DET 90 (35-41)
CLE 93 (47-27) @ CHI 99 (36-39)
LAL 104 (21-54) @ MIN 119 (30-44)
LAC 124 (46-31) @ PHX 118 (22-54)
HOU 107 (51-24) @ POR 117 (37-38)
THE GAMES 03/31
DEN 114 (35-40) @ CHA 122 (35-41)
IND 100 (37-39) @ TOR 111 (46-30)
PHI 105 (28-48) @ CLE 122 (48-27)
ORL 116 (27-49) @ BOS 117 (49-27)
SAC 89 (29-47) @ NO 117 (33-43)
NY 98 (29-47) @ MIA 94 (37-39)
DAL 90 (31-44) @ MEM 99 (42-34)
DET 105 (35-42) @ MIL 108 (40-36) [OT]
SA 100 (58-17) @ OKC 95 (43-32)
WAS 88 (46-30) @ UTA 95 (47-29)
HOU 98 (51-25) @ GS 107 (62-14)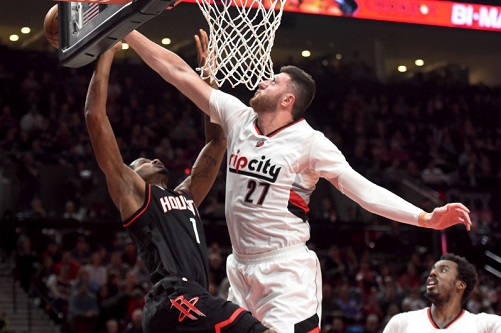 (PHOTO CREDIT: Steve Dykes/AP.)
BAD LUCK BLAZERS
I feel for the Blazers. Every time they have something great going, they lose it.
The current problem now is Jusuf Nurkic, right after their stirring win over Houston, is lost for a minimum of two weeks with a fractured leg. They basically are about to have a stranglehold on the last playoff spot in the West with an easier schedule than the team they're ahead by 1 1/2 games, the Denver Nuggets. But this will make it a bit harder than them and if they do make the playoffs. Especially if they go against the Golden State Warriors.
But look what the Blazers have gone through. They did win a championship with Bill Walton but he hardly played with them after that. Then they drafted Sam Bowie and we know he had a hard time staying healthy. Plus he was picked ahead of Michael Jordan.
Then we remember Greg Oden, who was picked ahead of Kevin Durant. He also had a multitude of injuries and had to retire early. And of course, Brandon Roy went down after his knee degenerated.
If that's not enough, LaMarcus Aldridge, who was at the peak of his career, bolted Portland for San Antonio. So this franchise, despite having some success, can't get to their full potential because of bad luck like this.
And here they are facing that jinx again. I hope Nurkic has a fast recovery and stays healthy after that.
At the very least, I want to see a full-powered Blazers team get a try in the postseason for an extended time.
THE REST OF THE LEAGUE
This is one of the more bizarre streaks in sports. The Bulls have won 20 straight games when they're being televised on TNT. Not only that but they have swept the Cavaliers this season, 4-0. Bizarre indeed.
DeMarcus Cousins went against the Sacramento Kings for the first time since he got traded. The Pels snuffed the Kings by 28. He went for 37 and 13. I guess you can say he really doesn't like them.
James Harden's wrist is bothering him. He's made it known that he wants to play all 82 games, especially since there's been a bit of brouhaha over players resting. But they're also pretty much locked into the third seed. With only six games left, I don't think the MVP race will be affected much.
LINE CROSSER 03/30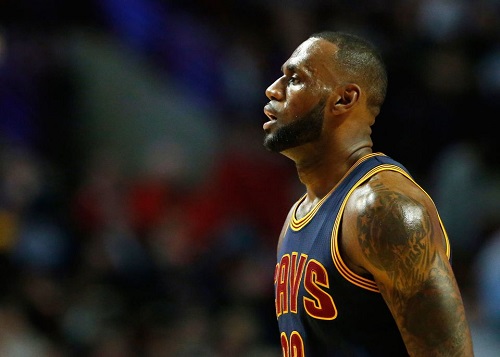 (PHOTO CREDIT: Nam Y. Huh/AP.)
This seems so pedestrian these days but it's not. LeBron James went for…
26 points, 10 rebounds, 8 assists.
Congrats to climbing to #7 on the NBA all-time scoring list.
LINE CROSSER 03/31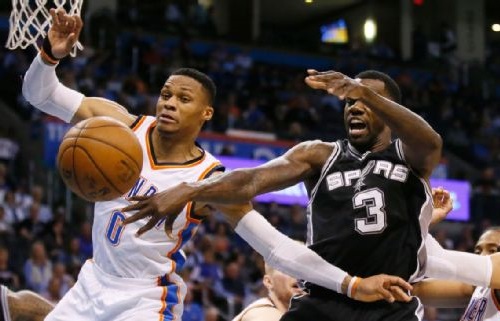 (PHOTO CREDIT: Nam Y. Huh/AP.)
He just keeps doing this. Russell Westbrook went for:
32 points, 15 rebounds, 12 assists.
That's Triple-Double #39.
WATCH THIS PLAY 03/30
(VIDEO CREDIT: NBA.)
LeBron James with the touchdown catch and the dunk on the goal posts (okay, I was trying to be funny with this football thing).
WATCH THIS PLAY 03/31
(VIDEO CREDIT: NBA.)
Marcus thought he did the SMART play by getting in front of Aaron Gordon but…
---
Follow Rey-Rey on Twitter at @TheNoLookPass for all tweets about the NBA. Also, check out his podcast, Rey-Rey Is Fundamental.

us on FaceBook where we have additional NBA highlights! Thank you!
#SagerStrongForever