This is the Hangover. This is where I get drunk on the NBA as I recap last night's action as well as a few things going on around the league. Here's your word vomit.
03/23/2017
THE GAMES
TOR 101 (43-29) @ MIA 84 (35-37)
PHX 98 (22-50) @ BRK 126 (15-56)
LAC 95 (43-30) @ DAL 97 (31-40)
MEM 90 (40-32) @ SA 97 (55-16)
NY 95 (27-45) @ POR 110 (33-38)
(PHOTO CREDIT: Soobum Im/USA Today.)
CURRENT PLAYOFF MATCH-UPS
So here they are so far:
EAST
#1 CLE vs #8 MIA
#4 TOR vs #5 ATL
#2 BOS vs #7 IND
#3 WAS vs #6 MIL
WEST
#1 GS vs #8 DEN
#4 UTA vs #5 LAC
#2 SA vs #7 MEM
#3 HOU vs #6 OKC
I think the Cavs/Heat match-up is super intriguing but I would love to see Giannis Antetokounmpo get a shot at the Cavs in the first round. Unfortunately for the Raptors, they could get the Cavs in the second round should they get past the Hawks. And if it holds, I am looking forward to a Celtics/Wizards match-up.
In the West, it's going to be a track meet between the Nuggets and the Warriors. If the Clips can get past the Jazz, we'll see if the Clips really do have enough to finally take on the Dubs. After all, the Clips are the last West team to beat the Warriors in the playoffs. I don't think the Grizz have enough to overtake the Spurs (as we saw today) and seeing that we've had some juicy games between the Thunder and the Rockets this year, that playoff battle should be fun.
THE REST OF THE LEAGUE
In the meantime, we have feisty little men (in basketball, that is) trying to run through giant men like Blake Griffin. Look at J.J. Barea go:
(VIDEO CREDIT: Ximo Pierto.)
The Clippers would also end up losing this game and obviously, they're heading towards that territory where we just can't take them seriously. Yeah, yeah. I know a lot of you have never taken the Clips seriously. But they were ravaged with injuries after that fast start. So many of their fans are calling for a teardown. I guess it's a lot of wait and see at this point but this doesn't look good.
The Heat may be on a roll but I mentioned that these Raptors may be putting it together now. Can they challenge the Cavs seriously? DeMar DeRozan is scoring a bunch again and their defense continues to level up. They may be really serious once Kyle Lowry comes back. They've won four straight now.
I understand that Suns vs Nets looks like a tank game and all but it's really only for the Suns. Remember that the CELTICS have the right to swap first-rounders with the Nets. Whoops.
The Knicks are a mess. And they're going to go all in on the Triangle. Yeah, good luck with that.
LINE CROSSER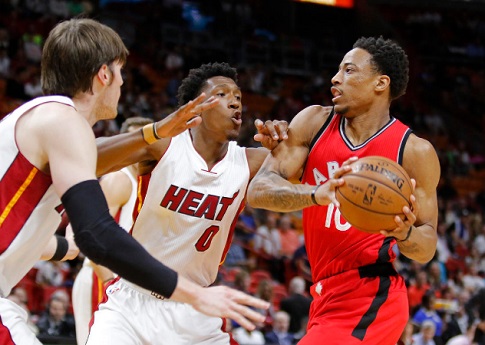 (PHOTO CREDIT: AP.)
Once again, DeRozan is on a roll with his scoring.
40 points, 6 rebounds.
That is two games in a row where he's scored 40 or more.
WATCH THIS PLAY
(VIDEO CREDIT: NBA.)
Look at the Spurs work their ball movement magic. After Kawhi Leonard stole the ball, watch the Spurs do their fastbreak without dribbling.
---
Follow Rey-Rey on Twitter at @TheNoLookPass for all tweets about the NBA. Also, check out his podcast, Rey-Rey Is Fundamental.

us on FaceBook where we have additional NBA highlights! Thank you!
#SagerStrongForever