This is the Hangover. This is where I get drunk on the NBA as I recap last night's action as well as a few things going on around the league. Here's your word vomit.
03/22/2017
THE GAMES
CHA 109 (32-39) @ ORL 102 (26-46)
IND 100 (36-35) @ BOS 109 (46-26)
PHI 97 (26-45) @ OKC 122 (41-30)
ATL 100 (37-34) @ WAS 104 (43-28)
DET 95 (34-38) @ CHI 117 (34-38)
CLE 113 (46-24) @ DEN 126 (34-37)
MIL 116 (36-35) @ SAC 98 (27-44)
NY 101 (27-44) @ UTA 108 (44-28)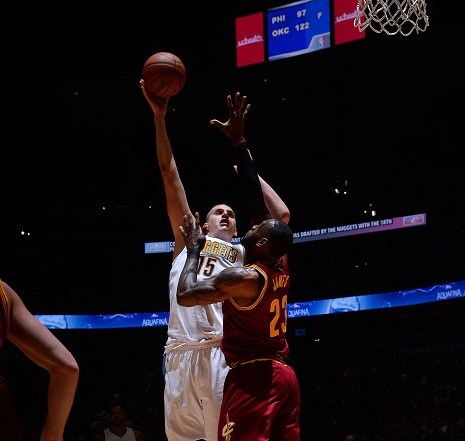 (PHOTO CREDIT: Getty Images.)
HIDDEN GEMS
It's hip to tank these days. We hear and talk about many teams doing it. They tank to get the highest possible pick and it's a gamble that is sometimes worth it. We've seen teams in good draft position capitalize on it and we've seen teams that stay in the lottery for eons no matter what they do. It's not my preferred way to build a team but I certainly understand why teams do it.
And then there are teams that somehow find those players that become really good despite being in a low draft position. Not only in the late first round but also in the second round. Sometimes, the player can even go undrafted. So I'm just going to show you a few sample of players (past and present) that turned out to be very good to excellent despite their draft position.
Dennis Rodman (2nd Rd., #27 pick overall, 1986, DET): 5 rings. Led rebounding for seven straight years. Won Defensive Player of the Year for two straight years.
Jeff Hornacek (2nd Rd., #46 pick overall, 1986, PHX): All-Star in 1992 and was a deadly third option for those great Utah Jazz teams with Karl Malone and John Stockton.
Nick Van Exel (2nd Rd., #37 pick overall, 1993, LAL): All-Star in 1998. Clutch player and was excellent for Lakers, Mavs, Nuggets among other teams.
Ben Wallace (undrafted, 1996): Won a ring as the centerpiece of that Detroit Pistons team in 2004. 4-time Defensive Player of the Year. Led rebounding twice. Four-time All-Star.
Manu Ginobili (2nd Rd., #57 pick overall, 1999, SA): Still active with the original team that drafted him. Won four rings. Two-time All-Star. Also won 6th Man of the Year. In between all that, led Argentina to a gold medal in 2004.
C.J. Miles (2nd Rd., #34 pick overall, 2005, UTA): Still active. His resume isn't as great as the previously mentioned players but he's always been a reliable scorer off the bench. Now playing with the Pacers.
Jeremy Lin (undrafted, 2010): Turned in an excellent Summer League and took the league by storm with Linsanity in 2012. Has been a rotational player since and is now playing with the Nets.
Draymond Green (2nd Rd., #35 pick overall, 2012, GS): A chance injury by David Lee paved the way for Green to blossom. He's been a two-time All-Star since and is the emotional leader of those excellent Warriors teams.
That's just a small smattering. I'm not saying that you can always find someone in the second round but this is the reason why some teams try to acquire more second-round picks. Because sometimes, you just never know.
Look at Nikola Jokic. Sort of an afterthought as the 41st pick in 2014, he could be the franchise player for the Nuggets.
Like I said, you just never know.
THE REST OF THE LEAGUE
So coupled with Cleveland's loss, the Celtics are only two behind on the loss column for the first seed. They both have 46 wins and uh-oh. I want to believe Cleveland is as vulnerable as they've looked as of late but again, the playoffs. They turned it up in 2016 and never really felt challenged in the East.
Detroit lost again and this time, they lost to equally mediocre Chicago. Miami is looking better and better as the 8th seed. And that would be a hell of a match-up with the Cavs. Winner gets LeBron, right?
Rudy Gobert has been somewhat under-the-radar as of late. But he has to be in the conversation as one of the best, uhhhh, pure centers out there. Remember that we're moving towards a position-less NBA so it's kind of funny to throw that term out now. Anyway, he went for 35 and 13 last night. Is he still the favorite for Defensive Player of the Year? All the noise has been going to Draymond and Kawhi Leonard. Yeah, they do deserve that recognition but doesn't Gobert deserve it, too?
LINE CROSSER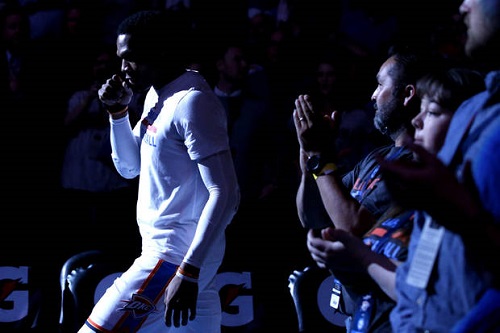 (PHOTO CREDIT: Bryan Terry/The Oklahoman.)
Russell Westbrook got his 35th triple-double. This is stupid.
18 points, 11 rebounds, 14 assists, 6/6 FG, 6/6 FT.
It's important to note that he didn't miss a field goal in this triple-double. The first in history. Of course, it is.
WATCH THIS PLAY
(VIDEO CREDIT: NBA.)
Westbrook got fancy on this fastbreak with Andre Roberson. You already know.
And you already know I like using outdated references.
---
Follow Rey-Rey on Twitter at @TheNoLookPass for all tweets about the NBA. Also, check out his podcast, Rey-Rey Is Fundamental.

us on FaceBook where we have additional NBA highlights! Thank you!
#SagerStrongForever