This is the Hangover. This is where I get drunk on the NBA as I recap last night's action as well as a few things going on around the league. Here's your word vomit.
03/20/2017
THE GAMES 03/19
DAL 111 (30-39) @ BRK 104 (13-56)
BOS 99 (44-26) @ PHI 105 (26-43)
PHX 95 (22-48) @ DET 112 (34-36)
MIN 109 (28-41) @ NO 123 (29-41)
IND 91 (35-34) @ TOR 116 (41-29)
POR 115 (32-37) @ MIA 104 (34-36)
SAC 102 (27-43) @ SA 118 (53-16)
CLE 125 (46-23) @ LAL 120 (20-50)
THE GAMES 03/20
ATL 90 (37-33) @ CHA 105 (31-39)
PHI 109 (26-44) @ ORL 112 (26-45) [OT]
UTA 100 (43-28) @ IND 107 (36-34)
WAS 102 (42-28) @ BOS 110 (45-26)
DEN 124 (33-37) @ HOU 125 (49-22)
GS 111 (56-14) @ OKC 95 (40-30)
NY 105 (27-43) @ LAC 114 (42-29)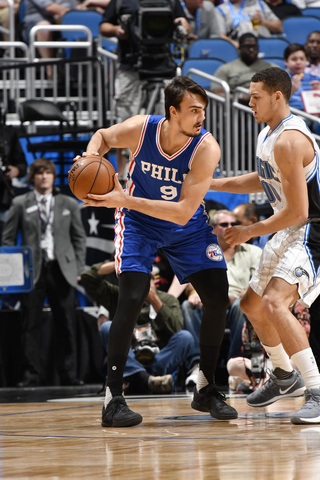 (PHOTO CREDIT: Fernando Medina/Getty Images.)
THE ROY RACES HAVE BEEN LACKLUSTER
This sort of coincides with this whole March Madness thing.
Joel Embiid seemed to have the Rookie of the Year race wrapped up early. That is, until his body refused to cooperate once again. He was done in 31 games.
Embiid would win easily with 20.2 points and 7.8 rebounds per game. It's just that I don't think he'll get votes for a season cut short. His teammate, Dario Saric, is now the frontrunner with modest stats of 12.6 points and 6.3 boards per with the Bucks' Malcolm Brogdon right behind him at 10.0 points and 4.1 assists per game.
Including this season, three of the last four seasons had underwhelming NBA Rookie of the Year races (I would say 2014 and this season are in the "someone has to win" category). It's really got me going into every season with little to no expectations to the incoming rookie classes.
So I'd like to thank the…
2013-14 season. The first pick was the most shocking of all as Anthony Bennett was selected by the Cavs. He's currently out of the league. Victor Oladipo was picked #2 by the Magic, who has done pretty well but certainly nothing mindblowing (since traded to OKC). Let's look at the other picks.
3) Otto Porter (WAS): Still with the team. Was brought along slowly and is now a deadly three-point shooter.
4) Cody Zeller (CHA): Decent starter when healthy.
5) Alex Len (PHX): Has done okay for the most part.
6) Nerlens Noel (NO): Traded to Philly and was the odd man out of their bigs rotation. Now in Dallas. Was projected to be the #1 pick but then he got hurt.
7) Ben McLemore (SAC): Hasn't really found a groove in the league.
8) Kentavious Caldwell-Pope (DET): Has become the Pistons' perimeter defensive stopper.
9) Trey Burke (MIN): Traded to Utah. Now plays for the Wizards and most people have forgotten about him.
10) C.J. McCollum (POR): One of the better scorers in the league.
11) Michael Carter-Williams (PHI): Won Rookie of the Year. But he's now on his third team with the Bulls.
12) Steven Adams (OKC): Has become the bruiser for the Thunder.
13) Kelly Olynyk (DAL): Immediately traded to Boston and he's become one of their better scorers off the bench.
14) Shabazz Muhammad (UTA): Traded to the Wolves. Has his role as a scorer off the bench.
15) Giannis Antetokounmpo (MIL): Has become the franchise for the Bucks and has become the best player from this draft.
And the 2014-15 season. Andrew Wiggins and Jabari Parker got HUGE HYPE in high school and into their freshmen years in college as they were looked at as the next GAME-CHANGERS in the NBA. Wiggins has become an excellent player in the league but his rookie campaign seemed underwhelming compared to his hype (16.9 points per). Parker's rookie season ended early with a knee injury (and it happened again this season). As for the rest of the class?
3) Joel Embiid (PHI): You know…
4) Aaron Gordon (ORL): Excellent dunker but really hasn't broken out.
5) Dante Exum (UTA): Still trying to find his way after he lost a season last year.
6) Marcus Smart (BOS): Excellent defender for the Celtics but that shooting…
7) Julius Randle (LAL): Once considered the third best player in the draft, he was lost in the first game of his rookie season. He has showed flashes of brilliance since.
8) Nik Stauskas (SAC): Now In Philly. His claim to fame these days as a caption gone wrong.
9) Noah Vonleh (CHA): Traded to Portland since. Still looking for a groove.
10) Elfrid Payton (PHI): Immediately traded to Orlando. Has put up some triple-doubles but you get the sense the Magic doesn't have much faith in him.
11) Doug McDermott (DEN): Traded to Chicago. Then inexplicably traded to OKC. Can get buckets for ya.
12) Dario Saric (ORL): Traded to Philly but was stashed overseas for two years. Now the favorite to win ROY THIS year.
13) Zach LaVine (MIN): Dunk champion twice. Was having a breakout season this year before an ACL injury forced him out.
14) T.J. Warren (PHX): Will have some great games once in a while.
At least last year had great rookie campaigns from Karl-Anthony Towns and Kristaps Porzingis.
But yeah, the two seasons before that and this season doesn't really get me hyped for the next rookie class. I don't wanna believe the hype anymore. But I guess that's some of the media's job; you gotta hype these guys up to be the next sliced bread. Me? I'd rather they show it when they get to the big-time. No more hyper-LeBron and hyper-Michael Jordan comparisons (remember those?).
THE REST OF THE LEAGUE
I tire of the "rest" talk. I think I already said that but whatever.
They say players are too friendly these days. Then you have this from OKC:
(VIDEO CREDIT: Ximo Pierto.)
Afterwards, Stephen Curry makes a three at the buzzer and runs off to the locker room. Ha ha. So messed up.
The Warriors were reportedly miffed that Kevin Durant didn't receive more of a welcome from the OKC crowd. If that's true, that's pretty weak. What? Did we expect OKC, who was left by Durant, to get a red carpet treatment or something?
Speaking of pettiness, the 10-year anniversary of the 2008 Boston Celtics title team is coming up. Supposedly, Ray Allen is not invited, according to Rajon Rondo. After all, Allen "left for the enemy" (the Heat), where he won one more ring. It seems ridiculous but whatever.
You know who else was left off? Scot Pollard.
I haven't heard about this. I wasn't on that team? Rondo must have forgotten the time(s) I talked him down after Doc rode him hard. Ubuntu? pic.twitter.com/ajs8ztjRPf

— Scot Pollard (@ScotPollard31) March 20, 2017
R.I.P. Jerry Krause. He was the Bulls' general manager during the 90s, when he helped build the Bulls dynasty. He never really got enough credit for what he did because most of the players hated him. I mean, after all, he did help tear the dynasty down, too. Regardless, condolences to his family.
LINE CROSSER 03/19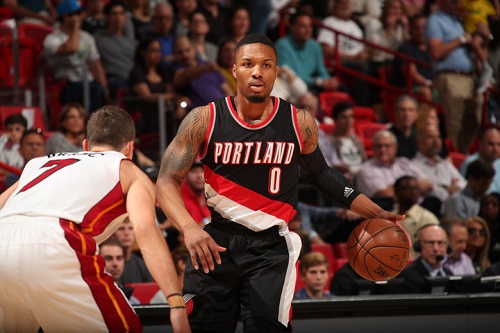 (PHOTO CREDIT: Getty Images.)
In that big win against Miami, Damian Lillard went for:
49 points, 5 assists, 9/12 3-pt FG.
The thing is… Kyrie Irving went for 46 and D'Angelo Russell had 40 the same night. But Lillard overshadowed them both.
LINE CROSSER 03/20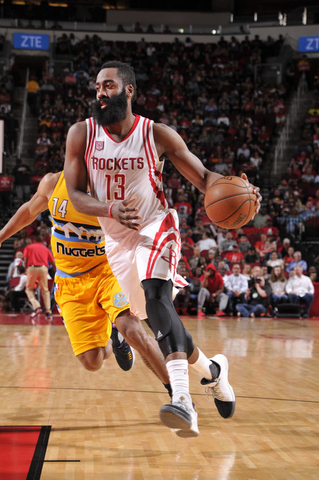 (PHOTO CREDIT: Bill Baptist/Getty Images.)
James Harden certainly had a game against Denver:
39 points, 7 rebounds, 11 assists, 4 steals.
You'll see him again in a bit.
WATCH THIS PLAY 03/19
(VIDEO CREDIT: NBA.)
You can watch the Top 10 if you want but LeBron James soars for the jam in Los Angeles.
WATCH THIS PLAY 03/20
(VIDEO CREDIT: NBA.)
Harden goes from one end to the other for the game-winning basket through that rugged Nuggets defense.
---
Follow Rey-Rey on Twitter at @TheNoLookPass for all tweets about the NBA. Also, check out his podcast, Rey-Rey Is Fundamental.

us on FaceBook where we have additional NBA highlights! Thank you!
#SagerStrongForever