This is the Hangover. This is where I get drunk on the NBA as I recap last night's action as well as a few things going on around the league. Here's your word vomit.
03/18/2017
THE GAMES 03/17
DAL 74 (29-39) @ PHI 116 (25-43)
CHI 107 (32-37) @ WAS 112 (42-26)
BOS 98 (44-25) @ BRK 95 (13-55)
TOR 87 (40-29) @ DET 75 (33-36)
HOU 112 (47-22) @ NO 128 (28-41)
MIN 105 (28-40) @ MIA 123 (34-35)
ORL 109 (25-45) @ PHX 103 (22-47)
MIL 107 (34-34) @ LAL 103 (20-49)
THE GAMES 03/18
SAC 94 (27-42) @ OKC 110 (40-29)
POR 113 (31-37) @ ATL 97 (37-32)
WAS 93 (42-27) @ CHA 98 (30-39)
CLE 78 (45-23) @ LAC 108 (41-29)
UTA 86 (43-27) @ CHI 95 (33-37)
SA 96 (52-16) @ MEM 104 (40-30)
HOU 109 (48-22) @ DEN 105 (33-36)
MIL 92 (34-35) @ GS 117 (55-14)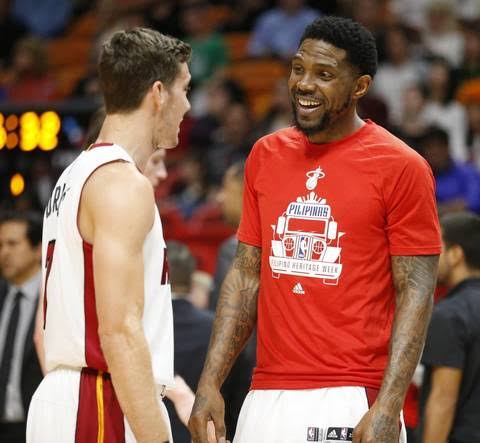 (PHOTO CREDIT: Al Diaz/Miami Herald.)
MIAMI STILL HEATING UP
So they were 11-30 at one point. Then they went on this incredible 13-game win streak that astonished everybody.
After Saturday night, they are only one game under .500 (they played Friday night but were idle on Saturday). Coupled with the Bucks' loss against the Warriors, the Heat suddenly find themselves in the 7th seed in the East. And we gave them up for dead long ago, too.
It's all about their defense. They're in the Top 5 in defensive rating. We know why the Heat re-signed Hassan Whiteside for them big bucks; he's there to protect the rim. Goran Dragic is closer to his Phoenix self these days. Dion Waiters (he did hurt his ankle against Minnesota) is having a career year. Beyond that seems like a ragtag bunch but their hustle and scrappiness has helped the Heat have a resurgence. Guys like Trey Johnson and James Johnson are putting in the extra buckets and defensive scratches. Josh Richardson and Willie Reed are giving the bench extra mileage. Rodney McGruder has come out of nowhere to give a contribution and journeyman Wayne Ellington has become their designated shooter.
Erik Spoelstra has gotten these guys to put the clamps on their opponents. I hope he gets serious consideration for Coach of the Year. Before the year started, it seemed like doomsday as Dwyane Wade left for the Bulls and Chris Bosh wasn't cleared to play. Then they lost Justise Winslow for the season when the calendar year started. Since mid-January, the Heat are 23-5.
I highly doubt they'll make that much noise in the playoffs if they do make it. It's just that we didn't think that they would look this great by this time of the campaign.
THE REST OF THE LEAGUE
So on Friday, the Bucks and the Lakers had a little lovefest.
(VIDEO CREDIT: Ximo Pierto.)
Anyway, I don't wanna say that Nick Young overreacted. It seemed like Malcolm Brogdon was going for the ball but I can't exactly blame Nick for getting a little hot. Young, D'Angelo Russell, and Greg Monroe were all ejected.
But if you looked closer at the vid, it seemed like a suit from Milwaukee's side shoved Brandon Ingram. That's not cool.
Luke Walton certainly didn't think it was.
(VIDEO CREDIT: Ximo Pierto.)
The thing is… we all know Luke is laidback. So for him to raise his voice means he's really serious. Don't mess with him and his L.A. connections!
I can't believe people are continuing to push the whole thing about players taking a rest. This time around, the Cavs players took a breather on their ABC match-up against the Clippers on Saturday night. Anyway, yes, I can understand that ABC and NBA are upset about this. I ALSO understand that the coaches will handle their players how they see fit. And stop offering solutions because the commissioner himself already answered that by extending the regular season schedule. He already knows what's up.
I really don't mind on whatever comes out of Russell Westbrook's mouth. We already know his style. Don't take him too seriously. If anything, that should be the rule so that we don't get too mad at what players say.
Dallas is trying to make a run to the playoffs and they lose by 42 against Philly. In the meantime, Portland won big against the ATL while Denver lost a big game against Houston. And that's right after I talked about Denver going on a hot streak. Blazers are only 1.5 games behind the Nuggets.
The Warriors seem to be back on track after scoring blowouts against that awful Magic team and then the deer thereafter. The Spurs lost an important game against the Grizzlies. The Dubs are back in front by 2.5 games. Also of note, Kevin Durant will be going on that next road trip by G. State. Their next game? The Thunder on Monday.
However "tainted" it is, the Clippers really needed that win on Saturday night. Before their game, they were temporarily overtaken by OKC for the 5th seed. The Clippers will make the playoffs but this road just seems so much more difficult in years past.
LINE CROSSER 03/17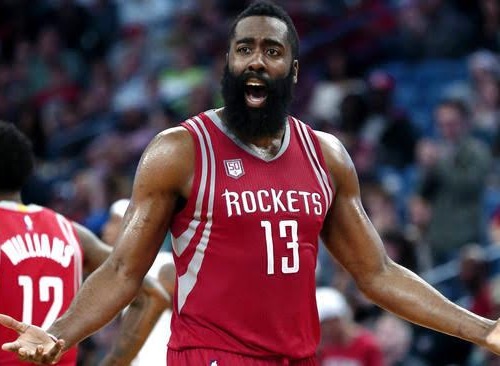 (PHOTO CREDIT: Gerald Herbert/AP.)
Despite the loss, James Harden did his usual biz:
41 points, 10 rebounds, 14 assists.
I mean, at this point, this is usual, right? That's 18 triple-doubles on the season by Friday night.
LINE CROSSER 03/18
And Harden did it again on Saturday night!
40 points, 10 rebounds, 10 assists.
No big deal at all. 40-point triple-doubles on consecutive nights seems so routine for this dude. Geez. That's 19 trip-dubs on the season by Saturday night.
WATCH THIS PLAY 03/17
(VIDEO CREDIT: NBA.)
There are a couple of dunks in the vid by Aaron Gordon but I LOVE the alley-oop throwdown. That's some powerful ish.
WATCH THIS PLAY 03/18
(VIDEO CREDIT: Ximo Pierto.)
And here's Blake Griffin getting the rebound dunk off a free throw. How often do you see that?
By the way, this poor Filipino-American NBA online writer really appreciates you recognizing Filipino Heritage Week. Thanks.
---
Follow Rey-Rey on Twitter at @TheNoLookPass for all tweets about the NBA. Also, check out his podcast, Rey-Rey Is Fundamental.

us on FaceBook where we have additional NBA highlights! Thank you!
#SagerStrongForever