This is the Hangover. This is where I get drunk on the NBA as I recap last night's action as well as a few things going on around the league. Here's your word vomit.
03/16/2017
THE GAMES
UTA 83 (43-26) @ CLE 91 (45-22)
OKC 123 (39-29) @ TOR 102 (39-29)
BRK 121 (13-54) @ NY 110 (27-42)
MEM 103 (39-30) @ ATL 91 (37-31)
LAC 114 (40-29) @ DEN 129 (33-35)
ORL 92 (24-45) @ GS 122 (54-14)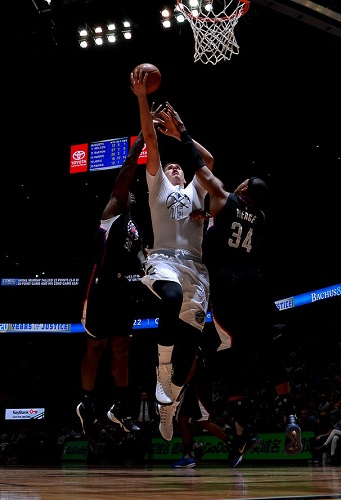 (PHOTO CREDIT: Bart Young/Getty Images.)
THE NUGGETS HAVE CAUGHT FIRE
They've won four straight games after yet another triple-double from Nikola Jokic. Denver is really starting to break away from the rest of the pack and, provided they don't melt down, seem to be heading in a collision course with either the Warriors or the Spurs.
Obviously, it all starts with Jokic, who has become their do-it-all playmaking big man. Will Barton went for a cool 35 against the Clippers on Thursday night but that was a carryover from their win against the Lakers, when he had 22. Gary Harris has become a more dependable scorer. Jameer Nelson has provided a steadying hand, Juancho Hernangomez has put in some valuable minutes, and when healthy, guys like Danilo Gallinari, Wilson Chandler, and Kenneth Faried have done well. They've been able to absorb the loss of Jusuf Nurkic but Mason Plumlee has done what the Nuggets have asked him to do.
The Nuggets have also played a bit of defense as well in the last few games. They've been overpowering on offense as of late, though, that just some defense was good enough for them.
Denver is only two games under .500 but to break even in their record, they have to win a home-and-home against Houston. That promises to be full of explosions on the court with all that scoring. And then they have Cleveland right after. The homestretch won't be so easy for the Nuggets but these tests for this young team will be good for them in the long run.
At the very least, they have a direction now!
THE REST OF THE LEAGUE
As if the Bulls need more bad news, Dwyane Wade is knocked out for the rest of the season with a fractured elbow. It's too bad really, because his season has been better than most of us thought.
I guess the Warriors are back? They smashed the Magic, who is the opposite of the Nuggs. Man, that team has just been spinning wheels since Dwight Howard got traded.
The Clips seem to be doing the same thing. J.J. Redick didn't like the way the team performed saying that…
JJ Redick on state of Clippers: "I don't know what to expect from this team anymore. It's just – we're in a bad place right now."

— Brad Turner (@BA_Turner) March 17, 2017
That's bad. And remember that they got off to such a good start. But seriously, blowing up the team can't be the solution here, right? You don't blow up a team for the sake of blowing it up. That's a terrible move.
Because when you blow up a team and get rid of your good players then you're starting over. THEN it's going to be a pain to pick up all the good pieces once again and that could take forever. Even with the way they're struggling, the Clippers are a team that are almost there. I'd rather be in that position than be a perennial lottery team. Remember those days?
Of course, the Nets beat the Knicks. Was anybody surprised?
And the Cavs also seem to be back on track. Also, Kevin Love returned to the surprise of everyone. He nearly had a double-double in his return. They'll acclimate him in the last month and the Cavs will be ready to defend their title.
LINE CROSSER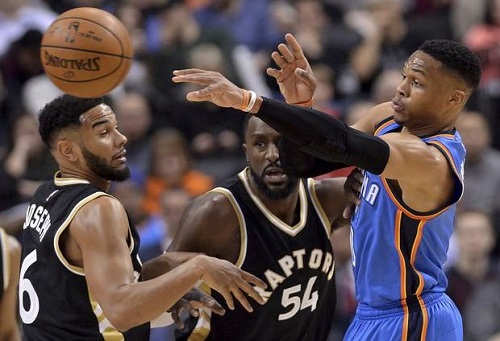 (PHOTO CREDIT: Nathan Dennette/The Canadian Press/AP.)
We know Nikola Jokic had a triple-double. So did Marc Gasol. Will Barton went for 35 points and LeBron James went for 33-10-6.
But Russell Westbrook, guys. And he did it in 27 minutes:
24 points, 10 rebounds, 16 assists.
And he's back on pace to tie Oscar Robertson's record for most trip-dubs in a regular season.
WATCH THIS PLAY
(VIDEO CREDIT: NBA.)
My gosh. I don't care if it's by accident but this pass is so incredible by Westbrook.
See? There's some alternative basketball just in case you're not a fan of March Madness.
---
Follow Rey-Rey on Twitter at @TheNoLookPass for all tweets about the NBA. Also, check out his podcast, Rey-Rey Is Fundamental.

us on FaceBook where we have additional NBA highlights! Thank you!
#SagerStrongForever