This is the Hangover. This is where I get drunk on the NBA as I recap last night's action as well as a few things going on around the league. Here's your word vomit.
03/11/2017
THE GAMES 03/10
ORL 81 (24-42) @ CHA 121 (29-36)
HOU 115 (45-21) @ CHI 94 (31-34)
IND 85 (33-32) @ MIL 99 (31-33)
GS 102 (52-13) @ MIN 103 (27-37)
TOR 99 (38-27) @ ATL 105 (36-29)
BOS 99 (41-25) @ DEN 119 (30-35)
BRK 96 (11-53) @ DAL 105 (28-36)
WAS 130 (40-24) @ SAC 122 (25-40) [OT]
THE GAMES 03/11
UTA 104 (41-25) @ OKC 112 (37-29)
PHI 100 (23-42) @ LAC 112 (40-26)
NY 92 (26-40) @ DET 112 (33-33)
NO 125 (26-40) @ CHA 122 (29-37) [OT]
CLE 116 (43-21) @ ORL 104 (24-43)
MIN 95 (27-38) @ MIL 102 (32-33)
TOR 89 (38-28) @ MIA 104 (32-34)
GS 85 (52-14) @ SA 107 (51-14)
ATL 107 (37-29) @ MEM 90 (36-30)
PHX 100 (22-44) @ DAL 98 (28-37)
WAS 125 (41-24) @ POR 124 (28-36) [OT]
DEN 105 (31-35) @ SAC 92 (25-41)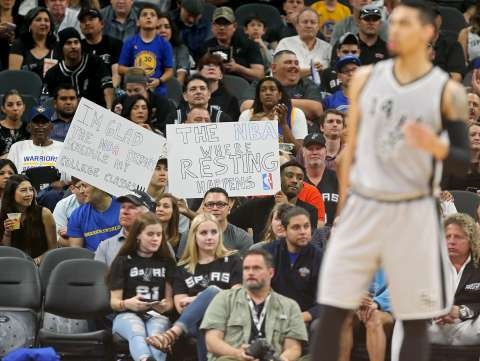 (PHOTO CREDIT: Edward A. Ornelas/San Antonio Express-News.)
REST IS IMPORTANT IN TODAY'S NBA
We're still talking about this a few years later when the solution has already been mentioned several times. In our faces. As a follower of the league for a long time, I quite tire of this discussion.
The Warriors rested their four remaining best players (Kevin Durant, as you already know, is hurt) against San Antonio in what was a pretty big game on national TV. The Spurs had no choice but to sit Kawhi Leonard because he entered concussion protocol. Meanwhile, LaMarcus Aldridge had to sit down and will sit down indefinitely because of an irregular heartbeat (the third time he has been diagnosed with that during his NBA career). So you can't help the Spurs' case. The Warriors decided to give Stephen Curry, Klay Thompson, Draymond Green, and Andre Iguodala the night off after a grueling game against the Timberwolves the night before. As we know, teams have rested their stars on one of the back-to-back games because they don't wanna tire their guys out should their team make it to June. That's a very fair assessment and it's worked very well in the past. That same Spurs team limited minutes and games on their way to the 2014 NBA championship.
Adam Silver has noted in the past that they're trying their best to stretch their schedule out so that teams won't have to rest their best guys. Silver also noted that they're trying to lessen the back-to-backs so the players can get more rest. So we pretty much already know the solution. The commissioner can't mandate teams to play their players if they're healthy. People will always find a way around that. Their coaches would probably say that their star has an ankle injury. Or they can say a player has a hurt wrist. So yeah, mandating players to play shouldn't even be talked about.
The fans do get screwed; they'll miss out on watching their favorite stars play. But that's just the unfortunate part of the league these days. Their coaching staffs will do everything they can to keep their players healthy, including resting them on a back-to-back or even giving them a rest for two weeks to recharge their batteries. We all have to realize that players are stronger, faster, and wear themselves out more because of the pace of the game. The collisions from 2017 are way stronger than the collisions in 1985; look how built and strong all these players are now. Especially with the help in health and training these guys are getting. It's ridiculous. Even the players and the older media have to know this. Athletes evolve. So do the times. And we have more knowledge now, too. We'll see guys play 82 games more once they get more rest in between games.
Besides, don't we want to see the best basketball being played in the playoffs?
THE REST OF THE LEAGUE
So, yeah, Aldridge will be out indefinitely with that irregular heartbeat. We don't know when he'll be back. The last time he was diagnosed with that, he took two-and-a-half weeks. Obviously, we don't know if this is the same case but we hope Aldridge gets better.
The Warriors are vulnerable. With the unfortunate case of Aldridge, the Spurs could be vulnerable, too. Will that open the way for the Rockets, Jazz, and the Clippers?
By the way, NBA, perfect timing with this E-Mail after Aldridge was ruled to be out:
Sure. pic.twitter.com/EEdQ238bQF

— Rey-Rey (@TheNoLookPass) March 11, 2017
The Spurs are now only half a game behind the Warriors. Uh-oh.
The hottest team in the league is Milwaukee. Did you guys know that? They've won six in a row and have jumped to the 8th seed in the East. We left them for dead because Jabari Parker is out for the season. But here they are, making us FEAR THE DEER.
But this race is really only getting hotter. Indiana is 6th at 33-32. Detroit is now 7th at 33-33 and the Bucks are at 32-33. But let's not forget the Heat at 32-34; they are 21-4 in their last 25 games! Chicago is right at #10 with a 31-34 slate. Ooh, boy.
Oh, yeah. Washington, after a big comeback against Sacramento, had another big comeback against Rip City. They came back from 21 down to beat the Blazers. It was capped off by this controversy:
(But Markieff Morris was out of bounds and the refs say this shot was not reviewable…..)pic.twitter.com/sKU2n9Upbi

— Def Pen Hoops (@DefPenHoops) March 12, 2017
Markieff Morris made the game-winning shot with 0.4 seconds left. He stepped out of bounds before going for the shot and the referees didn't see it, WWE-style. Unfortunately, stepping out of bounds is not a trigger to show the instant replay to the refs so the Wizards got away with one.
Blazer fans are understandably angry about this. But, hey, then we'd have to go back to every missed call in the game if you think you were robbed. The thing is, the team shouldn't let games get this close to the point they have to depend on a referee's call. Also, Portland shouldn't have lost that 21-point lead.
The Wizards are now the second seed in the East. How did this happen, right?
Anthony Davis had a huge game when DeMarcus Cousins sat down. Cousins would sit for most of the fourth quarter and all of OT. It's funny how the Pelicans win games when Cousins is sitting down. I'm not looking into anything more than that the two big guys will take time on their chemistry.
Congrats on finally overtaking the Kings, Pelicans. Took you long enough.
LINE CROSSER 03/10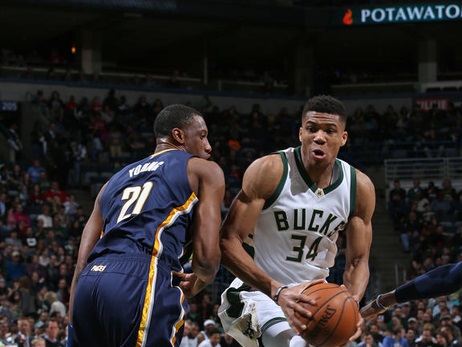 (PHOTO CREDIT: Gary Dineen/Getty Images.)
Giannis Antetokounmpo did a number on the Pacers on Friday night with:
21 points, 8 rebounds, 5 assists, 5 steals.
The guy has MVP numbers. I mean, other than this season. Ridiculous, right?
LINE CROSSER 03/11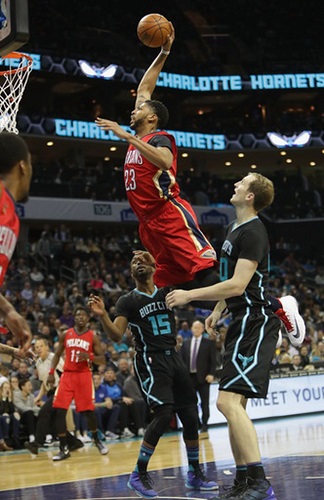 (PHOTO CREDIT: AP.)
Anthony Davis did all his damage when his big buddy sat down. He went for:
46 points, 21 rebounds.
I know LeBron James and Russell Westbrook had triple-doubles but come on, man. 46 and 21.
WATCH THIS PLAY 03/10
(VIDEO CREDIT: NBA.)
Marvin Williams had the dunk of his life as he kicked Bismack Biyombo out of his house.
WATCH THIS PLAY 03/11
(VIDEO CREDIT: NBA.)
Devin Booker dominates the last minute of this game and caps it off with this jumper that could be a big blow to the Mavericks' run to the playoffs.
---
Follow Rey-Rey on Twitter at @TheNoLookPass for all tweets about the NBA. Also, check out his podcast, Rey-Rey Is Fundamental.

us on FaceBook where we have additional NBA highlights! Thank you!
#SagerStrongForever